Daughter of S Korean president's friend arrested
ILLEGAL STAY: Chung Yoo-ra, who won a gold medal in an equestrian event at the 2014 Asian Games, was arrested at 4am yesterday with three others, including a young child
Danish police have arrested the daughter of a woman at the center of a South Korean influence-peddling scandal that has engulfed South Korean President Park Geun-hye, police and prosecutors said yesterday.
The scandal has led to Park's impeachment by parliament on Dec. 9, paralyzed the government and drawn hundreds of thousands of protesters onto the streets of the capital, Seoul, for weekly demonstrations.
South Korean authorities had been seeking the arrest of the daughter, Chung Yoo-ra, for her ties to the scandal in which her mother, Choi Soon-sil, is a central figure.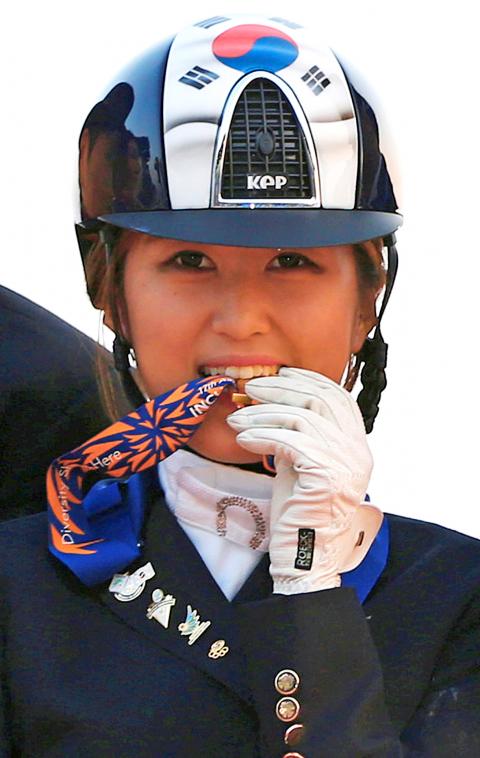 Chung Yoo-ra bites her gold medal as she poses after winning the equestrian Dressage Team competition at the 17th Asian Games in Incheon, South Korea, on Sept. 20, 2014.
Photo: Reuters
Park, 64, could become South Korea's first democratically elected leader to be forced to leave office early. The parliamentary impeachment must be confirmed or overturned by the Constitutional Court, which has weeks to rule.
"We will request an emergency extradition of Chung, working with the special prosecutor's office," Korean National Police Agency Commissioner General Lee Chul-sung told a media briefing in Seoul.
Chung, a 20-year-old equestrian competitor who trained in Germany, was arrested in the northern city of Aalborg, Denmark, for staying illegally, Lee said.
Park has been accused of colluding with her friend Choi to pressure big businesses to make contributions to non-profit foundations backing presidential initiatives.
Park, whose father ruled the country for 18 years after seizing power in a 1961 coup, has denied wrongdoing, but apologized for carelessness in her ties with Choi, who is facing her own trial.
She also denies wrongdoing.
The special prosecutor's office has said it has several charges against the daughter, Chung, including criminal interference related to her academic record.
It has not given details of other charges.
Lee Kyung-jae, a lawyer representing both Choi and Chung, said the daughter would cooperate.
"When Chung Yoo-ra returns I will ensure that she fully cooperates with the special prosecution's investigation," the lawyer told the Yonhap News Agency.
A source in the special prosecutor's office in Seoul, who declined to be identified, said the office would work with European authorities to extradite Chung, which could take one or two weeks.
A South Korean citizen had alerted Danish police about Chung, who was arrested at about 4am yesterday, Lee said.
Danish officials had four people in custody, including Chung and a child born in 2015, Lee said.
Chung is known to have a young son.
The two others in custody are men who appear to be Koreans in their late 20s or early 30s, Lee said.
He said Danish police had 24 hours to secure evidence that Chung was staying illegally in Denmark.
The South Korean Ministry of Foreign Affairs has been working to invalidate Chung's passport and authorities had asked German prosecutors for information about her whereabouts and financial assets.
Chung won a gold medal in the group dressage equestrian event at the 2014 Asian Games.
She became a figure of public ire in South Korea last year after it emerged that she had received special treatment from the prestigious Ewha Womans University, where her admission was subsequently canceled.
News of Chung's arrest came a day after Park broke a month-long silence over her alleged role in the corruption scandal, publicly denying charges of wrongdoing and describing the accusations against her as fabricated and false.
Comments will be moderated. Keep comments relevant to the article. Remarks containing abusive and obscene language, personal attacks of any kind or promotion will be removed and the user banned. Final decision will be at the discretion of the Taipei Times.