Obama signs law authorizing top military exchanges
US President Barack Obama on Friday signed into law the US National Defense Authorization Act for Fiscal Year 2017, which for the first time included a section on senior military exchanges with Taiwan.
The bill cleared the US Senate in a 92-7 vote on Dec. 8 after its approval in the US House of Representatives by a vote of 375-34 six days earlier.
Section 1284 of the act states: "It is the sense of [US] Congress that the [US] Secretary of Defense should conduct a program of senior military exchanges between the United States and Taiwan that have the objective of improving military-to-military relations and defense cooperation between the United States and Taiwan."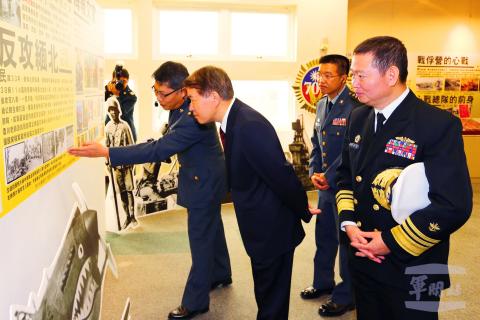 Then-minister of National Defense Kao Kuang-chi, right, looks at information at an event in Taipei marking the 60th anniversary of the Psychological Warfare Battalion late last year. The Ministry of National Defense yesterday said it has made a number of plans for next year, including Political Warfare Bureau Director Wen Chen-kuo leading a delegation to visit the Pentagon.
Screengrab from the Military News Agency Web site
A "sense of Congress" is not legally binding, even though the language is included in an otherwise legally effective legislation.
It reflects the view of many on Capitol Hill who think the current level of US military exchanges with Taiwan has been insufficient.
It remains to be seen whether or how the administration of US president-elect Donald Trump will act on this section of the act.
Trump takes office on Jan. 20.
If implemented, the act stipulates that the senior military exchange program should be conducted at least once each calendar year in both Taiwan and the US.
It defines "senior military exchange" as "an activity, exercise, professional education event, or observation opportunity in which senior military officers and senior defense officials participate."
It also defined "senior military officer" as a general or flag officer on active duty in the armed forces, while "senior defense official," in reference to the US Department of Defense, was defined as a civilian official at the level of assistant secretary of defense or above.
The act will elevate Taiwan-US military ties to another level if institutionalized, National Chung Hsing University Institute of International Politics professor Tsai Ming-yan (蔡明彥) said yesterday.
The law is not only symbolic, but will have some practical effects, he said, adding that Taiwan and the US would have deeper cooperation on threat assessments and battle plans.
China might become agitated over the closer Taiwan-US ties, but continued threat of armed conflict against Taiwan would only deepen Taiwan's resolve to work with the US and Japan, Tsai said, adding that China should seek to enter into dialogue with Taiwan.
The Ministry of National Defense said it has made a number of plans for next year, including Political Warfare Bureau Director Wen Chen-kuo (聞振國) leading a delegation to visit the Pentagon, at which time the two sides would discuss strategic goals and cooperation on matters of psychological warfare.
Comments will be moderated. Keep comments relevant to the article. Remarks containing abusive and obscene language, personal attacks of any kind or promotion will be removed and the user banned. Final decision will be at the discretion of the Taipei Times.