Tsai-Trump call 'a start' to productive ties: Yates
MANAGING EXPECTATIONS: The former US deputy national security adviser said that it was reasonable to expect friendly ties, but not a major shift in US policy
A former US official visiting Taiwan yesterday denied that he played a role in facilitating a historic telephone call between President Tsai Ing-wen (蔡英文) and US president-elect Donald Trump, but lauded it as a good start to a productive relationship between Taipei and Washington.
Stephen Yates, former US deputy national security adviser to former US vice president Dick Cheney and the chairman of the Idaho Republican Party, arrived at Taiwan Taoyuan International Airport yesterday morning on a personal visit.
He was welcomed at the airport by a large group of reporters, who asked him about his role in the call on Friday last week and his itinerary while in Taiwan.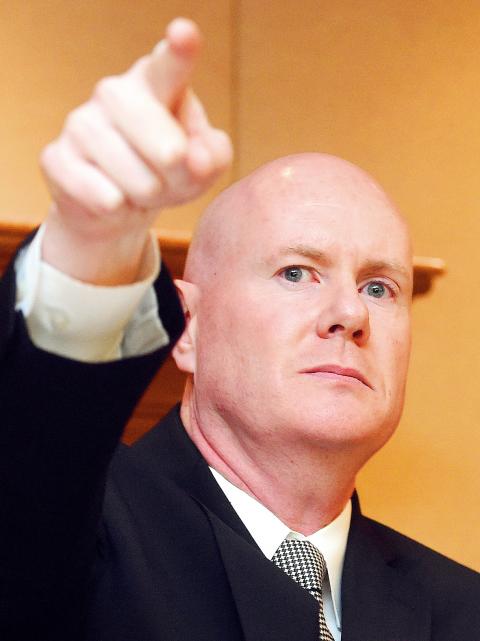 Former US deputy national security adviser Stephen Yates speaks at a news conference at the Grand Hyatt Taipei yesterday.
Photo: Liao Chen-huei, Taipei Times
"All I can say is what I have said repeatedly to the press: I support the team that is coming in and I was not the person responsible for the call," Yates said.
"I am happy the call took place and am happy to be here in Taiwan to talk to friends," he added.
Due to an already good, long and friendly relationship between the people of Taiwan and the US, Yates said he hoped both sides could use the call as "a start to have a very productive relationship."
Asked whether he has plans to meet with Tsai during his visit, Yates said only that he has met with Taiwanese leadership many times on previous visits.
"Most of these conversations were private and just an exchange of ideas among friends. I look forward to having a similar conversation this week," Yates said
He said his plan was to get reorientated with the priorities in Taiwan and talk to people about opportunities that might come with a new US Congress and a new administration in Washington.
When asked about Trump referring to Tsai as the "president of Taiwan," Yates said in Mandarin Chinese: "The president of Taiwan should be [called] president of Taiwan," adding that "true words" should be the basis for "future good contacts between the US, or China, and Taiwan."
Hours after his arrival, Yates held a news conference at the Grand Hyatt Taipei hotel, at which he answered questions that mostly revolved around whether the Tsai-Trump call signals a possible US policy change on Taiwan once the US president-elect takes office next month.
Reminding Taiwanese that they have long had many good friends in the US conservative movement and the Republican Party, Yates said the call was an important step in the direction "many of us have long advocated."
"As important as it is, it remains a small step. We should not over-analyze or overreact to the fact that your current and our future leader spoke by telephone," Yates said.
"While it is reasonable for the people of Taiwan to expect friendly relations from the incoming administration, it would not be reasonable to anticipate major changes in US policy at this point," he added.
Yates also said that he was merely speaking as a private citizen, as he has no affiliation with Trump's transition team, nor has he been offered a position in the new administration.
Regarding criticism that the call was an attempt by Trump to use Taiwan as a chess piece to antagonize China, Yates said he understands Taiwan might occasionally feel like "a shrimp among whales" and worry about Washington and Beijing trying to do something by way of using Taipei.
"However, there is nothing I have heard, publicly or privately, by the [transition] team that is forming or during the course of the presidential campaign that would lead me to that concern," Yates said, adding that he only heard emphasis being put on Beijing's currency policy and preventing China from taking unfair advantage of US manufacturing.
These things could affect people in Taiwan, but the possibility is slim of Taipei being used in any significant way to help reach outcomes in the US' bilateral negotiations with China, Yates said.
Turning to the chances of Taiwan's admission to the UN under the Trump administration, Yates said he respects people who care deeply about the issue, but he believes in the ability of any nation to take care of itself without the need of an international government or organization coming to tell them that they are all right.
Yates acknowledged that it would be unlikely for the issue to be a top priority for Trump or any US presidents.
"However, that is just me. I am a private citizen," he said.
Separately yesterday, Presidential Office spokesman Alex Huang (黃重諺) said Yates has been a long-time friend of Taiwan and is well-versed in cross-strait and international affairs.
"We welcome his visit to Taiwan, but as for whether he is to meet with the president, I have not seen such an arrangement so far," Huang said.
Ministry of Foreign Affairs spokeswoman Eleanor Wang (王珮玲) said that while Yates is not visiting Taiwan at the invitation of the ministry, he plans to pay it a visit.
Comments will be moderated. Keep comments relevant to the article. Remarks containing abusive and obscene language, personal attacks of any kind or promotion will be removed and the user banned. Final decision will be at the discretion of the Taipei Times.