Second hearing on same-sex marriages held
The legislature yesterday debated whether to legalize same-sex marriage or pass new partnership legislation during a second and final public hearing in Taipei, as thousands of same-sex marriage supporters rallied outside.
Thousands of protesters packed the section of Qingdao Road bordering the Legislative Yuan, waving rainbow flags and shouting rejections of any "discounting of human rights" as the hearing opened.
They demanded that amendments to the Civil Code be passed to include same-sex couples in the definition of a marriage rather than passing special legislation to grant partnership or marriage rights.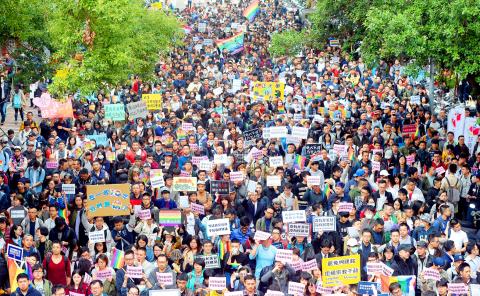 Supporters of same-sex marriage demonstrate outside the Legislative Yuan in Taipei yesterday.
Photo: Lin Cheng-kung, Taipei Times
"Special legislation is just a political stalling tactic that refuses to treat homosexuals as ordinary people, providing a lower level of protection than amending the Civil Code," said Tseng Chao-yuan (曾昭媛), a senior researcher at the Awakening Foundation. "A special law on this issue would be about treating us differently and giving us less, which is just discrimination."
Only a handful of opponents of same-sex marriage gathered for a protest along Jinan Road, compared with the thousands who protested two weeks ago.
On Nov. 17, after a same-sex marriage bill passed the first reading, the legislative caucuses agreed to hold two public hearings before continuing deliberation of proposed amendments to the Civil Code, with both the Chinese Nationalist Party (KMT) and the Democratic Progressive Party (DPP) agreeing to complete the review by the end of the current legislative session.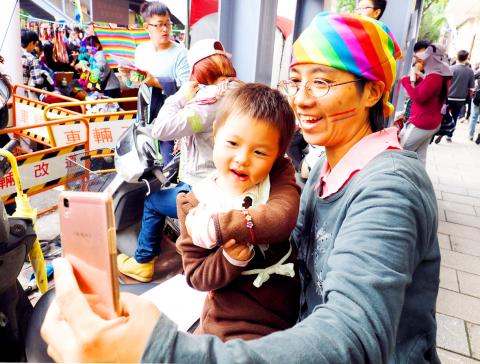 A woman yesterday takes a selfie with her daugther at a rally outside the Legislative Yuan in Taipei. She said she is hetereosexual, but attended the rally to show support for homosexuals.
Photo: David Chang, EPA
At the first hearing on Thursday, the idea of formulating a special law to legalize same-sex marriage was proposed.
Debates yesterday focused on the merits of Civil Code amendments versus the passage of a special law, with DPP caucus convener Ker Chien-ming (柯建銘) and KMT caucus convener Sufin Siluko (廖國棟) having voiced support for special legislation at the first hearing.
"A homosexual partnership act would strike the best balance between guaranteeing rights and minimizing the shock to society," lawyer Qiu Pei-en (裘佩恩) said, adding that passing a partnership law would allow time to assess the potential effects of amending the Civil Code.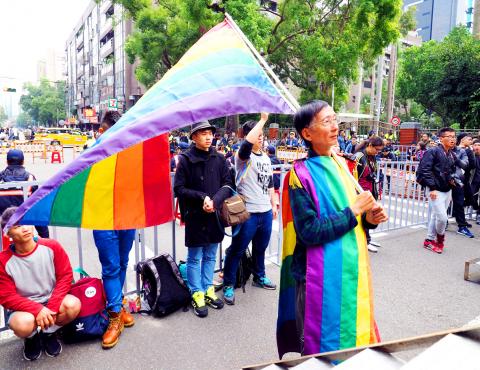 Gay rights activist Chi Chia-wei, 58, draped in a rainbow flag and holding a rainbow flag, waits for his chance to speak at a rally outside the Legislative Yuan in Taipei yesterday.
Photo: David Chang, EPA
"The Civil Code is a basic law, and inserting homosexual marriage is a huge project that should be handled cautiously," Qiu added.
"I originally thought this would be a small matter, because some homosexuals are essentially saying they are willing to accept legal restrictions," said Chen Yi-chien (陳宜倩), a law professor affiliated with Shih Hsin University's Graduate Institute for Gender Studies, referring to the Criminal Code's ban on adultery.
Any explicitly same-sex partnership or marriage law would likely be subject to constitutional challenges for being "separate, but not equal," she said, echoing several speakers who compared drafting a new law with racial discrimination.
"I do not know whether a special marriage law or revisions to the Civil Code would be better suited to stopping discrimination against homosexuals, but a partnership law would be worthless," said Chen Si-hao (陳思豪), a Taiwanese Presbyterian Church minister.
"Jesus said that God gives sunlight and rain to both good and bad people, giving even unrighteous people basic grace," he said.
Hsu Mu-yan (許牧彥), a professor of scientific management and intellectual property at National Chengchi University and a Taiwanese Presbyterian Church elder, said that marriage was intended to prevent children being born outside of wedlock, who could compete with legitimate children for family property rights.
"If you want to be required to be sexually faithful to each other, we are very welcoming, and that is why we are willing to support a special law to help stabilize your partnership. However, such a partnership is not a marriage because there is no way you can have children together," Hsu said.
"The reason I do not have children is because I am a lesbian and our nation forbids artificial insemination for unmarried people. My right to give birth has been taken away from me because I cannot get married," Taiwan Alliance to Promote Civil Partnership Rights secretary-general Chien Chih-chieh (簡至潔) said.
A separate partnership or marriage law could create legal difficulties for transgender people who were in a partnership or marriage before deciding to swap identities, she said.
DPP caucus chief executive Wu Ping-jui (吳秉叡) said he was in favor of a same-sex marriage act instead of amendments to the Civil Code to allow the issue of blood relations between partners and their children to be addressed.
"If both partners are female, and one of them has a child, whether that child should be considered a blood relative of her partner or only a relative by marriage is a problem that needs to be addressed," he said.
Additional reporting by CNA
Comments will be moderated. Keep comments relevant to the article. Remarks containing abusive and obscene language, personal attacks of any kind or promotion will be removed and the user banned. Final decision will be at the discretion of the Taipei Times.