TransAsia shuts down
COMPANY CRASHES: The firm's chairman blamed the declining number of Chinese visitors, rising fuel prices and a strengthening US dollar for its steep losses
TransAsia Airways Corp (復興航空) yesterday said it is to dissolve the company after its attempts to keep it afloat failed.
The company looked at options, including a sale, restructuring and capital injections, during three meetings between its board of directors and industry experts, TransAsia Airways chief executive officer Liu Tung-ming (劉東明) told a news conference at the Taiwan Stock Exchange.
"Despite our best efforts to devise a new business model, the company could not produce an effective turnaround plan to repair its deteriorating finances," Liu said.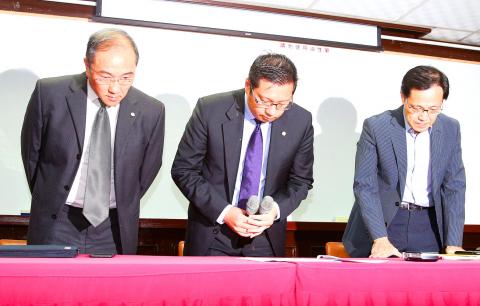 Left to right, TransAsia Airways chief executive officer Liu Tung-ming, chairman Vincent Lin and spokesman Liu Chung-chi bow at a news conference in Taipei yesterday as they apologize for the company's collapse.
Photo: CNA
The airline said it is unable to repay US$75 million in European convertible bonds due on Tuesday next week.
The company's net worth was estimated at about NT$5.44 billion (US$170.29 million), or a book value of NT$7.17 per share, as of the end of last month, TransAsia vice president Chen I-chieh (陳逸潔) said.
The airline operated 27 routes in Taiwan, China and the rest of Asia, each representing about a third of total sales, Chen said.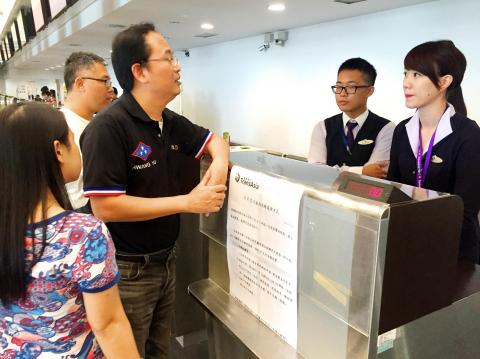 Passengers make inquiries with TransAsia Airways staff at Taichung Airport yesterday after the airline suspended flights and announced it would be dissolving.
Photo: Lee Chung-hsien, Taipei Times
In the first three quarters, the company racked up losses of NT$2.2 billion, Liu said.
TransAsia chairman Vincent Lin (林明昇) blamed the declining number of Chinese visitors, as well as rising fuel prices and a strengthening US dollar, for the company's steep losses.
TransAsia's load factor had fallen to about 60 percent, which was well below its domestic peers' and unsustainable, Lin said.
TransAsia shares are to resume trading today following yesterday's suspension, but trading would be conducted on a full-cash delivery basis, the Financial Supervisory Commission (FSC) said.
At a news conference held jointly with the heads of government agencies yesterday, the Cabinet said that the impact of the airline's closure would be limited and the company has enough cash to refund customers and cover severance pay.
An estimated 100,000 travelers are affected by the unexpected folding of the nation's first commercial airline, but other carriers have capacity to take on passengers booked to fly with TransAsia as it is the off-season, Civil Aeronautics Administration (CAA) Air Transport Division director Han Chen-hua (韓振華) said.
TransAsia has created a trust fund to ensure that customers get a full refund on booked flights, and the company will not dismiss ticketing and customer service staff until Dec. 20, so that they can assist in the transfer of passengers to other airlines, the firm said.
The CAA formed a special task force immediately after TransAsia announced a temporary suspension of operations on Monday to ensure that travelers' rights are protected, Fan said.
The CAA is to impose a fine of between NT$600,000 and NT$3 million on TransAsia for halting flights without seeking prior approval.
The CAA has conducted regular financial inspections on TransAsia, and the company still holds more than NT$1 billion in cash and is not facing an immediate financial crisis, Han said.
TransAsia has 1,735 employees and they are covered by labor insurance, while there is NT$310 million in the company's pension fund account, Deputy Minister of Labor Kuo Kuo-wen (郭國文) said.
"The money is more than enough to pay employees' pensions and the remaining amount can be used to cover severance pay," Kuo said.
The FSC and prosecutors have launched an inspection into possible insider trading in the company's shares, and it has yet to be determined whether company executives were involved, commission vice chairman Huang Tien-mu (黃天牧) said.
The Taiwan Stock Exchange on Aug. 15 listed TransAsia as financially unstable, to warn investors of the risk involved in trading the company's shares, Huang said.
Comments will be moderated. Keep comments relevant to the article. Remarks containing abusive and obscene language, personal attacks of any kind or promotion will be removed and the user banned. Final decision will be at the discretion of the Taipei Times.