Majority says Taiwan is independent
SUPPORT FOR 'STATUS QUO': A majority of respondents to the Taiwan Brain Trust poll said that Taiwan should maintain the 'status quo' in cross-strait relations
An overwhelming majority of Taiwanese believe Taiwan is a sovereign and independent nation, the results of a poll released yesterday by the Taiwan Brain Trust think tank showed, with 75.8 percent of respondents supporting the sentiment, while 18.9 percent disagreed.
On the issue of Taiwan's status as a nation, the poll showed that 79.8 percent of respondents said that it is "definitely" or "probably" a sovereign nation, while only 18.9 percent said that either it is "definitely not" or "probably not" a sovereign nation.
The answers indicated that most Taiwanese disagree with a recent statement by China's Taiwan Affairs Office spokesperson An Fengshan (安峰山), who said that "Taiwan has never been a nation."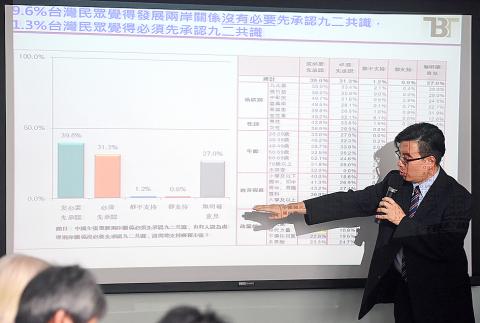 A member of the Taiwan Brain Trust at a news conference in Taipei yesterday announces the results of a poll conducted by the organization on Taiwanese's views on cross-strait issues.
Photo: Liao Chen-huei, Taipei Times
Regarding President Tsai Ing-wen's (蔡英文) policies on cross-strait relations, the poll showed that 49.4 percent of respondents support her, while 25.5 percent do not.
However, 79.8 percent of respondents said that Taiwan should maintain the "status quo" in regard to its relationship with China.
The poll found that 39.6 percent of respondents do not think it is necessary for Taiwan to acknowledge the so-called "1992 consensus" as a prerequisite for developing relations with China, while 31.3 percent feel that recognition of the "1992 consensus" is necessary.
The "1992 consensus" — a term former Mainland Affairs Council chairman Su Chi (蘇起) admitted making up in 2000 — refers to a tacit understanding between the Chinese Nationalist Party (KMT) and the Chinese government that both sides of the Taiwan Strait acknowledge that there is "one China," with each side having its own interpretation of what "China" means.
In response to the question of what Taiwan should do if the "status quo" cannot be maintained, 60.5 percent of respondents said they would support independence, while 22.4 percent said they would support unification with China.
The numbers showed a significant shift from last year's 70.9 percent and 22.4 percent respectively.
A cross-analysis of the poll showed that among those respondents in favor of independence, 87.4 said they support the New Power Party (NPP), 83.1 percent the Democratic Progressive Party (DPP), 50.3 percent the People First Party (PFP) and 35.3 percent the Chinese Nationalist Party (KMT).
Among those respondents who support unification with China, 47.6 percent support the KMT, 34.3 percent the PFP, 10.5 percent the DPP and 6.5 percent the NPP.
The think tank said the telephone survey was conducted between 6:30pm and 10pm on Oct. 13 among randomly selected respondents aged 20 or older.
The think tank said it collected 1,079 valid samples, adding that the poll has a margin of error of 3 percentage points.
This was the first public opinion survey conducted by the think tank since its operations in August were handed over to the Ketagalan Foundation, an organization operated by supporters of former president Chen Shui-bian (陳水扁).
Comments will be moderated. Keep comments relevant to the article. Remarks containing abusive and obscene language, personal attacks of any kind or promotion will be removed and the user banned. Final decision will be at the discretion of the Taipei Times.