HK warns Taiwan not to meddle
'BARGAINING CHIP': The 'Mingpao' said Beijing would see intervention by Taiwan in a Hong Kong affair as a precursor to collaboration among independence groups
The Hong Kong government on Friday issued a statement calling on Taiwan to refrain from interfering in the territory's internal affairs.
The statement, delivered by a government spokesman at a press conference, was apparently issued in response to comments by Mainland Affairs Council spokesperson Chiu Chui-cheng (邱垂正), who said the council would be closely following Hong Kong politics to see whether the legislative seats of Sixtus "Baggio" Leung (梁頌恆) and Yau Wai-ching (游蕙禎) would be declared invalid.
Leung and Yau refused to state the oath correctly — in essence refusing to pledge allegiance to the People's Republic of China — at their inauguration as legislators, and the secretary-general of the Hong Kong Legislative Council refused to accept their oaths.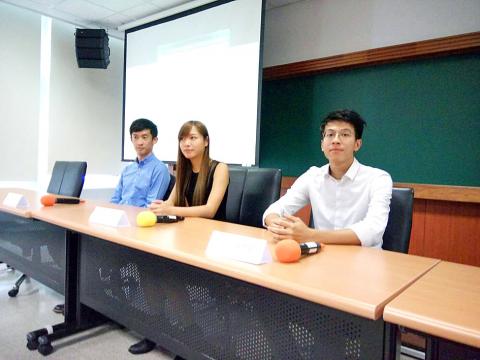 Hong Kong lawmakers Sixtus "Baggio" Leung, left, and Yau Wai-ching, center, sit next to Hong Kong Indigenous spokesperson Ray Wong at a forum at National Taiwan University in Taipei yesterday.
Photo: CNA
Leung and Yau's action is seen as being part of a pro-Hong Kong independence stance.
The Hong Kong government spokesperson on Friday said that "since the [Hong Kong's] return [to China], the Special Administrative Region (SAR) of Hong Kong has been given great autonomy under the Basic Law, fully embodying the success of the 'one country, two systems' approach."
Leung and Yau were in Taipei yesterday to speak at National Taiwan University about Hong Kong's localization movement.
Yau said the main reason for her visit to Taiwan was because she was invited to deliver the speech and there were no plans to meet with politicians.
Yau said she would be willing to interact with political parties in the future, adding that her visit has "gone smoothly."
Leung and Yau were joined at the university event by Hong Kong Indigenous spokesperson Ray Wong (黃台仰), who spoke about his experience with the independence movements in Taiwan and Hong Kong.
Meanwhile, former Hong Kong Legislative Council president Rita Fan (范徐麗泰) said in a radio interview in Hong Kong yesterday that the Taiwanese government's statements lately have been an apparent challenge to the Hong Kong government.
"Are Hong Kongers willing to be used?" she said, an apparent reference to Leung and Yau's visit.
In an editorial, the Mingpao said that Beijing would regard intervention by Taipei in Leung and Yau's inauguration incident as a precursor to pro-Taiwanese independence and pro-Hong Kong independence groups working together.
"Should Hong Kong become one of the bargaining chips in the ongoing gambit of cross-strait affairs, Hong Kong will face inestimable challenges while further complicating its own affairs," the Chinese-language newspaper said.
Comments will be moderated. Keep comments relevant to the article. Remarks containing abusive and obscene language, personal attacks of any kind or promotion will be removed and the user banned. Final decision will be at the discretion of the Taipei Times.