Final 'not guilty' for Hsu Tzu-chiang
In a final decision yesterday, the Supreme Court ruled that former death row inmate Hsu Tzu-chiang (徐自強) was not guilty of the 1995 kidnap and murder of a businessman, rejecting an appeal by prosecutors to end a case that has bounced around the court system for more than two decades and become one of the nation's highest-profile human rights cases.
Prosecutors had appealed a High Court decision last year to overturn Hsu's guilty verdict.
Accompanied by lawyers and supporters, Hsu fought back tears at a news conference in Taipei yesterday afternoon.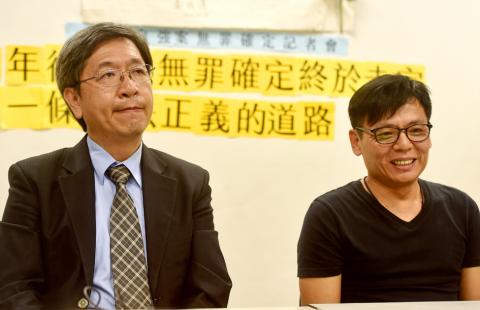 Hsu Tzu-chiang, right, whose death penalty was overturned yesterday by the Supreme Court, smiles at a Taipei news conference as his lawyer, Joseph Lin, looks on.
Photo: Chien Jung-fong, Taipei Times
"When I heard the ruling, it felt unreal to me; maybe I had heard it wrong," Hsu said. "My mother will celebrate her birthday soon, and this will be the best gift she could get, because over the past 21 years, she has suffered the most."
"I wanted to give up this fight, as I had given up on the justice system, but my family and my lawyers persisted; they did not want to give up," Hsu said. "Some people asked if I had bad fortune, but I do not think so, because I feel lucky to be able to walk out of prison."
Hsu was originally convicted of the September 1995 kidnap and murder of Huang Chun-shu (黃春樹), whose kidnappers sought a ransom of NT$70 million (US$2.2 million at current exchange rates).
Two men, Huang Chun-chi (黃春棋) and Chen Yi-lung (陳憶隆), who were convicted as being the main perpetrators and sentenced to death, had claimed in their trials that Hsu was an accomplice.
Hsu's saga saw him handed the death sentence nine times and a term of life imprisonment twice, while there were five extraordinary appeals.
He was incarcerated for 16 years, spending most of the time on death row, before being released on May 19, 2012.
Comments will be moderated. Keep comments relevant to the article. Remarks containing abusive and obscene language, personal attacks of any kind or promotion will be removed and the user banned. Final decision will be at the discretion of the Taipei Times.