Lawmakers establish Tibet group
A Taiwan Parliamentary Group for Tibet was established yesterday by national legislators, with the group's leadership promising to push for legislation to abolish the Mongolian and Tibetan Affairs Commission and create a mechanism for Tibetans to use refugee status to gain legal residency.
New Power Party (NPP) Legislator Freddy Lim (林昶佐) and four Democratic Progressive Party (DPP) legislators met in a Legislative Yuan guest room decorated with Tibetan prayer flags and a portrait of the Dalai Lama to announce the establishment of the group. Several Tibetan legislators and representatives were also in attendance.
Lim — who serves as group president — said that more than 30 legislators had agreed to affiliate themselves with the group.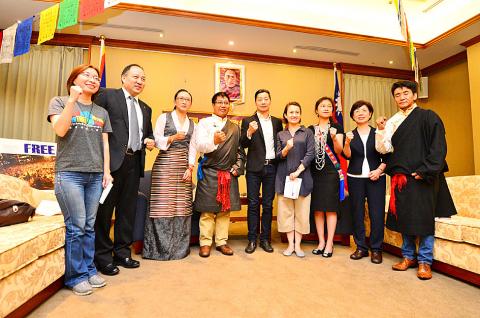 New Power Party Legislator Freddy Lim, center, and members of the Taiwan Parliamentary Group for Tibet celebrate the group's establishment in Taipei yesterday.
Photo: Wang I-sung, Taipei Times
In a break with the past internal DPP caucus "Tibet Working Group," the parliamentary group boasts cross-caucus membership from NPP legislators and Chinese Nationalist Party (KMT) Legislator Wang Jin-pyng (王金平), he said, adding that no other KMT legislators have joined thus far.
"We will focus on substantial legislation first, with some complementary symbolic work," Lim said, adding that the group would prioritize abolishing the Mongolian and Tibetan Affairs Commission and push for a refugee act.
Tibetans who have come to Taiwan over the past decade are now stranded because their Nepalese passports have expired. Nepal began denying passport renewal services several years ago under Chinese pressure.
However, most have been denied legal residency because of a lack of refugee provisions within current immigration standards, keeping them from accessing healthcare and forcing them to work in the underground economy.
"Establishing this group has been my dream for more than four years," said Tashi Tsering, a Tibetan leader of the Human Rights Network for Tibet and Taiwan, which Lim said provided the key impetus for establishing the group.
When group members began lobbying national legislators several years ago, initially only DPP Legislator Hsiao Bi-khim (蕭美琴) was willing to provide help, Tashi said, adding that a limited number of interested legislators has prevented the establishment of a formal group in the past.
"Official establishment will enable us to tackle bigger and more public tasks," he said.
"I am honestly not entirely sure what the difference is between a 'parliamentary group' and the past 'working group,' but the 'working group' was established by only two or three legislators," said Dawa Tsering, who serves as the representative to Taiwan of the Dalai Lama's Tibet Religious Foundation.
Tashi also expressed support for abolishing the Mongolian and Tibetan Affairs Commission, a vestige of the Republic of China's claims to sovereignty over Mongolia and Tibet.
"As Tibetan human rights have degenerated in recent years and many people have self-immolated, the commission has not done anything — no events or actions whatsoever and not a penny of money for the cause of Tibetan human rights," he said, calling the commission "useless."
"They use the banner of Tibet to take a lot of money from Taiwanese taxpayers, but we have no idea how they spend it," he said.
Lin Shuya (林淑雅) — one of the founders of the Human Rights Network for Tibet and Taiwan — reiterated group calls for the Legislative Yuan to issue an official invitation to the Dalai Lama.
Comments will be moderated. Keep comments relevant to the article. Remarks containing abusive and obscene language, personal attacks of any kind or promotion will be removed and the user banned. Final decision will be at the discretion of the Taipei Times.