Typhoon Megi: Megi leaves more than 600 injured
WAITING GAME: More than 4,000 people were still in shelters, while about 360,000 households were without electricity yesterday, data showed
More than 600 people were injured by Typhoon Megi, which made landfall on the east coast on Tuesday afternoon.
The Central Weather Bureau (CWB) lifted both land and sea warnings at 5:30pm yesterday after Megi weakened into a tropical storm and landed on China's Fujian Province.
CWB forecaster Hsieh Ming-chang (謝明昌) said that although the nation was no longer under the storm's coverage, wind speed in coastal areas still reached level 8 on the Beaufort scale.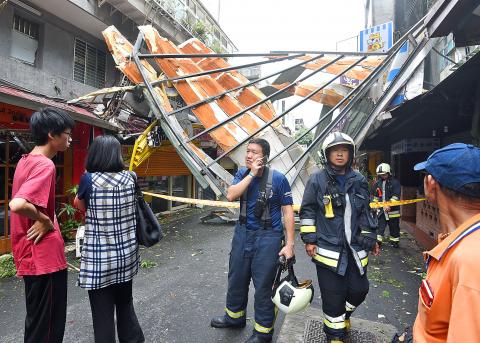 Firefighters work to remove a fallen billboard from a lane off Xinhai Road Sec 3 in Taipei yesterday in the wake of Typhoon Megi.
Photo: Liao Chen-huei, Taipei Times
Heavy precipitation continued in some southern regions due to lingering clouds from the storm, which should ease today, he said.
He added that a low-pressure system that is about 500km southeast of Taiwan is likely to move toward the nation between tomorrow and Saturday, which could affect the weather in Hualien, Taitung and southern Taiwan, he said.
Meanwhile, Tropical Storm Chaba formed early yesterday morning, which the bureau forecast would move near Okinawa, Japan, by Monday.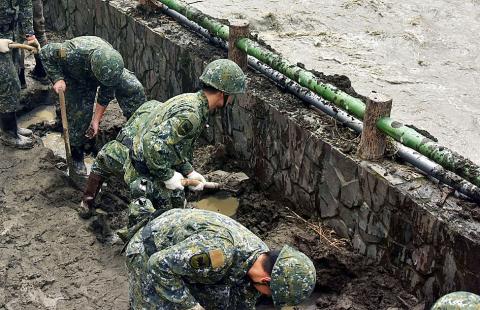 Soldiers clear mud in New Taipei City's Wulai District yesterday after Typhoon Megi caused a river in the area to overflow. Mayor Eric Chu urged the public to keep visiting Wulai, which is well-known for its hot springs.
Photo: CNA
Hsieh said the storm was still about 2,860km from Taiwan.
"We are monitoring the movement of Chaba and the force of the Pacific high-pressure system, which would determine when the storm would turn north and in which direction it would go," he said.
Statistics from the Central Emergency Operation Center as of 5:30pm yesterday showed that Megi left four people dead and 622 injured in the past two days, with more than 4,000 people remaining in shelters.
A total of 2,402 households were still without water supply.
Telecom service providers said they had mobilized thousands of engineers to repair about 13,000 base stations that were damaged. A total of 5,384 base stations had not resumed normal functions.
As of 9:53pm yesterday, 359,927 households were still without power, state-run Taiwan Power Co (台電) said.
The Taiwan Railways Administration (TRA) and Taiwan High Speed Rail Corp resumed train services yesterday afternoon, although TRA canceled operations of the Alishan Forest Railway, as well as the Pingsi (平溪) and Jiji (集集) branch lines.
More than 750 flights departed from the Taiwan Taoyuan International Airport yesterday, as the nation's largest airport activated a plan to transport about 12,000 passengers whose flights were canceled on Tuesday.
Statistics from the Civil Aeronautics Administration (CAA) showed that 234 domestic flights and 58 international flights were canceled yesterday.
One domestic and 112 international flights were also delayed.
The agency said that it was investigating whether EVA Air (長榮航空) had violated aviation rules when it dispatched flights on Tuesday. Netizens have accused the nation's second-largest airline of forcing pilots to land under inclement weather.
The standards that the airline company set to dispatch or land a flight on a typhoon day, as well as the amount of fuel that its airplanes were carrying and the number of hours its cabin crew were working would all be under scrutiny, the CAA said.
EVA had 45 flights that were scheduled to land at the Taoyuan Airport on Tuesday. Thirty flights landed at the airport, including those returning to Taoyuan after first landing in Hong Kong or Okinawa. In addition, seven flights landed in Hong Kong, seven in Taichung and one in Macau, the agency said.
The CAA said the airline is supposed to choose at least two backup airports if its flights could not land at their target destinations.
EVA yesterday issued a statement denying the allegations, adding that it would sue individuals spreading unsubstantiated comments online.
Comments will be moderated. Keep comments relevant to the article. Remarks containing abusive and obscene language, personal attacks of any kind or promotion will be removed and the user banned. Final decision will be at the discretion of the Taipei Times.