GTI think tank launches in Washington
MOVING FORWARD: The institute's mission is to develop leaders and advocates for a strong Taiwan-US relationship for the next generation, GTI chairman Robert Lai said
The Global Taiwan Institute (GTI), a think tank that aims to protect Taiwanese democracy and national security by strengthening Taiwan-US relations, on Wednesday held an event at its headquarters in Washington to mark its inauguration.
The GTI is the first US-based think tank dedicated to Taiwanese interests and is said to be well-funded, reportedly spending US$24 million on the property for its headquarters in Dupont Circle, a neighborhood known for its heavy presence of embassies and prestigious think tanks.
The event was attended by almost 100 Taiwanese-Americans, research institute experts, diplomats and politicians.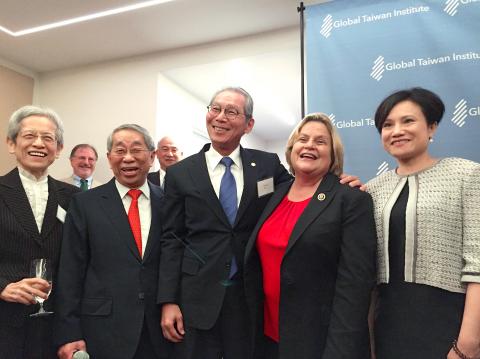 Global Taiwan Institute chairman Robert Lai, second left, Taiwan's Representative to the US Stanley Kao, center, and US Representative Ileana Ros-Lehtinen, second right, on Wednesday attend an event in Washington marking the founding of the institute.
Photo: CNA
Among the attendees were US Representative Ileana Ros-Lehtinen of the Republican Party and US Representative Grace Meng of the Democratic Party; New Power Party (NPP) Legislator Freddy Lim (林昶佐); Taiwan's Representative to the US Stanley Kao (高碩泰); former US senior official to APEC Robert Wang; US-based Center for Strategic and International Studies (CSIS) senior vice president for Asia Michael Green; Bonnie Glaser, senior adviser for Asia and director of the China Power Project at the CSIS; and Heritage Foundation director of Asian studies Walter Lohman.
GTI chairman Robert Lai (賴義雄) said the institute's mission is to develop leaders and advocates for a strong Taiwan-US relationship for the next generation.
Kao said the GTI and the Taipei Economic and Cultural Representative Office in the US have the same aims, and he looked forward to the two working together to promote Taiwan in the international community, and to improving and strengthening Taiwan-US relations, according to the Central News Agency.
Ros-Lehtinen said the US must remain committed to the "six assurances" — a series of guarantees for Taiwanese security against Chinese claims — as the foundation of US-Taiwan relations.
The GTI said it would hold its first academic conference on Thursday next week. The conference is to be chaired by former American Institute in Taiwan deputy director David Keegan and is to look at issues such as whether the US needs to change course on its Taiwan policy that was set out in 1994.
Sources who attended the event said that US lawmakers are expected to propose a bill which would lift restrictions barring high-ranking Taiwanese officials from visiting Washington and US military commanders from visiting Taiwan.
Comments will be moderated. Keep comments relevant to the article. Remarks containing abusive and obscene language, personal attacks of any kind or promotion will be removed and the user banned. Final decision will be at the discretion of the Taipei Times.