TSU members call for tourism reforms
VICIOUS CYCLE: The nation is entrenched in a tourism pattern that offers low-quality and low-profit package tours to Chinese visitors, former TSU legislator Chou Ni-an said
Taiwan Solidarity Union (TSU) members yesterday condemned China for manipulating the tourism market in a bid to coerce Taiwan ahead of a planned protest by travel operators today, saying the tourism industry needs to reform and break away from overdependence on China.
China has restricted tourism to Taiwan as the Democratic Progressive Party (DPP) administration refuses to accept the so-called "1992 consensus," which is part of China's attempt to annex Taiwan by economic coercion, TSU Youth Department deputy director Hsu Ya-chi (許亞齊) said.
The "1992 consensus," a term former Mainland Affairs Council chairman Su Chi (蘇起) admitted making up in 2000, refers to a tacit understanding between the Chinese Nationalist Party (KMT) and the Chinese government that both sides of the Taiwan Strait acknowledge there is "one China," with each side having its own interpretation of what "China" means.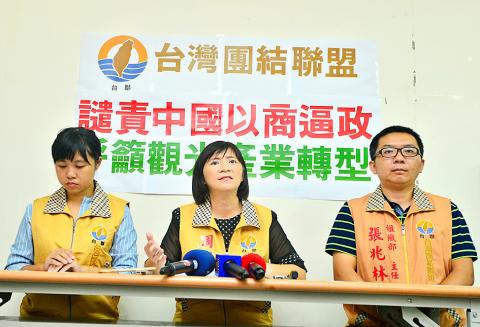 Former Taiwan Solidarity Union legislator Chou Ni-an, center, speaks at a news conference in Taipei yesterday, calling on the tourism industry to do more to prevent over-reliance on the China market.
Photo: Wang Yi-sung, Taipei Times
"Taiwan's tourism industry, as well as other industries, has to diversify its client base and seek international customers to escape overreliance on the Chinese market and hostile political manipulation," Hsu said.
Former president Ma Ying-jeou's (馬英九) China-friendly administration focused the nation's economy on the Chinese market, and the tourism industry has ended up in a vicious cycle of depleting limited tourism resources to court low-spending Chinese tourist groups, former TSU legislator Chou Ni-an (周倪安) said.
The number of inbound tourists has grown by about 1 million every year and it reached 10 million last year, while Chinese tourists increased from 22.95 percent of all foreign travelers in 2008 to 53.23 percent last year, Chou said.
However, the average daily consumption per tourist has dropped alongside the increase in Chinese tourists, going down from US$224.07 in 2013 to US$207.87 last year.
"Far from benefiting from increased Chinese tourist numbers, the nation is entrenched in a tourism pattern that offers low-quality and low-profit package tours to Chinese visitors," Chou said.
Travel agencies funded with Chinese capital that provide one-stop services should be barred from receiving relief loans from the Executive Yuan, she said.
The Executive Yuan on Thursday last week approved a plan to extend NT$30 billion (US$948.45 million) in loans to the tourism sector amid the drastic decrease in the number of Chinese tourists visiting Taiwan.
Tourism has to be developed in line with national security, environmental capacity and service quality to prevent a flood of low-quality tour groups overwhelming the nation's capacity, she said.
"The Chinese Communist Party (CCP) has threatened to cease all interaction with Taiwan if the DPP administration does not accept the '1992 consensus.' For the first time the TSU supports the CCP. We called on the CCP to keep its word and cease the interaction as soon as possible," TSU youth director Chang Chao-lin (張兆林) said.
"What the nation needs least is Chinese tourists being used to manipulate Taiwan's economy and independence," Chang said, in response to Minister Without Portfolio Chang Ching-sen's (張景森) remark that Chinese visitors are Taiwan's "most needed friends."
Although travel firms are understandably distressed, they have to transform their business models to become more sustainable and profitable to prevent being paralyzed by Chinese manipulation, Chang said.
Comments will be moderated. Keep comments relevant to the article. Remarks containing abusive and obscene language, personal attacks of any kind or promotion will be removed and the user banned. Final decision will be at the discretion of the Taipei Times.