CIVIL PENSIONS: Young people's groups voice their support for reform
Representatives from a coalition of young people's groups voiced their support for pension reform in Taipei yesterday.
The group called for "generational justice" and equal treatment for people from all occupations, adding that young people are unfairly shouldering the financial burden of public pensions.
Jennifer Lu (呂欣潔), an executive for the Social Democratic Party, said that the viewpoints of the younger generation are not being heard at government meetings.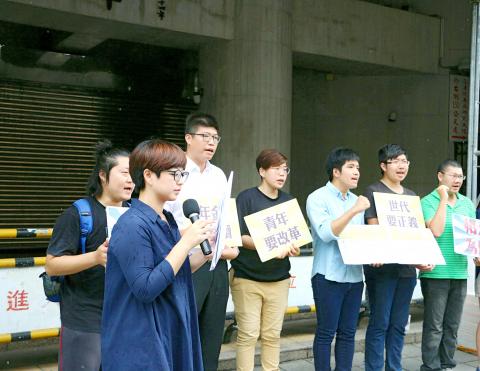 Young people at a rally in Taipei yesterday call on students to demand pension reform, job equality and intergenerational justice.
Photo: CNA
"I have many young adult friends around me who are civil servants, public-school teachers, or enlisted in the military, but they support the government's drive for pension reform," Lu said. "However, they are afraid to speak out due to pressure from their superiors."
"Many young adults doubt that they can receive pensions in the future, even though they have paid into the system," Lu said. "They worry that they have to pay now, but when they retire, they would have to face a bankrupt nation."
Hsu Tzu-wei (徐子為), head of National Chengchi University's graduate students association, said that public-school teachers receive on average NT$68,000 in monthly pensions, while workers in most other occupations only receive at most NT$16,000 per month.
"Our society has belatedly discovered that the pension system and working rights are unfair to private-sector employees," Hsu said. "Pension reform is not a 'class struggle' against groups in higher wage levels. We just want to achieve reform so that private-sector employees have the same pensions as civil servants, teachers and military personnel."
The government must be more prudent in its spending, he said, adding that it must find other revenue sources, so the pension system can be stabilized, easing the financial burden on young workers who have to support retirees.
Chen Chia-hsin (陳佳菁), president of the National Yang Ming University student union, said problems with the pension system have a historical and institutional background, and proposed reforms are not aimed at any particular group as some have claimed.
"Spending is allocated unevenly, for which the younger generation has to shoulder the financial burdens of the future," Chen said. "We want the government to carry on dialogue with all sectors of society to make the pension system fair, equitable and sustainable."
Wu Yun-ching (吳昀慶), head of National Taiwan University's graduate students association, said statistics show that the nation's "old-age dependency" ratio is at 5.6, meaning one person aged 65 or more is dependent on the financial contributions of 5.6 working adults.
"However, the ratio will be reduced to 2.2 within the next 20 years," Wu said. "Taiwan will become an impoverished society. Therefore we must discuss the fair distribution of financial resources right now."
Yao Chieh-hsiang (姚介祥), a figure in the Sunflower movement, said Taiwan risks bankruptcy, so Taiwanese should tighten their belts and face the hardship together.
"Those people protesting today [yesterday] ... should understand that they are also a part of this nation," Yao said. "They should not see reform as a punishment."
Comments will be moderated. Keep comments relevant to the article. Remarks containing abusive and obscene language, personal attacks of any kind or promotion will be removed and the user banned. Final decision will be at the discretion of the Taipei Times.