CIVIL PENSIONS: Thousands gather to protest reform
KMT SAVIOR? A former civil servant said that the KMT needs to be involved because the government would leave no way to know what the final pension plan will look like
Thousands of retired and active civil servants, public-school teachers and military personnel took to the streets in Taipei yesterday, demanding that the government abstain from targeting them in planned pension reforms.
In the first massive demonstration since President Tsai Ing-wen (蔡英文) took office in May, protesters spilled from Ketagalan Boulevard onto Zhongshan S Road and several other roads blocks away, with the Taipei Police Department estimating that about 117,000 attended, while organizers claimed there were more than 250,000 participants.
The size of the crowd was swelled by an official mobilization by the Chinese Nationalist Party (KMT), with KMT Chairwoman Hung Hsiu-chu (洪秀柱) pledging to "stand with" the protesters.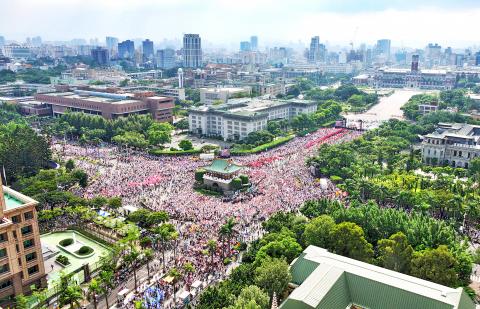 Protesters pack streets near the Presidential Office Building in Taipei yesterday in a rally organized by military personnel, civil servants and public-school teachers to show their dissatisfaction with the government and call for an end to "defamation" against them.
Photo: Lo Pei-der, Taipei Times
While Hung did not take to the stage, she greeted the leaders of one line of former military personnel with flowers and flags, with participants having photographs taken with her.
The KMT also set up several "gas stations" — a play on the Mandarin phrase "add oil," an expression of encouragement — along march routes, handing out water and Republic of China (ROC) flags.
"Reform absolutely should not be carried out by putting labels on people or pitting generations against each other," she said, adding that her party had pushed for pension reforms under former president Ma Ying-jeou (馬英九) while the DPP had stalled the efforts in the legislature.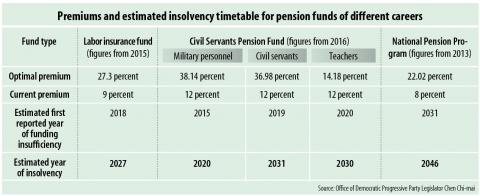 Former premier Hau Pei-tsun (郝柏村) marched in his capacity as a former army general, while several KMT legislators and city councilors also took part.
The demonstration began yesterday afternoon with retired military personnel gathering outside Daan Forest Park (大安森林公園) and National Chiang Kai-shek Memorial Hall before marching to the rally site on Ketagalan Boulevard in front of the Presidential Office Building, walking in formation, waving large ROC flags and singing military anthems.
Retired civil servants, police officers and firefighters gathered at the 228 Peace Memorial Park before walking to Ketagalan Boulevard, while retired public-school teachers converged at National Chiang Kai-shek Memorial Hall's Liberty Square.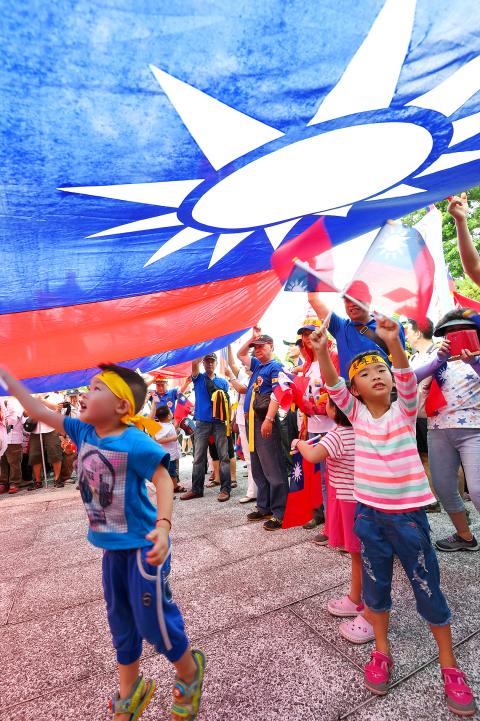 Children stand under a Republic of China flag during a protest in Taipei yesterday.
Photo: Chang Chia-ming, Taipei Times
Protesters shouted slogans opposing "stigmatization" and demanding "dignity," with the Alliance for Monitoring Pension Reform — which organized the march — calling for fiscal reforms and fund management improvements to offset some of the need for cuts, while also demanding that any changes to benefits and contribution formulas not be applied retroactively.
Tsai has asked the Presidential Office's National Pension Reform Committee to draft a consensus pension reform plan, with Minister Without Portfolio Lin Wan-i (林萬億), the deputy convener and executive director of the committee, pledging to resign if a plan is not drafted and submitted to the Legislative Yuan by May next year.
Some protesters expressed distrust of Tsai's push for reforms.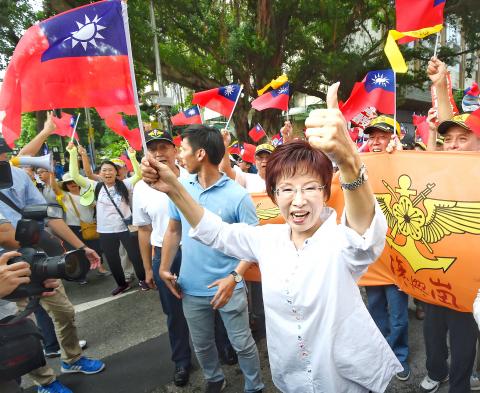 Chinese Nationalist Party (KMT) Chairwoman Hung Hsiu-chu takes part in a protest organized by military personnel, civil servants and public-school teachers in Taipei yesterday.
Photo: Fang Pin-chao, Taipei Times
"We are afraid of pension reform, because the Democratic Progressive Party (DPP) is now in full control," said a woman surnamed Chan (詹), who said she is a former civil servant living in Taichung. "Without the KMT's participation, there is no way to know what the final plan will look like beforehand. Waiting until a plan is announced would be too late. We have to step forward now before anything is finalized."
Chan said that the government's focus on discussions over relative "replacement ratios" between salaries and pensions for public and private-sector employees was unreasonable because of the different nature of the systems.
"We had to go through testing before being hired and that door is always open," she said. "So if you think we have better treatment, you can always take the test yourself."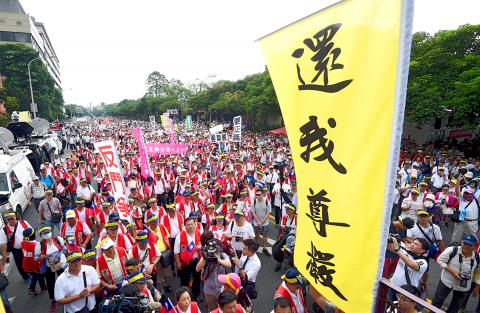 Protesters hold a sign that reads: "Give us our dignity back" at a protest in Taipei yesterday.
Photo: Lo Pei-der, Taipei Times
"We feel that fiscal reform should be comprehensive and not just targeted at us," said Kuo Wen-ching (郭文進), a retired soldier, who called for the government to raise taxes on corporations instead of trying to "hunt down" former government employees.
He also rejected remarks by Tsai on Friday that former military personnel had "special circumstances" that warranted their being treated differently as part of pension reform, accusing her of trying to divide former government employees while remaining "coy" about the nature of cuts.
According to the committee, there are 13 pension programs in effect in Taiwan.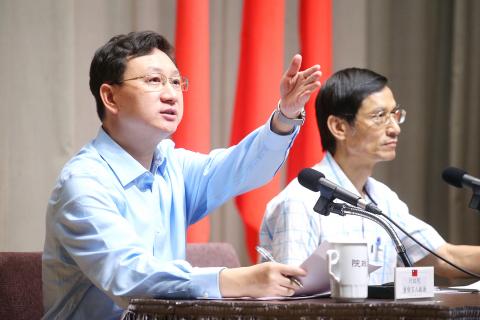 Cabinet spokesperson Tung Chen-yuan, left, speaks at a news conference in the Executive Yuan in Taipei yesterday as Minister Without Portfolio Lin Wan-i looks on.
Photo: CNA
The average monthly pension is NT$49,379 for military personnel, NT$56,383 for civil servants, NT$68,025 for public-school teachers, NT$17,223 for private-school teachers, NT$16,179 for employees covered by labor insurance, NT$7,256 for farmers and NT$3,628 for workers covered by general public insurance, it said.
Low contributions coupled with the nation's aging population have put most of the funds on course for bankruptcy within two decades, with Minister of Civil Service Chou Hung-hsien (周弘憲) last week saying that pension contributions by civil servants, military personnel and teachers would have to be tripled for the funds to be sustainable over the next 50 years at current payment levels.
At a news conference at the Executive Yuan later yesterday, Lin said the committee would convene pension reforms meetings next month and in November across the nation before a national conference in January or February next year.
Additional reporting by CNA
Comments will be moderated. Keep comments relevant to the article. Remarks containing abusive and obscene language, personal attacks of any kind or promotion will be removed and the user banned. Final decision will be at the discretion of the Taipei Times.