Cabinet task force to probe Mega Bank
DEAL DONE: The bank's New York branch was facing a bigger fine, but central bank Governor Perng Fai-nan helped facilitate negotiations to reduce it, the premier said
The Executive Yuan yesterday formed a supervisory task force to facilitate an investigation into a breach of US money laundering rules by Mega International Commercial Bank's (兆豐銀行) New York branch.
The task force, consisting of legal and finance experts — including lawyer Chen Chuan-yueh (高涌誠), former Judicial Reform Foundation director Kao Yung-cheng (高永成), former minister of finance Joseph Lyu (呂桔誠), former First Commercial Bank (第一銀行) chairman Michael Chang (張兆順) and former Land Bank of Taiwan (土地銀行) chairmen Tsai Jer-shyong (蔡哲雄) and Wu Fang-chih (吳藩志) — is to gauge public opinion regarding the case and facilitate probes by the Financial Supervisory Commission (FSC) and the Ministry of Justice.
"The Executive Yuan will get to the bottom of the case and hold accountable all of the people responsible," Premier Lin Chuan (林全) told a news conference.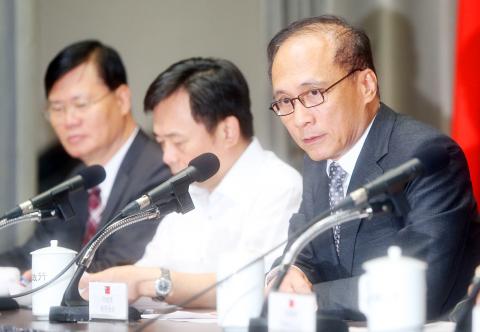 Premier Lin Chuan, right, takes part in a press conference in Taipei yesterday about a breach of US money laundering regulations by Mega International Commercial Bank's New York branch.
Photo: CNA
The FSC interviewed 28 Mega Bank officials, while the ministry is looking into suspicious accounts at the New York branch, Lin said, although little was revealed about the progress of the investigation.
The New York State Department of Financial Services (DFS) on Aug. 19 announced that the New York branch agreed to pay a US$180 million penalty for breaching US money laundering regulations.
There are 73 suspicious accounts and 174 suspicious transactions involved, but no money laundering activity has been detected so far, Lin said.
Lin reaffirmed the appointment of Mega Financial Holding Co (兆豐金控) chairman Shiu Kuang-si (徐光曦) amid criticism that Lin should be held accountable for appointing someone who was responsible for the branch's flawed practices, as suspicious transactions between Mega Bank's New York and Panama branches occurred during Shiu's term as the bank's general manager.
"Although Shiu was not totally blameless, he did not bear a large share of responsibility" in failing to report suspicious account activity to US authorities, Lin said.
Shiu was appointed as chairman after the branch was fined because he has experience dealing with a similar crisis, in which the bank's Australian branch was not fined for breaching Australia's money laundering regulations, Lin said.
President Tsai Ing-wen (蔡英文) was also informed of the appointment, Lin said.
Shiu is in the US to learn more about the New York branch's operations and will prepare a formal report for the DFS, Lin said.
The FSC and the ministry are also looking into the New York branch's practices instead of allowing Mega Bank officials to direct the investigation, Lin said in response to accusations that Shiu might cover up the branch's activities.
The DFS was originally going to impose a bigger fine, but central bank Governor Perng Fai-nan (彭淮南) helped facilitate negotiations between Mega Bank and US authorities to reduce the fine to US$180 million, Lin said, confirming a rumor about Peng's intervention.
Peng, who is Shiu's brother-in-law, helped Mega Bank connect with the US Federal Reserve to negotiate with the DFS, Lin said.
The sum of the original fine cannot be revealed due to an agreement with the US, Lin said.
The case also shows that the FSC's supervision of Taiwanese banks' foreign branches has to be improved, Lin said.
"We have learned a painful lesson. There is apparently much room for improvement in terms of money laundering prevention and legal compliance," Lin said.
Comments will be moderated. Keep comments relevant to the article. Remarks containing abusive and obscene language, personal attacks of any kind or promotion will be removed and the user banned. Final decision will be at the discretion of the Taipei Times.