Aged FORMOSAT-2 decommissioned
FORMOSAT-2, the nation's first locally developed ionospheric research and surface mapping satellite, has been decommissioned after 12 years in operation.
The satellite had remained operational eight years past its expected lifespan of five years, but a series of equipment failures finally forced the National Space Organization (NSPO) to pull the plug.
One of its four reaction wheels, which rotate and position the satellite, malfunctioned in 2013, and another one stopped working in June, which meant FORMOSAT-2 could no longer take pictures or make observations, the agency said.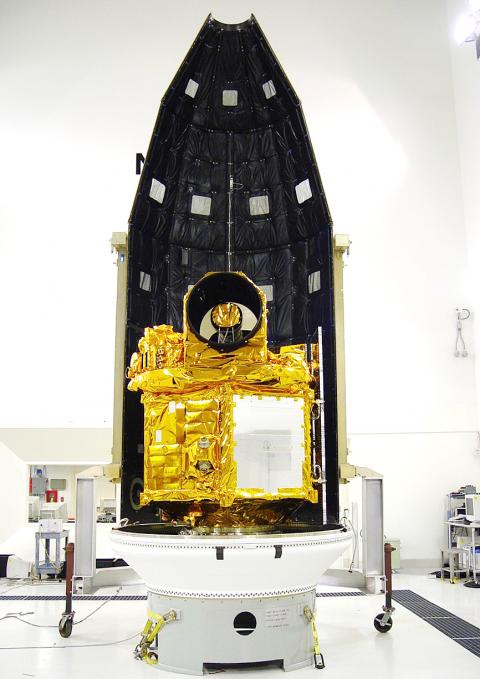 The research and surface mapping satellite FORMOSAT-2 awaits launch in March 2004.
Photo courtesy of the National Space Organization
After weeks of repair efforts, the NSPO determined that the problematic wheels could not be fixed and that FORMOSAT-2 had to be retired.
The agency made its last contact with FORMOSAT-2 during a decommissioning ceremony on Friday at its headquarters in Hsinchu, bringing an end to the nation's most successful surveillance satellite program.
"With gratitude, we congratulate FORMOSAT-2 for the service it provided. It accompanied us over the past 12 years as we grew up. It is like an old friend, or more like a teacher," NSPO Director Chang Guey-shin (張桂祥) said. "The satellite made an unparalleled contribution to the nation's space development."
The satellite, which cost NT$4.6 billion (US$145.5 million at current exchange rates) to build, was launched on May 21, 2004, from Vandenberg Air Force Base in California.
It circles the Earth once every 103 minutes and passes over Taiwan twice a day.
It was the nation's only satellite with a daily revisit capability, meaning it could take pictures of a given location every day, and the only one that could photograph the polar regions.
The satellite took about 2.55 million pictures of the Earth's surface.
The pictures brought in about NT$600 million in revenue, while images worth about NT$1.1 billion were provided to 191 government agencies and 176 academic institutions in Taiwan free of charge.
The satellite helped with scientific research, environmental monitoring, urban planning and natural disaster prevention and evaluation.
FORMOSAT-2 was used in 343 disaster response missions, providing authorities with immediate images of damaged areas during the Indian Ocean earthquake and tsunami in December 2004, Hurricane Katrina in the US in 2005, the Sichuan earthquake in China in 2008, Typhoon Morakot in Taiwan in 2009 and the Tohoku earthquake and tsunami in Japan in 2011.
For eight days after Morakot hit Taiwan, the satellite took detailed pictures of all areas damaged by the typhoon to help the government evaluate the situation and plan its emergency response.
FORMOSAT-2 was also the first satellite to observe the transient luminous event — an electrical-discharge phenomena well above the altitudes of normal lightning and storm clouds — and its observations have been cited in numerous academic research.
Additional reporting by staff writer
Comments will be moderated. Keep comments relevant to the article. Remarks containing abusive and obscene language, personal attacks of any kind or promotion will be removed and the user banned. Final decision will be at the discretion of the Taipei Times.