Tsai's, Lin's approval ratings decline
SHORT HONEYMOON: A poll by Taiwan Indicators Survey Research found 49.2% of respondents have confidence in Tsai, down about 10 percentage points from a June poll
President Tsai Ing-wen's (蔡英文) approval rating has dipped below 50 percent for the first time since she was sworn in on May 20, with her disapproval rating increasing to almost 40 percent, according to a poll published by the Taiwan Indicators Survey Research yesterday.
The poll, conducted on Thursday and Friday among people aged 20 and above, found that the percentage of people who expressed satisfaction with Tsai's performance has declined from 50.2 percent in late May and 54.6 percent in late June to 45.5 percent.
Her disapproval rating rose from 32.3 percent in last month's poll to 39.8 percent.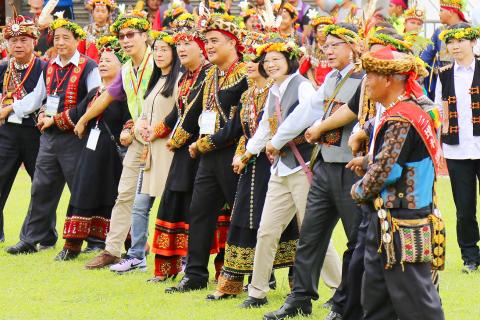 President Tsai Ing-wen, third right, and other guests yesterday dance with Paiwan Aboriginal residents on the first day of the Harvest Festival in Sandimen Township, Pingtung County.
Photo: Chiu Chih-jou, Taipei Times
When Tsai was sworn in, only 16.3 percent of respondents said they were dissatisfied with her performance, the poll said.
Asked if they have confidence in Tsai, 49.2 percent of those polled said "yes," a drop of about 10 percentage points from 59.3 percent in the May survey.
The percentage of respondents who do not have confidence in her rose from 20.5 percent to 32.5 percent.
Premier Lin Chuan's (林全) disapproval rating surpassed his approval rating for the first time, at 40.4 percent and 37.3 percent respectively, the poll showed.
Lin's disapproval rating in the May survey was 17.4 percent, while 44.8 percent of respondents approved of his performance.
The survey indicated that respondents are divided on the performances of Democratic Progressive Party (DPP) lawmakers, who hold 68 of the legislature's 113 seats.
Forty percent of respondents said DPP lawmakers' performance was satisfactory, while 44 percent said otherwise.
Despite the numbers, the public seems to be more satisfied with the general performance of the Tsai administration than they were with former president Ma Ying-jeou's (馬英九) government after its first three months in office in 2008.
The research center also compared its latest poll results with a survey conducted by the Chinese-language monthly Global Views between Aug. 12 and Aug. 15, 2008, to gauge public evaluations of the Ma administration's performance.
In 2008, 47.6 percent of respondents were dissatisfied with Ma's performance, while 36.1 percent said they were satisfied.
The approval and disapproval ratings for Ma's first premier, Liu Chao-shiuan (劉兆玄), were 34.2 percent and 45.9 percent respectively, according to that poll.
Respondents to the magazine's poll were unhappy with Chinese Nationalist Party (KMT) legislators, who occupied 81 seats in 2008, with about 54 percent of those surveyed saying they were not content with the lawmakers' performance, while 26.3 percent approved.
The poll released yesterday collected 1,003 valid samples and has a margin of error of 3.1 percentage points.
Comments will be moderated. Keep comments relevant to the article. Remarks containing abusive and obscene language, personal attacks of any kind or promotion will be removed and the user banned. Final decision will be at the discretion of the Taipei Times.