Taiwan accepts US weapons deal
Taiwan has accepted part of an arms deal package offered by the US that includes 13 sets of Phalanx close-in weapons systems (CIWS) and other equipment that will cost NT$9 billion (US$286.6 million), Ministry of National Defense sources said yesterday.
The US in December last year extended a letter of offer and acceptance to Taiwan for an arms package costing about US$1.83 billion.
The package included two decommissioned FFG-7 Oliver Hazard Perry-class guided missile frigates, 36 AAV-7 amphibious assault vehicles, 13 MK 15 Phalanx Block 1B ship defense CIWS and upgrade kits, ammunition and support, 250 Block I-92F MANPAD Stinger missiles and other equipment.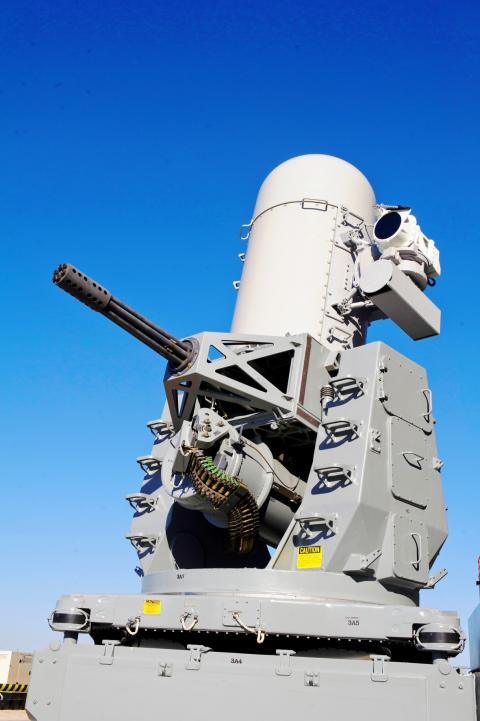 An MK 15 Block 1B defense system is displayed in an undated photograph.
Screen grab from the Raytheon Co Web site
Taiwan agreed to buy the frigates in March, the AAV-7 vehicles in May and the Phalanx CIWS last month, the source said.
The CIWS is considered standard equipment on all surface combat ships, the source said, adding that the ministry has deployed the systems in mountainous areas to enhance security at missile bases.
Prior to the signing of the offer last month, the navy had only one MK 15 Block 1B CIWS system on one of its Kidd-class destroyers, the source said.
The MK 15 system is more advanced than the Phalanx systems currently in the Taiwanese arsenal, with the addition of visible light/infrared targeting systems and the ability to switch to manual mode, increasing a surface combat ship's counterstrike abilities, the source said.
Ministry officials said that delivery of the new systems is expected to be a drawn-out process, with the navy not likely to receive the last batch until June 2024.
Comments will be moderated. Keep comments relevant to the article. Remarks containing abusive and obscene language, personal attacks of any kind or promotion will be removed and the user banned. Final decision will be at the discretion of the Taipei Times.