Weightlifter Lin suspended for doping
DISAPPOINTMENT: Lin Tzu-chi's withdrawal opened the way for her main rival, Deng Wei of China, to win the gold medal with a record-breaking combined lift of 262kg
Chinese Taipei Olympic Committee vice president Steven Chen on Tuesday apologized after weightlifter Lin Tzu-chi (林子琦) was suspended because of an abnormal doping test, costing the nation a strong medal chance.
Lin was considered a gold-medal contender in the women's 63kg division on Tuesday, but her absence opened the way for her main rival, Deng Wei (鄧薇) of China, to win the gold with a record-breaking combined total of 262kg.
The previous record, 261kgs, was set by Lin at the Asian Games in 2014, but her performance has slipped since then. She placed sixth at the World Weightlifting Championships in November last year, with a combined lift of 238kgs.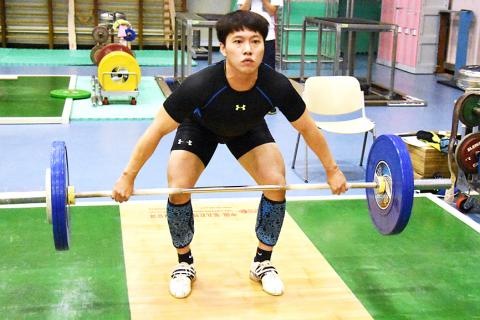 Weightlifter Lin Tzu-chi trains in a Taipei gym on May 11. She was suspended from competing in the Olympic Games in Rio de Janeiro on Tuesday because of an abnormal doping test result.
Photo: Liao Yu-wei, Taipei Times
"As the leader of Taiwan's Olympics delegation, I take full responsibility for a failure to win a medal in the weightlifting event," Chen said. "We disappointed everyone in Taiwan."
The delegation decided to pull Lin from the competition after receiving a report on Friday last week that indicated abnormalities in a doping test.
"Taiwan always follows the highest standards in doping tests to ensure that competition is fair and protect athletes' rights," Chen said. "So we have decided to temporarily suspend Lin Tzu-chi from competition and make it clear to everyone that there is no room for compromise on doping."
Chen said that the decision was based on guidance from the World Anti-Doping Agency (WADA).
Chen quoted weightlifting team coach Tsai Wen-yi (蔡溫義) as saying he was saddened by news of the test results.
It was not the first time Lin failed a doping test. She tested positive for taking a banned substance before the 2010 Asian Games, and while she insisted she had mistakenly taken an illegal drug, she was suspended for two years.
Sports Administration Director-General Ho Jow-fei (何卓飛), who is in Rio de Janeiro, also expressed regret over the situation.
Ho said Lin was one of the athletes under close watch by the International Weightlifting Federation (IWF) and any tests involving her drew attention from the federation.
He said the test was done in Taiwan before the Olympic Games and sent to Japan for testing.
The results came back on Friday and Japan sent a copy to the IWF, he said, adding that there are test results of other athletes that have yet to arrive.
"WADA requires that if an abnormal test is confirmed, then the athlete must be temporarily suspended from competition," Ho said.
"We had to make this decision, as regrettable as it is. We also call on athletes to be careful in what they use," Ho added.
The test result was not immediately made public to prevent it from affecting the morale of Hsu Shu-ching (許淑淨) and Kuo Hsing-chun (郭婞淳) in their weightlifting events on Sunday and Monday respectively, Chinese-language media said.
The delegation said Lin's suspension would make it harder for Taiwanese athletes to achieve the goal set by the Sports Administration of three golds, two silvers and bronze for the Rio Games.
At press time last night, Taiwan had won three medals: a gold and a bronze in women's weightlifting and a bronze medal in the women's team event in archery.
Comments will be moderated. Keep comments relevant to the article. Remarks containing abusive and obscene language, personal attacks of any kind or promotion will be removed and the user banned. Final decision will be at the discretion of the Taipei Times.