Hsu lifts Taiwan's first Rio gold medal
HEART OF GOLD: Weightlifter Hsu Shu-ching said she plans to donate a portion of her NT$30 million prize money to the high school she graduated from
Weightlifter Hsu Shu-ching (許淑淨) on Sunday won Taiwan's first gold medal at the Olympic Games in Rio de Janeiro, lifting a total of 212kg in the women's 53kg group.
Hsu lifted 100kg in the snatch and 112kg in the clean and jerk.
The 25-year-old student beat the Philippine's Hidilyn Diaz, who won silver, South Korea's Yoon Jin-hee, who won bronze, and China's Li Yajun (黎雅君).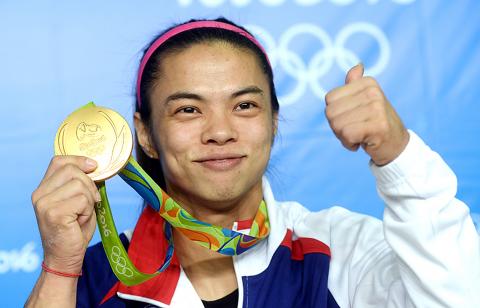 Hsu Shu-ching gives the thumbs up and displays her gold medal in Rio de Janeiro on Sunday.
Photo: Lin Cheng-kung, Taipei Times
Hsu could gain another Olympic gold, as she is expected to be promoted from second place in the 2012 London Olympics after the gold medalist — Zulfiya Chinshanlo of Kazakhstan — tested positive for performance-enhancing drugs just before the Rio de Janeiro Games.
Under amended regulations governing the issuance of Guo Guang Athletic Medals and Scholarships (國光體育獎章及獎助學金頒發辦法) and additional prize money offered by the Chinese Taipei Olympic Committee for gold medalists in the Rio Games, Hsu is to be awarded NT$30 million (US$952,018).
The Ministry of Education last year approved amendments raising the prize money for winners of gold medals in the Olympic Games to NT$20 million, with NT$7 million and NT$5 million for silver and bronze medal winners respectively.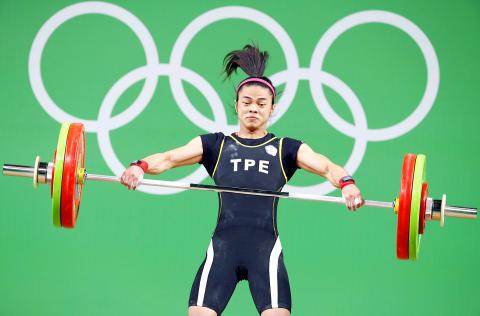 Hsu Shu-ching of Taiwan competes during the women's 53kg category of the Rio 2016 Olympic Games Weightlifting events at the Riocentro in Rio de Janeiro, Brazil on Sunday.
Photo: EPA
The committee is to award Hu an additional NT$10 million.
After receiving the medal, Hsu said that her performance was better than she had expected, adding that she was worried about a thigh injury she sustained three weeks ago.
Hsu, who is from a rural area of Lunbei Township (崙背) in Yunlin County, said she plans to donate a portion of her prize money to her alma mater, Kaohsiung Municipal Wunshan Senior High School.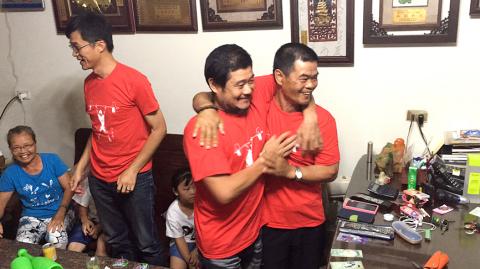 Members of Taiwanese weightlifter Hsu Shu-ching's family celebrate after she won Taiwan's first gold medal at the 2016 Summer Olympics in Rio de Janeiro, Brazil, on Sunday.
Photo: Huang Shu-li, Taipei Times
In Taipei yesterday, President Tsai Ing-wen (蔡英文) and Premier Lin Chuan (林全) sent congratulatory messages to Hsu.
Tsai thanked Taiwanese athletes at the Rio Games for giving their best, saying Taiwanese are proud of them, Presidential Office spokesman Alex Huang (黃重諺) said.
Hsu's father, Hsu Yung-ming (許永明), said he was overjoyed by the news.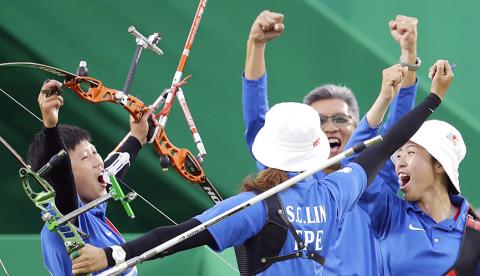 Archery team from Taiwan celebrate after winning their bronze medal match at the women`s team competition at the Sambadrome venue during the 2016 Summer Olympics in Rio de Janeiro, Brazil, on Sunday.
Photo: AP
Also on Sunday, archers Tan Ya-ting (譚雅婷), Lei Chien-ying (雷千瑩) and Lin Shih-chia (林詩嘉) beat their Italian opponents to take the women's team bronze medal.
It was Taiwan's first Olympic archery medal since the men's team won a silver medal and the women's team the bronze in the Athens Games in 2004. Tan and Lei are to each receive NT$5 million in prize money.
The Athens Games also saw two of Taiwan's taekwondo athletes win the nation's first-ever gold medals: Chen Shih-hsin (陳詩欣) in the women's under-49kg division and Chu Mu-yen (朱木炎) in men's under-58kg division.
Comments will be moderated. Keep comments relevant to the article. Remarks containing abusive and obscene language, personal attacks of any kind or promotion will be removed and the user banned. Final decision will be at the discretion of the Taipei Times.