President issues apology to Aborigines
TRADITIONS: Tsai said a legal service center would be established to deal with a number of conflicts between laws and traditional Aboriginal practices such as hunting
President Tsai Ing-wen (蔡英文) yesterday issued a formal apology on behalf of the government to Aborigines for the discrimination and neglect they suffered over the past 400 years.
The apology was made after a ceremony in front of the Presidential Office Building in Taipei, where representatives of Taiwan's 16 recognized Aboriginal communities gathered on Indigenous People's Day.
Following a Paiwan tradition, the representatives announced their arrival by singing songs and burning stalks of foxtail millet.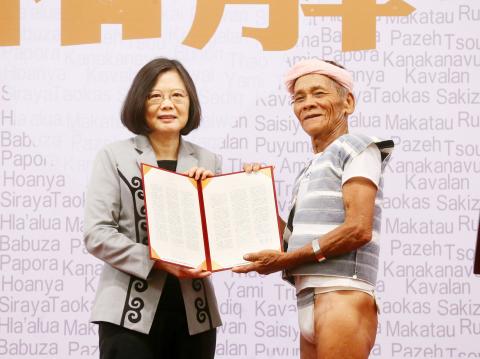 President Tsai Ing-wen, left, poses for a photograph with an 80-year-old Tao elder from Orchid Island after issuing a formal apology to Aborigines at the Presidential Office Building in Taipei yesterday.
Photo: EPA/Office of the president
Tsai then greeted them at the entrance of the Presidential Office Building and invited them in, where a Bunun blessing ceremony was held and prayers were offered by six Christian priests of Aboriginal heritage.
In her apology on behalf of the government, Tsai said it was a further step toward protecting the social status of Aborigines and promoting their development in education, culture, social welfare and economic development, as laid out in an article of the Constitution that was added on Aug. 1, 1994.
The article also abolished the widely used term shanbao (山胞, "mountain fellow") to refer to Aborigines, after they campaigned against it for decades because of racist connotations, Tsai said.
"For the unfair treatment and pain suffered by all of you in the past 400 years, I apologize on behalf of the government," Tsai said. "I believe that even now, there are still some people who think there is no need for such an apology, but that is the main reason why I need to make this apology on behalf of the government today."
Tsai also announced the establishment of a Presidential Office "commission for historical and transitional justice," which she is to head.
The commission is to hold discussions with representatives of Aboriginal communities on issues such as national policies toward Aborigines so that their voices can be heard, she said.
Tsai added that the Cabinet would seek to introduce a basic law for Aborigines, revive the historic memories of Aboriginal communities and pay attention to their education, health and economic development.
She said a legal service center would be created to deal with the increasing number of conflicts between existing laws and traditional Aboriginal practices, such as the hunting of non-protected animals.
Tsai also said that before the publication of a final report, she would re-examine a government decision to store nuclear waste on Orchid Island (Lanyu, 蘭嶼) and would offer compensation to members of the Tao community who live there.
She called for efforts to ensure better public understanding of the history and culture of Taiwan's various ethnic groups to help achieve reconciliation and prosperity for all, and promote justice, diversity and equality.
The apology to Aborigines was one of Tsai's campaign promises, which she said would signal respect for the early inhabitants of the nation and a move toward solving related issues.
An 80-year-old Tao elder from Orchid Island responded on behalf of the Aboriginal representatives, saying that he hoped the government's apology on Indigenous People's Day would mark the beginning of peace and reconciliation.
On behalf of the 16 Aboriginal communities, he accepted a printed copy of Tsai's apology and offered her foxtail millet in a traditional gesture.
Comments will be moderated. Keep comments relevant to the article. Remarks containing abusive and obscene language, personal attacks of any kind or promotion will be removed and the user banned. Final decision will be at the discretion of the Taipei Times.