Nepartak land, sea alerts issued
PROJECTED PATH: The first typhoon of the year is forecast to make landfall between Hualien and Taitung, before crossing central Taiwan and leaving via the Taiwan Strait
The Central Weather Bureau yesterday issued sea and land alerts for Typhoon Nepartak, adding that the storm is likely to make landfall on the east coast and severely affect the nation's weather today and tomorrow.
By 8:30pm yesterday, the eye of the typhoon was 700km southeast of Hualien. The typhoon was moving northwest at 20kph, with the radius of the storm expanding to 200km. The maximum wind speed near the typhoon's eye was 209kph.
The sea alert, which was issued at 2:30pm, applies to vessels operating near Orchid Island (蘭嶼, also known as Lanyu), Green Island (綠島), the northeast and southeast coasts of Taiwan proper, as well as the Bashi Channel.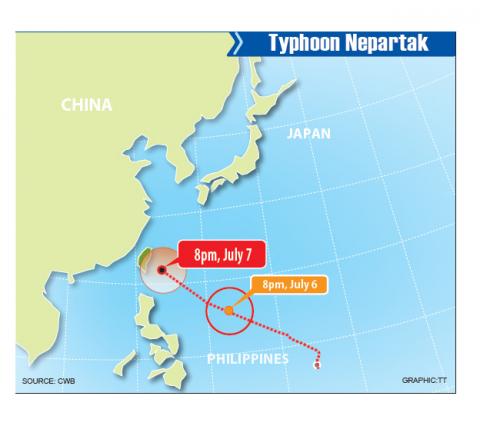 Based on the bureau's projected path, the typhoon is forecast to make landfall between Hualien and Taitung. It would then move across central Taiwan and the west coast before leaving via the Taiwan Strait.
Bureau forecaster Chen Yi-liang (陳怡良) said that the typhoon is likely to affect the nation from the latter half of today and all day tomorrow, adding that that the radius of the storm could reach Taiwan by this afternoon.
The entire nation — Taiwan proper and the outlying islands of Penghu, Kinmen and Matsu, should be prepared for stormy weather.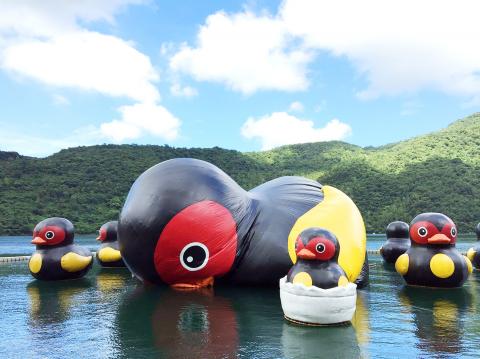 A deflated rubber duck sags on Liyu Lake in Hualien County yesterday. Workers began deflating the large rubber ducks after the Central Weather Bureau issued a sea warning for Typhoon Nepartak.
Photo: Wang Chun-chi, Taipei Times
Strong winds and large waves would affect the north and east coasts, as well as Hengchun Peninsula, Chen said, adding that people planning to visit these areas should be aware of the risks to their safety.
While the typhoon had yet to arrive yesterday, vegetable prices were reported to have risen by an average of 20 percent yesterday as consumers stocked up on food and vegetables before markets closed due to the typhoon, the Agriculture and Food Agency said, adding that the nation has a sufficient supply of vegetables.
Meanwhile, Taoyuan International Airport Corp said that it has ensured that drainage pipeline H would be functioning when the typhoon strikes in a bid to prevent flooding from recurring at Taiwan Taoyuan International Airport, adding that it is also equipped with several water pumps and 6,000 sandbags.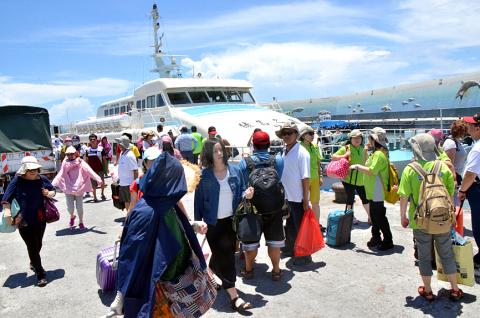 Tourists on Green Island yesterday wait by a boat as more than 2,000 prepared to return to Taitung County before the suspension of transportation as Typhoon Nepartak approached.
Photo: CNA
However, the airport advised passengers to contact their airlines directly to check if their flights today or tomorrow would be canceled or postponed due to the arrival of the typhoon, adding that the airport would process any backlog of flights over the weekend after the typhoon moves away from Taiwan.
Mandarin Airlines (華信航空), TransAsia Airways (復興航空) and Air China (中國國際航空) announced yesterday evening that some of their flights to China, northeast Asia and southeast Asia had been either canceled or postponed.
Shipping services to Orchid Island, Matsu, Penghu, Okinawa and Pingtan in China's Fujian Province have also been canceled today.
Consumers yesterday shop for vegetables and fruit at a traditional market on Hulin Street in Taipei as Typhoon Nepartak approached.
Photo: Liao Chen-hui, Taipei Times
Taiwan High Speed Rail Corp announced that its services departing before 5pm today would operate as scheduled, adding that an announcement about trains departing after 5pm would be made at 8am today.
Taiwan Railways Administration passengers and other public transport users were advised to monitor any announcements about delays or cancelations of services.
As of press time last night, eight cities and counties had announced that today would be a regular working day — Keelung, Taipei, New Taipei City and Taoyuan, and Hsinchu, Changhua, Chiayi and Lienchiang counties, while the other local governments were yet to make an announcement.
Comments will be moderated. Keep comments relevant to the article. Remarks containing abusive and obscene language, personal attacks of any kind or promotion will be removed and the user banned. Final decision will be at the discretion of the Taipei Times.