Alex Tsai draws ire after sharing pro-CCP article
BAD TIMING: Alex Tsai's action was inappropriate, given that rival politicians are working to end hate speech, DPP spokesperson Wang Min-sheng said
Chinese Nationalist Party (KMT) Central Policy Committee director Alex Tsai (蔡正元) sparked controversy by sharing an article that said Taiwan has to be ruled by the Chinese Communist Party (CCP) to complete its "historic mission" of unification.
"It marked the end of the Republic of China [ROC] when the Democratic Progressive Party [DPP] assumed leadership of the ROC. Taiwan has to be united [with China] by the CCP to complete its historic mission," media personality Liu Yi-hung (劉益宏) wrote in an article, which was posted by Tsai on Sina Weibo, the largest Chinese microblogging Web site.
Liu published the article on Facebook on Friday, saying: "The KMT and CCP are vying for the right to represent China, and both support the 'one China' principle. The ROC and People's Republic of China [PRC] are in fact two nations fighting against each other for the sake of one [Chinese] nation, which can only be accomplished when either the ROC or the PRC is eliminated."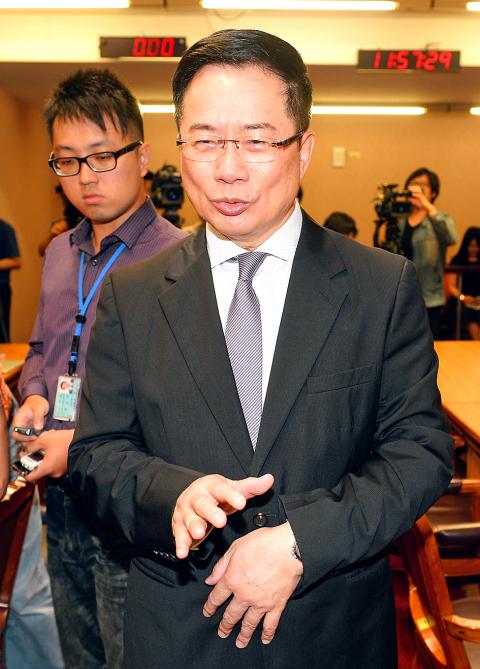 Chinese Nationalist Party (KMT) Central Policy Committee director Alex Tsai is pictured in Taipei on May 19.
Photo: Lin Cheng-kung, Taipei Times
"The PRC represents China, and Taiwan can only be a part of China, while the ROC in Taiwan comes to an end when it is under the DPP's rule," the article said.
"The idea of Taiwanese independence has spread and the CCP has to shoulder its historic responsibility [to unite Taiwan with China]," it added. "Politicians, especially Chinese President Xi Jinping (習近平), have to make the decision at this critical moment."
Several Taiwanese critized Tsai for sharing the article, which they said was welcoming a Chinese invasion of Taiwan.
Saying that political leaders across party lines were working to eliminate discrimination and hatred amid the recent controversy surrounding discriminatory remarks by self-styled citizen journalist Hung Su-chu (洪素珠) against an elderly waishengren (外省人, Mainlander) — a term referring to people who fled to Taiwan with the KMT in 1949 after its defeat in the Chinese Civil War — DPP spokesman Wang Min-sheng (王閔生) said Tsai, in his capacity as a KMT official, was acting inappropriately by sharing an article that seemingly welcomed a Chinese military invasion of Taiwan.
"Is KMT Chairwoman Hung Hsiu-chu (洪秀柱) behind Tsai's move? Is the opinion of the leader of a KMT committee also the KMT's policy?" Wang asked in a Facebook post.
To put the KMT on track, Hung Hsiu-chu should oversee the conduct of party members and ask Tsai to remove the article, deliver a public apology and promise not to make the same mistake again, Wang said.
Comments will be moderated. Keep comments relevant to the article. Remarks containing abusive and obscene language, personal attacks of any kind or promotion will be removed and the user banned. Final decision will be at the discretion of the Taipei Times.