Temperature in Taipei is the highest-ever for June
The temperature in Taipei rose to 38.7°C yesterday afternoon, the city's highest temperature in June the Central Weather Bureau has recorded since it was founded 120 years ago, the bureau said yesterday.
It was also the highest temperature that the nation has experienced so far this year, the bureau added.
Bureau weather forecaster Lin Chi-hui (林智暉) said Taipei's previous record high for June was in 1954, when the mercury rose to 37.8°C. The same temperature reoccurred in June 2001.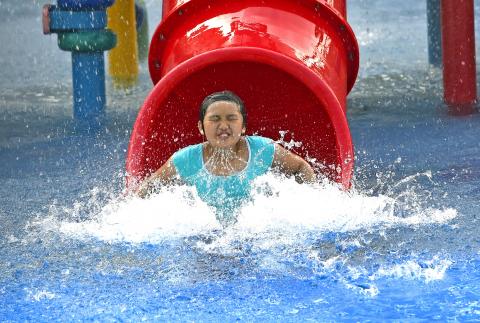 A child yesterday slides into a pool at the Taipei Water Park as the temperature in the city rose to 38.7°C, the third-highest temperature in recorded history in the capital and the hottest ever recorded in the month of June.
Photo: Chen Chih-chu, Taipei Times
Bureau data showed the mercury in Taipei surged to 37.9°C at 12:54pm, breaking the record. It further climbed to 38°C, 38.1°C and 38.2°C at 1:16pm, 1:28pm and 1:34pm respectively.
The temperature then rose further to 38.5°C at 2:28pm and eventually peaked at 38.7°C at 2:46pm, the information showed.
Lin said that the high temperature was mainly caused by a strong Pacific high pressure system and a southwest wind that normally bring in warm air.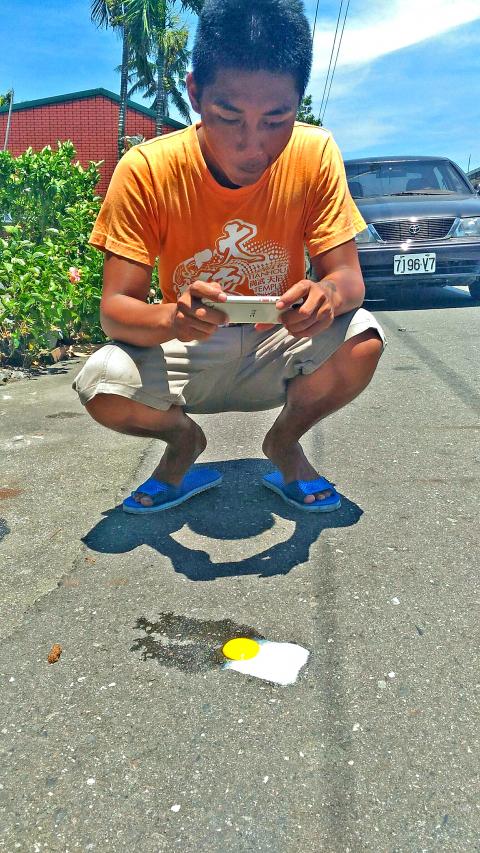 A man in Taitung County's Dawu Township yesterday takes pictures of an egg frying on the road as the road surface temperature exceeded 50°C.
Photo: CNA
Apart from Taipei, she said nine other observation stations also recorded the highest temperature so far this year, including Taitung County's Dawu (大武) Township (38.3°C), New Taipei City's Banciao (板橋) District (37.6°C), Keelung City (37.4°C), Hsinchu City (36.5°C), New Taipei City's Tamsui (淡水) District (35.7°C), Taichung City's Wuchi District (梧棲)(34.8°C), Taoyuan City's Sinwu (新屋) District (33.8°C), Hualien City (33.1°C) and Penghu County (32.7°C).
Bureau weather forecast center director Cheng Ming-dean (鄭明典) said on Facebook that the hot weather last month was part of a long-term trend.
"The longer trend for the development of the Pacific high pressure system is that it has become increasingly strong. Meanwhile, the high-pressure system tends to be strong if it is also preceded by a year with a strong El Nino effect," Cheng said.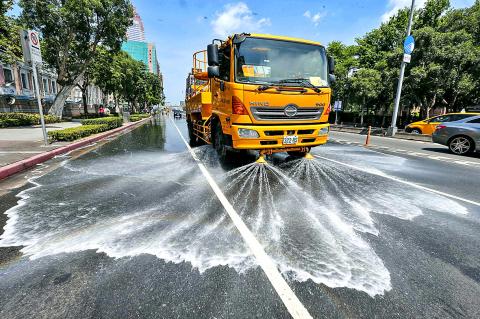 A truck from Taipei City Government's Department of Environmental Protection sprinkles water on the street yesterday as the temperature exceeded 38°C.
Photo: CNA
Cheng also cited the arrival of stationary fronts, which contribute to the continual rainfall, bringing a late plum rain season this year because they mostly stayed up north and varied in strength.
The Taipei Department of Environmental Protection sent water tankers to to cool off some of the city's main arteries in an effort to combat the fierce heat seen yesterday.
The department yesterday sprayed water along Zhongxiao W Road, Zhongxiao E Road sections one through five, Roosevelt Road sections one through three, Nanjing E Road sections one through five, Bade Road sections two through four and Zhongshan S Road.
Department division chief Yan Ling-chen (顏伶珍) said that except on rainy or overcast days, water tankers are to be deployed to these road sections whenever temperatures reach 36°C.
To respond swiftly, the department uses temperatures recorded between 10am and noon as an indicator and dispatches the vehicles once the temperature reaches 34°C, Yan said.
The method has proven effective for cooling off the city, as the difference in temperatures measured in the asphalt before and after water is sprayed can be as much as 10°C, she said.
It also cuts airborne particulates measuring less than 2.5 micrometers in diameter (PM 2.5), helping to clean up the air around areas covered, she said.
Yan said that the task is performed in an environmentally friendly manner by using water recycled from the city's Dihua (迪化) and Neihu (內湖) water treatment plants and from its three incineration plants.
To broaden the scope of areas covered, the department teamed up with companies operating on construction sites that agreed to spray water along 62 road sections as long as they are not overwhelmed by work, she said.
The department said that last year, it sprayed water over a total of 16,800km of roads, while construction companies covered 38,809km and cut an estimated 535.6 tonnes of total suspended particulates, including 23.3 tonnes of PM2.5.
The department said that it expects to spray water over a total of of 35,700km of roads this year, cutting 492.7 tonnes of particulates.
Comments will be moderated. Keep comments relevant to the article. Remarks containing abusive and obscene language, personal attacks of any kind or promotion will be removed and the user banned. Final decision will be at the discretion of the Taipei Times.