Tsai visits air bases to show support
THREE GOALS: The president said she would prioritize restoring pride in military careers, improve soldiers' quality of life and help them to develop secondary skills
President Tsai Ing-wen (蔡英文) yesterday made her first visit to a military base in her role as the head of state and commander-in-chief, pledging to restore public pride in the army and make a military career appealing.
Accompanied by Minister of National Defense Feng Shih-kuan (馮世寬), National Security Council Secretary-General Joseph Wu (吳釗燮) and Wu's deputy, York Chen (陳文政), Tsai boarded a plane at Songshan Air Base in Taipei to fly to Hualien, where she visited the Hualien Air Force Base and the Chiashan Air Base.
The Hualien Air Force Base is home to the 401st Tactical Fighter Wing, which has F-16 jets and RF-5 reconnaissance aircraft.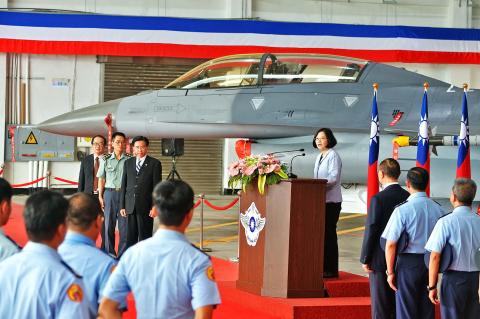 President Tsai Ing-wen, center, speaks at the Chiashan Air Base in Hualien County yesterday.
Photo: CNA
Its primary tasks in times of peace include photographic reconnaissance missions, as well as disaster prevention and relief.
The Chiashan Air Base is used as a training ground for the Air Education Training and Doctrine Development Command and includes a facility dug into a nearby mountain that can reportedly accommodate 250 aircraft.
"Today is the first time I have come here to meet with the brothers and sisters of our nation's armed forces in my capacity as president and commander-in-chief," Tsai said in her address, delivered against the backdrop of two F-16s.
Seated from left, National Security Council Secretary-General Joseph Wu, President Tsai Ing-wen and Minister of National Defense Feng Shih-kuan cheer along with air force personnel at the Chiashan Air Base in Hualien County yesterday.
Photo: CNA
Tsai said her visit was not an obligation, but was to demonstrate her determination to stand alongside the military in pushing for reform and defending the nation.
The bases are significant to national defense for two major reasons, Tsai said, including their roles as the most vital grounds for training exercises in eastern Taiwan and for preserving combat capabilities.
"You have all fulfilled your duties. Now, I am going to tell you what I can do for you," Tsai said.
The president listed three goals: elevating the dignity of and restoring public pride in military personnel; transforming military service into an alluring career for young people by improving soldiers' quality of life and the military's management style; and assisting personnel to cultivate their second professional specialty to enhance their competitiveness in the job market if they leave the armed forces.
"I am here to tell you that the new government will steer our armed forces into a new era with our unequivocal strategic guidelines, meticulous policy planning, steady steps toward reforms, thorough communication with the public, and abundant resources and support," Tsai said.
"As the Air Force of the Republic of China, we must not let others flaunt their prowess in our territorial air space," Tsai said, vowing to safeguard the dignity, honor and welfare of soldiers.
Tsai joined 244 military personnel for lunch in a dinning hall at the Chiashan Air Base, where she gave another speech calling on the armed forces to defend Taiwanese lives and property, as well as the nation's freedom and democracy.
Tsai also encouraged the military to make unreserved efforts in their disaster prevention and relief missions and to be the "rock of the people," as the nation enters flood season after Dragon Boat Festival on June 9.
Comments will be moderated. Keep comments relevant to the article. Remarks containing abusive and obscene language, personal attacks of any kind or promotion will be removed and the user banned. Final decision will be at the discretion of the Taipei Times.