No rules against Asia Cement's mining: MOEA
The government does not have regulations to prohibit Asia Cement Corp (亞洲水泥) from mining in Hualien County, including its 25 hectares of quarry within the boundaries of Taroko National Park, the Ministry of Economic Affairs (MOEA) said yesterday.
The ministry's remarks came after Environmental Protection Administration Minister Lee Ying-yuan (李應元) on Wednesday said the company would have to end its operations in Taroko National Park next year when its license for that quarry expires.
Lee said the move would be part of his agency's efforts to ban mining in national parks.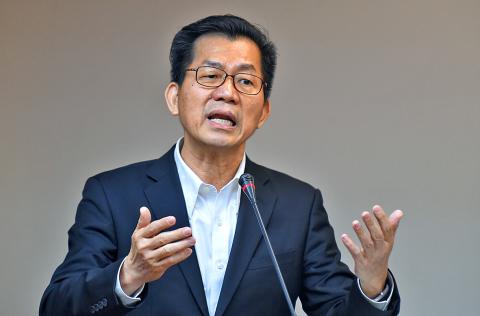 Environmental Protection Administration Minister Lee Ying-yuan yesterday speaks during a question-and-answer session at the Legislative Yuan in Taipei.
Photo: Liu Hsin-de, Taipei Times
The government in 1977 granted Asia Cement, Taiwan's second-largest cement maker, a 20-year license to mine in 442.7 hectares in the county as part of plans to develop eastern Taiwan in the 1970s, Bureau of Mines Director-General Chu Ming-chau (朱明昭) yesterday told a news conference in Taipei.
Taroko National Park was established in 1986, and 25 hectares of the park overlapped with Asia Cement's quarry, Chu said.
Although the government allowed Asia Cement to continue mining on the 25 hectares, the company inked a memorandum with the park administration that it would not extend its operations after its mining license expires on Nov. 22 next year, Chu said.
"Actually, Asia Cement stopped mining in the park a while ago… It is now helping the park restore the environment of the 25 hectares," Chu said.
Given that Asia Cement's operational and production efficiency in Hualien follows ministry standards, and a mining license extension does not require another environmental impact assessment, there would be no reason for the ministry to reject an application by the company to extend its mining license on the land outside of the park.
"Unless the EPA asks the economics ministry to expand the area of the no-mining zone around Taroko National Park, and in that case we would need to review the feasibility," Chu added in a telephone interview.
However, if the government really wants to stop Asia Cement from operating outside of the park, it is going to have to compensate the company for any potential losses, Chu said, adding such a move would impact the firm's downstream suppliers in eastern Taiwan and more than 1,000 employees, he said.
EPA officials are to discuss more details of the agency's plans with the ministry soon, Chu said.
Comments will be moderated. Keep comments relevant to the article. Remarks containing abusive and obscene language, personal attacks of any kind or promotion will be removed and the user banned. Final decision will be at the discretion of the Taipei Times.