NDC outlines proposal for equity fund
ECONOMIC BOOSTER: The council is to establish an NT$100 billion equity fund under the National Development Fund and a trading firm to create investment opportunities
The National Development Council (NDC) yesterday unveiled several short-term measures aimed at stimulating the economy through private investment by establishing an equity fund and a trading company to help firms expand, innovate and upgrade.
"Unlike past practices, the council and other government agencies will take the initiative and lend a helping hand wherever they spot worthy investment opportunities," National Development Council Minister Chen Tain-jy (陳添枝) told a news conference in Taipei.
The council plans to establish an equity fund of NT$100 billion (US$3.06 billion) under the National Development Fund and take shares in promising firms through capital injection, Chen said.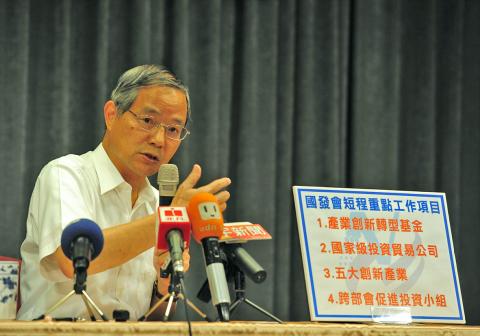 National Development Council Minister Chen Tain-jy yesterday holds a news conference in Taipei to discuss his short-term goals for helping the economy.
Photo: Wang Yi-sung, Taipei Times
The equity fund would not vie for management rights, but would limit its role to pure capital investment and would exit once it achieves its goal, he said.
The planned fund differs from the National Development Fund in that the latter functions like a venture capitalist and focuses on business start-ups alone, Chen said.
Private investment is a GDP component the government can undertake to achieve lasting benefits, he said.
During the presidential campaign, President Tsai Ing-wen (蔡英文) pledged to promote biomedicine, "green" technology, "smart" machinery, national defense and building Taiwan into an Asian "Silicon Valley."
Firms with plans to increase job opportunities would win favorable considerations, but that is not a necessary requirement, Chen said.
The planned trading company is to be capitalized at NT$10 billion, drawn from the public and private sectors, to help create and integrate investment opportunities for local companies, Chen said.
He said it would be different from Singapore's sovereign wealth funds in that those focus on wealth management and help support social welfare with their profits.
The company is part of the government's "new southward policy" — an attempt to guide private investment away from China toward Southeast Asian countries to reduce economic dependence on China and diversify investment risks.
The nation's economy is in need of structural reform, the council said, adding that it would announce later how it plans to help diversify export products and destinations.
An overconcentration on a few sectors and technology devices have made Taiwan vulnerable in times of unfavorable technology cycles, Chen said.
The council would invite interested parties from the private sector to join the equity fund and the trading company, Chen said, adding that details of the two measures are not finalized.
Officials from the council and technology and economic ministries are to visit companies around the nation to learn their needs and come up with solutions, rather than wait and see what is needed as was done in the past, Chen said.
Comments will be moderated. Keep comments relevant to the article. Remarks containing abusive and obscene language, personal attacks of any kind or promotion will be removed and the user banned. Final decision will be at the discretion of the Taipei Times.