Tsai outlines her administration's goals
NO 'CONSENSUS': The president acknowledged talks in 1992 found common ground, but did not explicitly endorse the '1992 consensus' as Beijing demanded
Transforming the nation's economic structure; improving the social safety net; social fairness and justice; regional peace and stability and cross-strait relations; and the diplomatic and global challenges Taiwan faces were the five main points President Tsai Ing-wen (蔡英文) talked about in her inauguration speech yesterday.
Acceptance of the so-called "1992 consensus," which Beijing had been trying to browbeat Tsai into acknowledging in the speech, was not mentioned.
After Tsai and Vice President Chen Chien-jen (陳建仁) were sworn in at the Presidential Office Building in Taipei, Tsai delivered her inauguration speech, first lauding "the democratic institutions of this country, which have allowed us to accomplish Taiwan's third transition of political power through a peaceful electoral process."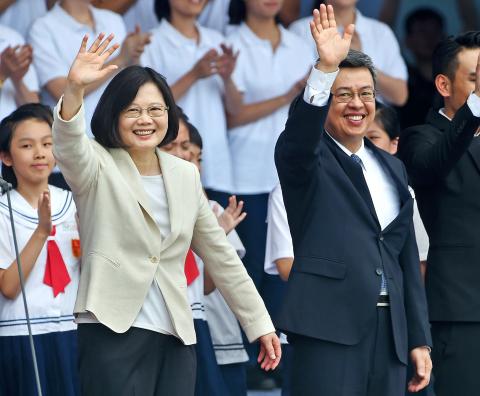 President Tsai Ing-wen, left, and Vice President Chen Chien-jen wave as their inauguration ceremony in Taipei draws to a close yesterday, with all participants singing the song "Formosa."
Photo: Liao Chen-huei, Taipei Times
Democracy and the people were the main themes throughout the speech that followed.
The future of the nation lies with the younger generation and "to change young people's predicament is to change the country's predicament," she said.
"When its young people have no future, a country is certain to have no future," she added.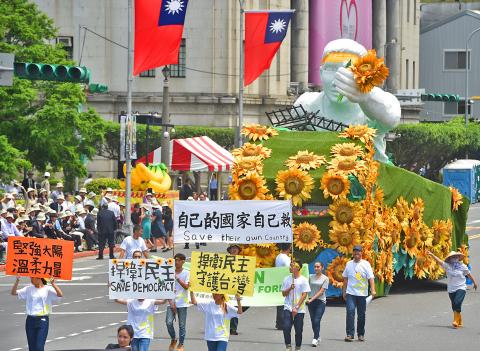 Performers re-enact the Sunflower movement by holding up banners that read: "Safeguard democracy" and "Protect Taiwan" outside President Tsai Ing-wen's inauguration ceremony in Taipei yesterday.
Photo: Liao Chen-huei, Taipei Times
Tsai said her government would work to build a better nation in five main areas:
To change its economic structure, Taiwan must "bravely chart a different course — and that is to build a New Model for Economic Development for Taiwan," Tsai said.
The new model would aim to enhance the vitality and autonomy of the economy, reinforce Taiwan's global and regional connections, and actively participate in multilateral and bilateral economic cooperation as well as free-trade negotiations including the Trans-Pacific Partnership and Regional Comprehensive Economic Partnership, she said.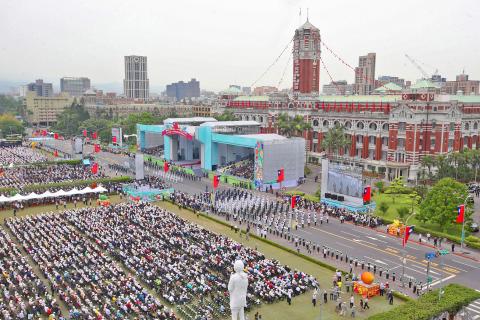 Men and women serving in the nation's armed forces parade past the Presidential Office Building in Taipei yesterday in celebration of President Tsai Ing-wen's inauguration.
Photo: CNA
Tsai said her New Southbound Policy would "elevate the scope and diversity of our external economy, and to bid farewell to our past overreliance on a single market."
The president cited several recent incidents of violent crime affecting the safety of children and youth that should be addressed by "mending holes in areas such as public safety, education, mental health and social work."
Pension reform and long-term care services were two other topics she talked about in regards to the social safety net.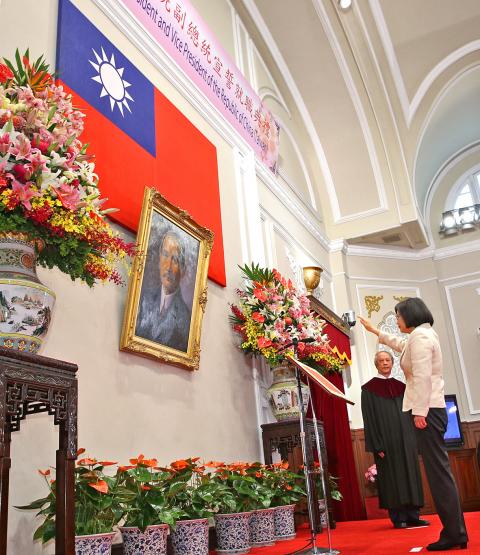 President Tsai Ing-wen, right, is sworn in at the Presidential Office Building in Taipei yesterday.
Photo: Liu Hsin-de, Taipei Times
"Vice President Chen Chien-jen is spearheading the establishment of a Pension Reform Committee," she said, adding that her administration will convene "a national congress on pension reform that brings together representatives from different social classes and occupations to engage in negotiations on the basis of societal unity. Within a year, we will offer a workable proposal for reform."
Preparing Taiwan for the arrival of a rapidly aging society, the government is also to build "a high-quality, affordable and extensive long-term care system," Tsai said.
"The new administration's approach is for the government to lead and plan, while encouraging citizens to organize in communities; through the efforts of collective social assistance, our goal is to build an adequate and comprehensive system," she added.
Tsai said her government would continue to work with the public "to align its policies with the values of diversity, equality, openness, transparency, and human rights, so as to deepen and develop Taiwan's democratic institutions."
A Truth and Reconciliation Commission is to be established in the Presidential Office to address issues from the past, and the "transitional justice" the commission is expected to help achieve would bring about "true social reconciliation," the president said.
The same principles are to be upheld when addressing issues concerning Aborigines, who are to be addressed "with an apologetic attitude," she said.
"My administration will work to rebuild an Indigenous historical perspective, progressively promote indigenous autonomous governance, restore Indigenous languages and cultures, and improve the livelihood of indigenous communities," she said.
Judicial reform is also to be a focal point of the new government, as "the general sentiment is that the judicial system is not close to the people, and is not trusted by them."
Tsai touched on cross-strait relations when talking about regional stability, saying that communication is to be the main pillar in her government's approach to both issues.
Sharing resources, talent and markets is the spirit on which the "New Southbound Policy" is based, Tsai said.
"We will broaden exchanges and cooperation with regional neighbors in areas such as technology, culture and commerce, and expand in particular our dynamic relationships with ASEAN and India," she said.
"Cross-strait relations have become an integral part of building regional peace and collective security. In this process, Taiwan will be a 'staunch guardian of peace' that actively participates and is never absent," she said.
"Taiwan will also become a 'proactive communicator for peace.' We will establish mechanisms for intensive and routine communication with all parties involved, and exchange views at all times to prevent misjudgment, establish mutual trust and effectively resolve disputes," Tsai said.
She brought up the 1992 talks between the two sides of the Taiwan Strait and acknowledged that "through communication and negotiations, [the two sides] arrived at various joint acknowledgements and understandings."
"[The talks] were conducted in a spirit of mutual understanding and a political attitude of seeking common ground while setting aside differences. I respect this historical fact," she said.
Tsai proposed basing stable and peaceful development of cross-strait relations on "existing political foundations," which she said constituted four elements: the 1992 talks, "when there was joint acknowledgement to set aside differences to seek common ground"; the Republic of China's (ROC) constitutional order; outcomes of more than 20 years of negotiations and interactions across the Taiwan Strait; and the democratic principles and prevalent will of the people of Taiwan.
Regarding disputes in the East and South China seas, Tsai said it is her responsibility as president to "safeguard the sovereignty and territory of the ROC," but added that the disputes should be "set aside" for "joint development."
Tsai said Taiwan would continue to participate in the global community and build strong ties with its allies, adding that by upholding the universal values of peace, freedom, democracy and human rights, Taiwan would also continue to "deepen relationships with friendly democracies, including the US, Japan and Europe, to advance multifaceted cooperation on the basis of shared values."
Taiwan is to join efforts in the prevention of global warming and climate change, and an office within the Executive Yuan is to be established for the reduction of energy consumption and carbon emissions, "regularly reviewing goals for cutting greenhouse gas emissions in accordance with the agreement negotiated at the COP21 meeting in Paris," she said.
In her concluding remarks, Tsai called for a united, efficient and pragmatic democracy, saying that democracy should no longer be "about losing or winning an election," but rather advancing "the welfare of the people."
Comments will be moderated. Keep comments relevant to the article. Remarks containing abusive and obscene language, personal attacks of any kind or promotion will be removed and the user banned. Final decision will be at the discretion of the Taipei Times.