Hundreds of dignitaries to attend inauguration
Nearly 700 heads of states, diplomats and foreign dignitaries from 59 countries around the world are to attend president-elect Tsai Ing-wen's (蔡英文) inauguration today, the Ministry of Foreign Affairs said yesterday.
At a routine news conference yesterday morning, ministry spokeswoman Eleanor Wang (王珮玲) said the 59 include Taiwan's 22 diplomatic allies and 37 that do not have formal ties with Taipei.
"From my understanding, the number of foreign dignitaries attending Tsai's inauguration ceremony surpasses those in previous years," Wang said.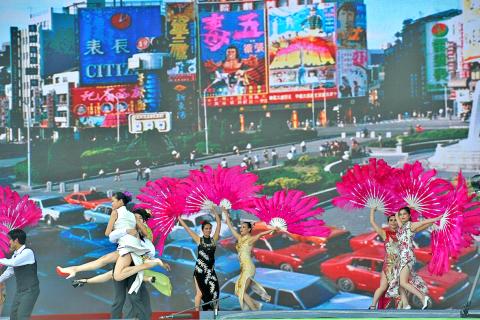 Dancers rehearse for president-elect Tsai Ing-wen's inauguration ceremony in front of the Presidential Office Building in Taipei yesterday.
Photo: CNA
She said the invitation process this year went "very smoothly."
The ministry said the US delegation is to be led by former US trade representative Ron Kirk, who is to be accompanied by former US deputy secretary of state John Negroponte, former US Department of State deputy spokesman Alan Romberg, American Institute in Taiwan (AIT) Chairman Raymond Burghardt and AIT Director Kin Moy.
The Holy See — the nation's only European diplomatic ally — is sticking with precedent and sending its Apostolic Nuncio to Japan, Archbishop Joseph Chennoth.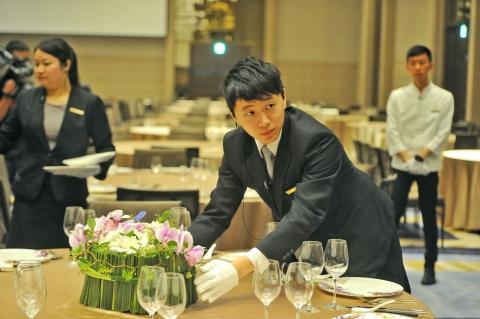 A waiter on Wednesday arranges a table setting at the Taipei Marriott Hotel during a dress rehearsal for the state banquet that president-elect Tsai Ing-wen is to host tonight.
Photo: CNA
Chennoth and Vatican's charge d'affaires ad interim to Taiwan, Monsignor Sladan Cosic, are also to attend Tsai's state banquet tonight at Taipei's Marriott Hotel.
Eighteen delegations from other European nations, including the UK, France, Germany, Italy, Austria, Denmark, Ireland, Slovakia and Hungary, have arrived for a total of 48 people.
One delegation, led by European Parliament-Taiwan Friendship Group vice chairman Dominique Riquet, includes former Dutch prime minister Andreas van Agt, former Slovakian prime minister Iveta Radicova and All-Party Parliamentary British-Taiwanese Group co-chairman Lord Faulkner of Worcester.
As for Japan, a delegation of 252 people arrived in Taipei on Wednesday, including Interchange Association, Japan President Tadashi Imai, as well as chief executive and vice chairman of the Japan-Republic of China (ROC) Diet Members' Consultative Council, Furuya Keiji and Eto Seishiro.
The leaders of Taiwan's six Asia-Pacific allies are attending: Marshallese President Hilda Heine, Nauruan President Baron Waqa, Tuvaluan Prime Minister Enele Sosene Sopoaga, Palauan President Tommy Remengesau, Solomon Islands Governor General Frank Ofagioro Kabui and Kiribati President Taneti Maamau.
Other Asian-Pacific states, including South Korea, Australia, Indonesia, the Philippines, Singapore and India, have all sent delegates to the event.
Leaders and high-level officials of the nation's diplomatic allies in Africa, Latin America and the Caribbean will also attend the ceremony, including Swazi King Mswati III, Burkinabe Prime Minister Paul Kaba Thieba, Sao Tomean Minister of Foreign Affairs Manuel Salvador dos Ramos, Paraguayan President Horacio Cartes, Saint Kitts and Nevis Prime Minister Timothy Harris, Nicaraguan Vice President Moises Omar Halleslevens Acevedo, as well as the deputy prime ministers of Belize and Saint Vincent, and the legislative speaker of Saint Lucian.
Honduran President Juan Orlando Hernandez is not able to attend Tsai's inauguration ceremony as planned due to "internal affairs."
Instead, he has sent Honduran Supreme Court President Rolando Edgardo Argueta Perez, said Miguel Tsao (曹立傑), director-general of the ministry's Department of Latin American and Caribbean Affairs.
Comments will be moderated. Keep comments relevant to the article. Remarks containing abusive and obscene language, personal attacks of any kind or promotion will be removed and the user banned. Final decision will be at the discretion of the Taipei Times.