Tseng sentence angers victim's family
RANDOM CHILD KILLING: The Supreme Court ruling said Tseng was mentally ill and could be rehabilitated, leading his victim's aunt to say 'Taiwan's justice system is dead'
The Supreme Court yesterday upheld a sentence of life imprisonment for convicted child killer Tseng Wen-chin (曾文欽), angering the victim's family, who condemned the nation's justice system for not issuing a death sentence for the murder.
Tseng, 32, was found guilty of slashing the throat of a 10-year-old boy, surnamed Fang (方), and leaving him to die in Tainan in 2012.
Tseng randomly chose his victim at an arcade in a Tainan department store.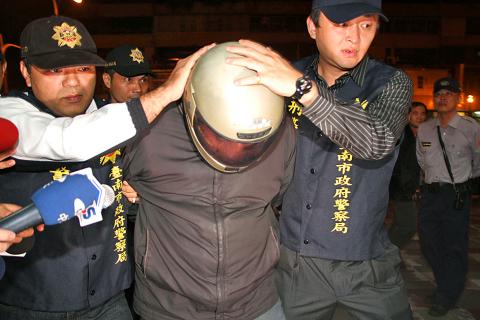 Tseng Wen-chin is taken into police custody in Tainan on Dec. 1, 2012, in connection with the death of a 10-year-old boy.
Photo: CNA
Tseng further shocked the public with remarks he made after his arrest, saying: "In Taiwan, you will not be sentenced to death for killing just one or two people."
Commentators said the case was a major test for the judiciary regarding the random murder of children, and that a number of suspects in subsequent murder cases had cited Tseng's words that judges would not sentence them to death.
The Supreme Court said that Tseng was assessed to have been mentally ill and suffering from depression and anxiety at the time of the murder, so in accordance with Taiwan's adoption of the International Covenant on Civil and Political Rights and the International Covenant on Economic, Social and Cultural Rights in 2009, the death sentence could not be applied.
"Tseng had no prior criminal record, he had only a grade-school education, had poor social skills and had been without a job for many months. Under the negative emotions of helplessness, anxiety and depression, Tseng committed a premeditated murder, but he was not beyond the bounds of rehabilitation," the court statement said.
"[The murder] was due to problems he had while growing up and mental illness, and he confessed to the crime, therefore he was not devoid of human feelings and there remains the possibility of rehabilitation. Therefore, a death sentence is not suitable in this case, and the court sentenced him to life in prison," it said.
Following yesterday's ruling, which was final, the victim's aunt reacted angrily.
"Is there any fairness left in our society? Taiwan's justice system is dead," she said. "I want to ask these judges: Where is your sense of justice? Where is your moral righteousness?"
Having attended the trial, she said Tseng was only acting to fool the judges into believing he was mentally ill.
"This is a disgraceful judgement. I cannot accept it at all," she said. "The court says this killer does not deserve to die, but what about our little boy — did he deserve to die? Who can give justice to him?"
Taiwan Children's Rights Association director-general Wang Wei-chun (王薇君) said the ruling did not conform with society's expectations.
"We have seen many children being murdered since this case. How many more children will have their throats cut? The murderers seek out little children because they are easy to kill and cannot defend themselves," Wang said.
"The judiciary wants to give second chances at life for the killers, but how can they prevent people from copying these crimes?" Wang asked. "I do not understand what has happened to our nation's justice system. They keep coming up with these rulings that people feel are very far out of touch."
Comments will be moderated. Keep comments relevant to the article. Remarks containing abusive and obscene language, personal attacks of any kind or promotion will be removed and the user banned. Final decision will be at the discretion of the Taipei Times.