US senators urge more operations in South China Sea
There is growing concern on Capitol Hill over a new flashpoint and Beijing's increasing militarization of the South China Sea.
Senate Foreign Relations Committee Chairman Bob Corker on Wednesday called on US President Barack Obama to be "more strident" with China.
During a hearing on US-China relations both Democratic and Republican senators indicated support for more freedom of navigation patrols to limit Beijing from claiming control of trade routes.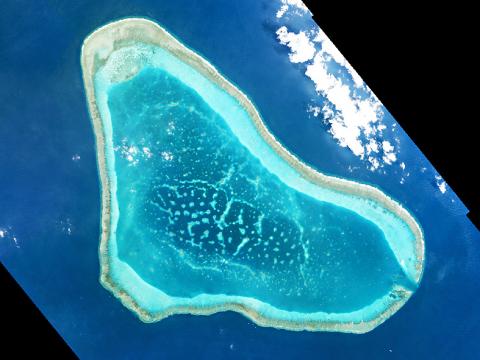 Boats are seen near Scarborough Shoal in the South China Sea on March 12 in a handout photograph provided by Planet Labs.
Photo: Reuters / Planet Labs
Senator Marco Rubio asked US Deputy Secretary of State Antony Blinken if China was consistently pursuing a long-term strategy with the goal of gaining effective control of the entire South China Sea.
"Yes, I think that is China's objective," Blinken said.
Rubio said China was pursuing its "nine-dash-line" position, citing a Wall Street Journal (WSJ) article that said the Scarborough Shoal (Huangyan Island, 黃岩島) had emerged as a new flashpoint.
"There are far more downsides than upsides in the US-China relationship over these last days," Corker said. "Regrettably, as the strategic challenges increase the opportunities for positive engagement diminish."
There was no denying that China had positioned itself as a geopolitical rival to the US and it was even more troubling that the Obama administration did not seem to have a coherent China policy, he said.
"In the South China Sea, neither the rhetoric nor the freedom of navigation operations have deterred or slowed down China's reclamation activities, including the stationing of military-related assets on these artificial islands," Corker said.
Many experts have said that it is increasingly likely that Beijing would soon declare an air defense identification zone in the South China Sea and could undertake "further destabilizing actions" if an international tribunal ruled against Chinese interests, he said.
There was a sense that the Obama administration was just "managing differences" with China and that the committee felt that coherent policy was missing, he said.
The relationship with China is still the most important relationship the US has, but committee members hope "the administration will be more strident in their actions and more clear over time [as to] what the overall strategy is," Corker said.
Democratic Senator Robert Menendez said the US needed to take a stronger stance, adding that US instruments of national power "are only useful when they are fully deployed."
Blinken told the committee that the US was not a claimant to the territorial and maritime disputes in the South China Sea, but had a clear national interest in the way claims were pursued.
All claims must uphold freedom of navigation, respect for international law and the peaceful resolution of disputes, he said.
"We oppose the use of force or the threat to use force to advance maritime or territorial claims and we call on all parties in the South China Sea — not just China — to resolve disputes in a peaceful manner," he said.
According to the WSJ article, the US military has observed Chinese ships conducting survey work around the Scarborough Shoal and had flown three air patrols near the shoal in recent days to signal its concern.
"There is growing concern among US and Philippine officials that Beijing plans to begin work at the shoal, possibly in response to a ruling on its territorial claims by an arbitration panel in The Hague, expected this summer," the newspaper said.
Comments will be moderated. Keep comments relevant to the article. Remarks containing abusive and obscene language, personal attacks of any kind or promotion will be removed and the user banned. Final decision will be at the discretion of the Taipei Times.