MOFA to summon Japanese diplomat
VIEW FROM TOKYO: Foreign minister Fumio Kishida told a news conference that his government does not accept Taiwan's stance that Okinotori is not an island
Minister of Foreign Affairs David Lin (林永樂) is to summon Japan's representative to Taiwan today to protest against Tokyo's seizure of a Taiwanese fishing boat in waters near the Okinotori atoll on Monday.
"It is the ministry's duty to do everything in its power to negotiate with Japan and lodge a protest against the incident," Association for East Asian Relations Secretary-General Peter Tsai (蔡明耀) told a morning news conference at the ministry in Taipei.
Tsai said Representative to Japan Shen Ssu-tsun (沈斯淳) was scheduled to meet with Interchange Association, Japan President Tadashi Imai at 4pm yesterday to hand over the government's formal complaint about the seizure of the Tung Sheng Chi No. 16, while Lin would meet this morning with Japanese Representative to Taiwan Mikio Numata.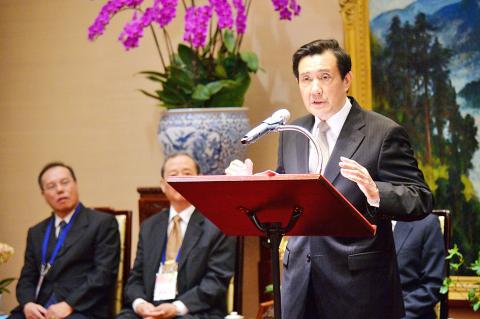 President Ma Ying-jeou speaks at the Presidential Office in Taipei yesterday.
Photo: CNA
However, Japanese Minister of Foreign Affairs Fumio Kishida told a news conference in Tokyo that his government does not accept Taiwan's stance that Okinotori is not an island.
It has lodged a protest through its representative office in Taipei — the Interchange Association, Japan, he said.
Okinotori is an island as established under the UN Convention on the Law of the Sea, and Japan has the right to an exclusive economic zone around the atoll, Kishida said.
Tsai also said that Japan had yesterday expressed its displeasure with President Ma Ying-jeou's (馬英九) comments on Wednesday about Japan's "illegal expansion of rights by unilaterally defining the uninhabited rock as an 'island.'"
"The dispute over the atoll's legal status has to be settled by the UN Commission on the Limits of the Continental Shelf," Tsai said.
Taiwanese fishermen should avoid fishing in disputed waters for the moment because negotiations with Japan might not see immediate results, he said, adding that the government would endeavor to safeguard the public's interests, but it wants to prevent Taipei-Tokyo ties from being affected by the incident.
Ma yesterday reiterated that Taiwan would uphold the freedom of its fishermen operating on the high seas.
He said he had asked the Coast Guard Administration to send vessels to protect Taiwanese fishing boats, adding that "this is our fundamental right and we will not budge."
Ma said the Okinotori atoll was originally less than 3 ping (9.9m2) in area, "but has been expanded to hundreds of square meters through artificial construction."
Japan's claims to have rights over a 200 nautical mile (370km) exclusive economic zone is "in violation of international law and the definition of an island under Article 121 of the United Nations Convention on the Law of the Sea," he said.
Okinotori is a reef, a rock and not an island, and it "is small and cannot sustain human habitation" even though Japan describes it as an island, he said.
The Japan Coast Guard "seized our fishing ship [within the 200 nautical mile zone], which is a serious violation of freedom to fish on the high seas as stipulated in Article 87 of the convention," Ma said.
"Fishing [on the high seas] is a very important right," he said, adding that Japan can build artificial islands or facilities at sea, but no matter how much it builds, such artificial creations would not be Japanese territory.
The Tung Sheng Chi No. 16, its Taiwanese captain and nine Chinese and Indonesian crew members were released on Tuesday after the boat's owner paid the ¥6 million (US$54,240) "security deposit" demanded by Japan.
Comments will be moderated. Keep comments relevant to the article. Remarks containing abusive and obscene language, personal attacks of any kind or promotion will be removed and the user banned. Final decision will be at the discretion of the Taipei Times.