Kenya case not a sovereignty issue: Ma
TAIWANESE IDENTITY: Having an independently elected government should be enough and declaring independence would be a dead-end, President Ma said
President Ma Ying-jeou (馬英九) said that the controversial deportation of several Taiwanese nationals from Kenya to China earlier this month has no bearing on sovereignty, but is a problem stemming from division of labor.
In an interview with the Singaporean newspaper the Straits Time at his office in Taipei on Tuesday, Ma said his administration was not happy with Beijing's opaque handling of the case and its failure to consult with Taipei prior to the deportation from Kenya to China of 45 Taiwanese accused of telecom fraud on April 8 and April 12.
"However, technically, this incident is not a matter of sovereignty, but rather a matter of division of labor," Ma said, adding that, in his opinion, Taiwan and China share concurrent jurisdiction over the case.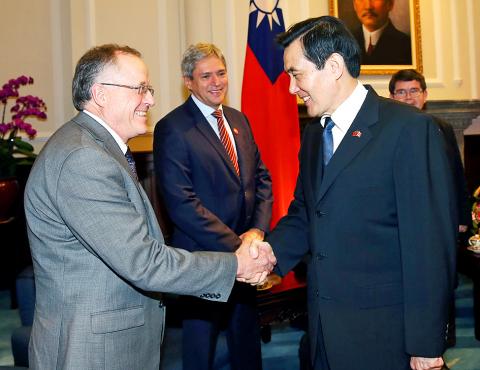 President Ma Ying-jeou, right, shakes hands with a member of a visiting Canadian delegation at the Presidential Office yesterday.
Photo: CNA
Ma said that under the 2009 Cross-Strait Joint Crime-Fighting and Judicial Mutual Assistance Agreement (海峽兩岸共同打擊犯罪及司法互助協議), when facing cases such as the Kenyan incident, both Taipei and Beijing are required to negotiate with each other first before deciding which side should take over the case or if both sides should deal with it jointly.
If China did regard such cases as a matter of sovereignty, it would not have bothered to sign the agreement or negotiate with us, Ma said.
"Beijing can simply take all cases into its own hands," he added.
Ma said such incidents should be handled with wisdom and patience, urging "certain Taiwanese" to refrain from treating the Kenyan incident as an issue of sovereignty and thus making wrong judgements.
Nevertheless, he said the chance was slim for the government to secure the return of the deported Taiwanese before May 20.
Ma also shrugged off speculation that the forced deportation of Taiwanese nationals was part of an attempt by Beijing to flex its muscles before president-elect Tsai Ing-wen's (蔡英文) inauguration next month.
"Many people seem to think so, but it is not the only reason. The primary reason may be that China has been displeased by the sentences our courts mete out in similar [fraud] cases... because it thinks they are lighter than those given in China," Ma said.
Ma proposed that the government explore ways to increase the penalties for fraudsters, which he said could help establish a clear set of principles for both sides to follow in dealing with similar cases in the future.
As to the government's difficulty in securing an invitation to this year's World Health Assembly meeting — allegedly due to Chinese pressure — Ma said the reason Taiwan has been invited to attend the meeting every year as an observer since 2009, after 38 years of exclusion, was because of his adherence to the so-called "1992 consensus."
Ma said as the "consensus" originated from the Republic of China (ROC) Constitution, "no president who is willing to abide by the ROC Constitution would find it difficult to accept the '1992 consensus.'"
"The '1992 consensus' is part of the cross-strait status quo. There is no way the status quo can be maintained without the consensus," Ma added.
The "1992 consensus," a term former Mainland Affairs Council chairman Su Chi (蘇起) admitted making up in 2000, refers to a tacit understanding between the Chinese Nationalist Party (KMT) and the Chinese government that both sides of the Strait acknowledge there is "one China," with each side having its own interpretation of what "China" means.
Asked how the KMT should reform itself amid growing Taiwanese identification, Ma said the inevitable trend should not conflict with cross-strait rapprochement and cooperation, given that independence is an unnecessary road that would only result in a dead-end.
"We can now choose our own president, elect our own parliament and govern our own affairs. How much more independence do you want? It is utterly unnecessary [to declare independence,]" Ma said.
Comments will be moderated. Keep comments relevant to the article. Remarks containing abusive and obscene language, personal attacks of any kind or promotion will be removed and the user banned. Final decision will be at the discretion of the Taipei Times.