Kenya deports dozens; Taipei furious
GASSED, THREATENED: Taiwan's representative to South Africa urged 22 of the people to resist authorities, but the police are said to have pushed the issue with guns
Taiwan is indignant that Kenyan police brandished submachine guns and tear gas to force 37 Taiwanese suspected of telephone fraud to board an airplane bound for China yesterday.
Calling the move a violation of Taiwan's jurisdiction over its nationals, the Ministry of Foreign Affairs lodged a strong protest with Nairobi after its efforts to block the move failed.
It came just days after Kenya handed over eight Taiwanese — who on Tuesday last week were acquitted by a Kenyan court of operating telecoms equipment without a license — to China by putting them on a China Southern Airlines flight to China on Friday last week.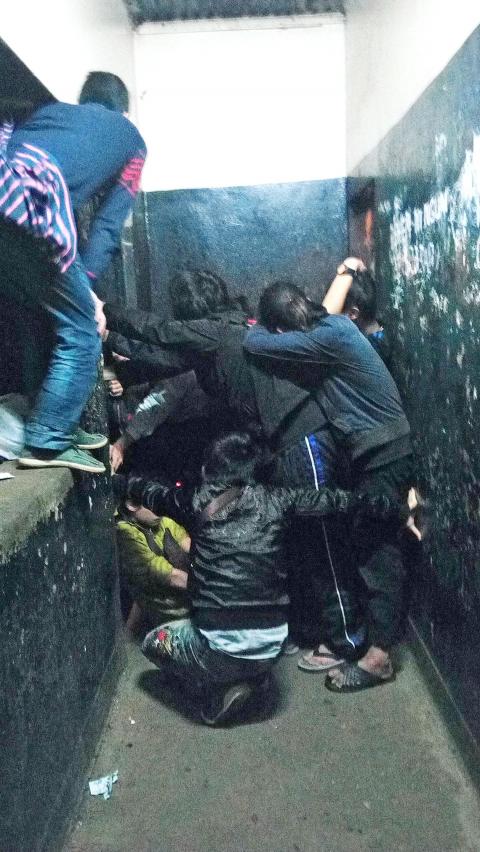 Taiwanese in a Kenyan police station in which they are being held are seen cowering in this screengrab yesterday from a video taken in Kenya.
Photo courtesy of the office of DPP Legislator Wu Ping-jui
Department of West Asian and African Affairs director-general Antonio Chen (陳俊賢) said he was notified at 3am on Tuesday that Kenyan police intended to send 22 Taiwanese arrested on Friday last week and 15 others also acquitted by the Kenyan court.
Taiwan's representative to South Africa John Chen (陳忠) and other officials immediately went to the detention center to visit the 22 newly arrested suspects, although they ran into many difficulties in gaining access to them.
The suspects said they had been told by Kenyan authorities that Taiwan's government had bought them tickets to fly home, but John Chen told them it was not true and urged them to resist if Kenyan police tried to move them.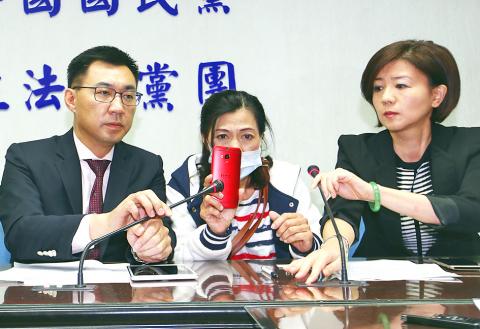 The mother of a Taiwanese national detained in Kenya and later deported to China attends a press conference in Taipei yesterday, accompanied by Chinese Nationalist Party (KMT) Legislator Johnny Chiang, left.
Photo: CNA
However, there was little they could do, as reports indicate Kenyan police used submachine guns to force the issue, Antonio Chen said.
As for the 15 Taiwanese held at a police station who were found not guilty along with eight other Taiwanese on Tuesday last week, Antonio Chen said they adamantly opposed being sent to China and refused to be taken away by police.
Police overcame their resistance by using tear gas, and the 15 ultimately relented and boarded the same plane as the group of 22 Taiwanese.
Antonio Chen said Kenya's interior and foreign ministers decided that the group of 22 Taiwanese had no need to be put on trial in Kenya, listing them as persona non grata and sending them directly to China.
They were taken away by personnel from China's embassy in Nairobi and put on a plane bound for China.
John Chen tried to stop them and chased after them in a car, to no avail, he said.
Antonio Chen said Kenyan police ignored the fact that Taiwan had obtained a court injunction that prohibited Taiwanese suspects from being taken away by force.
"These were people who were here illegally and they were deported back to the place where they had come from," Kenyan Ministry of the Interior spokesman Mwenda Njoka said yesterday. "They came from China and we took them to China... Usually when you go to another country illegally, you are taken back to your last port of departure."
In addition to lodging a strong protest, the ministry is to ask Kenyan parliamentarians, human rights advocates and media to support Taiwan, and is to work with lawyers to file a lawsuit against Kenyan police, Antonio Chen said.
Asked if Taiwan would sanction Kenya, he said the most the government could do is to impose soft sanctions, such as reminding Taiwanese that traveling to Kenya carries risk and trying to put Kenyan tourism in a negative light in the international community.
Antonio Chen said the ministry was not issuing a formal travel advisory for Kenya because travel advisories only apply to outbreaks of disease, disruptions in social order or terrorist attacks and would not be applicable in this instance.
Kenya has close ties with China, including growing dependence on Beijing for financial support, especially as financing from traditional foreign creditors Japan and France has stagnated or declined.
Last week, a loan of 530 million euros (US$604.68 million) from China was finalized to cover Kenya's budget deficit, according to a Radio France International report on Monday1.
That came not long after the World Bank last month warned that more Chinese loans could bring Kenya's heavy debt burden to unsustainable levels.
Chinese Ministry of Foreign Affairs spokesman Lu Kang (陸慷) said China approved of Kenya's upholding the "one China" principle.
China's Taiwan Affairs Office, which has said it was looking into the incident, did not immediately respond to further request for comment.
Additional Reporting by Reuters
Comments will be moderated. Keep comments relevant to the article. Remarks containing abusive and obscene language, personal attacks of any kind or promotion will be removed and the user banned. Final decision will be at the discretion of the Taipei Times.