Air quality falls to 'dangerous' levels in west
Air quality in most cities and counties in western Taiwan deteriorated to unhealthy levels yesterday, while poor air quality is predicted to persist until the end of the four-day Tomb Sweeping Day long weekend tomorrow, the Environmental Protection Administration (EPA) said.
According to the EPA's monitoring data, PM2.5 — fine particulate matter measuring 2.5 micrometers or smaller — concentrations in most areas from Taoyuan to Kaohsiung, as well as the outlying Kinmen and Lienchiang counties, reached dangerous levels yesterday morning.
Thirty monitoring stations in those areas recorded PM2.5 levels between 7 and 10 at one point, with 10 indicating the highest and the most hazardous PM2.5 concentration according to the EPA's index.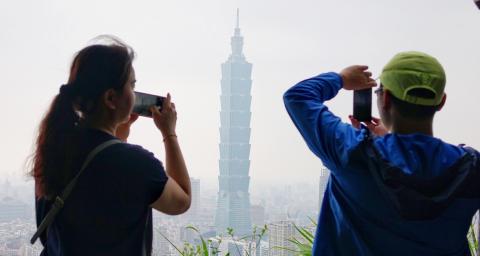 A woman takes a photo of Taipei 101 as haze obscures the background yesterday.
Photo: Liu Hsin-de, Taipei Times
High PM2.5 levels in western Taiwan were due to calm weather, leading to the accumulation of pollutants, while poor air quality in Kinmen and Matsu was caused by pollutants from China, the EPA said.
Air quality improved in many parts of western Taiwan later in the afternoon, but pollution levels might rise again due to adverse weather, the agency said.
Weather conditions are predicted to remain stable over the remainder of the Tomb Sweeping holiday, which ends tomorrow, while PM2.5 levels are likely to remain high in areas with little wind, the EPA said, adding that PM2.5 levels in Kaohsiung and Tainan, as well as Yunlin and Chiayi counties, might reach 10 and air pollution in northern and central Taiwan might reach hazardous levels.
Those sensitive to air pollution, and people with respiratory or cardiovascular diseases, are advised to stay indoors and avoid physical activity, the EPA said.
The EPA called on the public to not burn ghost money while tending to graves and people are advised to send their paper offerings to local incineration plants, whose air pollution control devices capture a large amount of pollutants that would be emitted in a roadside burning.
Burning ghost money emits pollutants and carcinogens, such as benzene, carbon dioxide and volatile organic compounds, and the Taoist and Buddhist tradition should be replaced with flower offerings or donations, it said.
Comments will be moderated. Keep comments relevant to the article. Remarks containing abusive and obscene language, personal attacks of any kind or promotion will be removed and the user banned. Final decision will be at the discretion of the Taipei Times.