Random Killing Aftermath: Court orders hospitalized man's release
MAYOR MOCKED: A Facebook campaign targeting Taipei Mayor Ko Wen-je said more community activities should be organized 'to lure the eccentric Ko from his home'
The Taipei District Court yesterday ruled that the Taipei City Government's alleged forced hospitalization of a homeless man surnamed Ting (丁) on Thursday was flawed, demanding that Ting be discharged immediately from Taipei City Hospital's Songde Branch.
It is unclear whether Ting had any intention of hurting himself or others at the time of his hospitalization, but Ting was hospitalized against his will and deprived of his personal freedom, which is a breach of the Mental Health Act (精神衛生法), the court said.
The Songde hospital on Friday night said that it had transported Ting back to his usual spot at National Chengchi University (NCCU) in a taxi out of respect for his request to be discharged made in a teleconference with the court earlier that afternoon.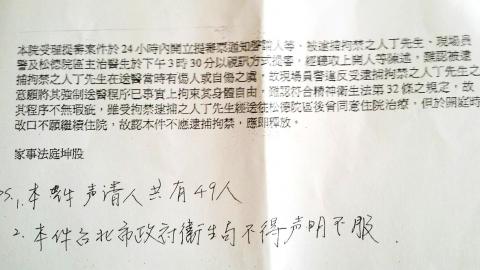 A Taipei District Court document saying that a man surnamed Ting who was forcibly hospitalized on Thursday should be released from hospital is pictured yesterday.
Photo: Hsiang Cheng-chen, Taipei Times
However, questions over the incident remained as statements by Taipei Mayor Ko Wen-je (柯文哲) and the Taipei Department of Health did not seem to match up, adding to the confusion over the incident.
According to a report by the Chinese-language Apple Daily, Ko on Friday said an informant reported Ting to the health department on Thursday. The informant was a classmate of Ting's from elementary school, Ko said in the report.
"The informant said he [Ting] needed to be hospitalized because he appeared skinnier," Ko was quoted as saying.
"Did you think the government had nothing better to do than patrol the NCCU campus all day?" he said.
"This was supposed to be a touching story and you reported it as if he had been forced," Ko said.
However, a statement released by the health department on the same day said there was no informant and that it hospitalized Ting after a check on his wellbeing. The department said Ting was on a list of individuals it routinely checks on.
Footage recorded by a witness showed police on Thursday restraining Ting, who was clearly struggling, on a stretcher before taking him away in an ambulance.
Netizens upset with what they called a breach of human rights launched a Facebook campaign targeting Ko.
The campaign, titled: "Force Ko Wen-je to the hospital. Help Taipei write the most touching story," was organized by a netizen using the name "Tamsui grandma."
The Facebook group said that Ko might be mentally unstable, judging by his habits of scratching his head and using the phrase: "That is odd."
Ko should resign if he loses weight, because it hampers one's ability to walk on campus, let alone govern a city, the campaign said, in an apparent reference to a health department report that Ting had not eaten in days.
"Borough wardens should arrange more community events to lure the eccentric Ko from his home," it said, adding that Ko should apologize to Ting and revise the city's procedures.
Additional reporting by CNA
Comments will be moderated. Keep comments relevant to the article. Remarks containing abusive and obscene language, personal attacks of any kind or promotion will be removed and the user banned. Final decision will be at the discretion of the Taipei Times.