Suspected killer held incommunicado
SORRY TALE: The suspect's father said that his son had a history of mental illness, had been unemployed for a long time and relied on his parents for financial support
The Shilin District Court approved an application by prosecutors for Wang Ching-yu (王景玉), the suspect in the killing of a four-year-old girl in Taipei on Monday, to be detained incommunicado before he was taken to the Taipei Detention Center yesterday morning.
Officials at Shilin District Prosecutors' Office said they plan to indict the 33-year-old Wang on murder charges, as the judicial investigation continued into the decapitation of the child in front of her mother on a street in Neihu District (內湖).
"There is sufficient evidence against the suspect, surnamed Wang, and due to flight risk and possible tampering with evidence, an application was made to the Shilin District Court for the suspect to be detained incommunicado, which was granted," a prosecutors' office statement said.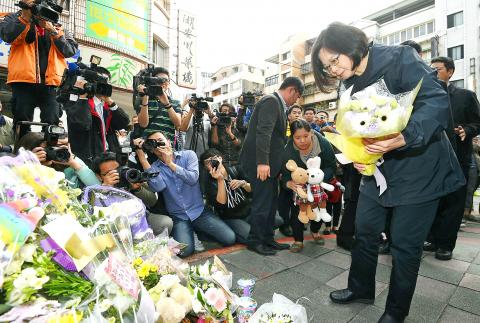 President-elect Tsai Ing-wen, right, yesterday lays flowers at a memorial for the four-year-old girl who was killed in Neihu on Monday.
Photo: Chang Chia-ming, Taipei Times
It said that prosecutors have contacted executives from the non-governmental Association for Victims Support, which sent representatives to the girl's home yesterday to offer legal assistance and explain procedures of seeking financial compensation.
The random attack against a toddler has stirred up public debate on issues of safety in public, problems with the nation's criminal justice system, enforced medical treatment for mental patients and capital punishment.
Wang's father spoke to reporters yesterday, expressing regret for what happened and saying that he and his family are co-operating with the police on the investigation.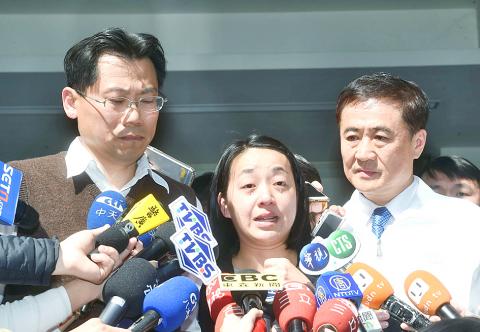 The mother of a girl who was beheaded in Neihu, Taipei, center, cries as she talks to the media on Monday.
Photo: Fang Pin-chao, Taipei Times
He offered an apology to the family of the girl, surnamed Liu (劉).
The father also said his son had a history of mental illness and had sought psychiatric treatment at Taipei City Hospital's Songde Branch, adding that his son had been unemployed for a long time and relied on his parents' financial support.
Due to the media spotlight on the case and public outrage, Taipei City Police took the unusual step of releasing preliminary details of its background investigation, confirming that Wang had a record of mental health issues, and called on the nation's health system to improve its management, monitoring and follow-up treatment of patients with serious metal disorders.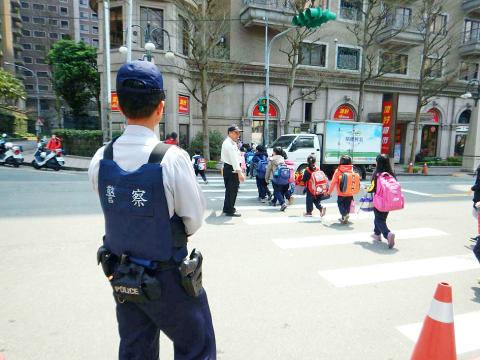 Police watch as schoolchildren cross a zebra crossing in Taoyuan yesterday.
Photo: Chiu Yi-tung, Taipei Times
It also tried to dispel erroneous reporting about Wang being a habitual user of narcotics.
"Following our investigation, the suspect had only been found in possession of amphetamines in 2006, and he does not have any record of narcotic drug use since then," according to a statement by the Criminal Investigation Division of Taipei City Police Department.
The Liu family yesterday conducted a Taoist "calling of the soul" ceremony for the young girl at the site where she was killed.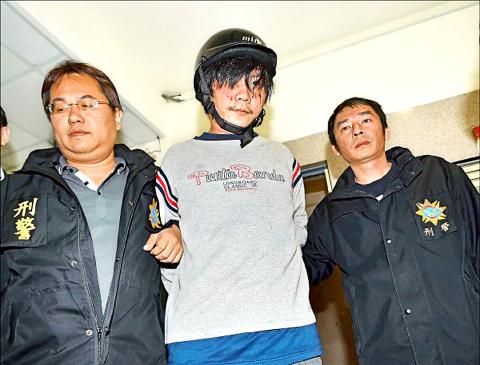 The Shilin District Court approved an application by prosecutors for Wang Ching-yu, the suspect in the killing of a four-year-old girl in Taipei on Monday, to be detained incommunicado.
Photo: Taipei Times
The site was lined with with flowers, cards, written messages and other gifts to console the family and to express grief over the murder.
Liu's mother on Facebook asked the public not to use her daughter's case to discuss the appropriateness of the abolition of the death penalty.
She also posted a letter in memory for her daughter, in which she wrote: "I really tried hard to pull the offender off you, I really tried to... but you were done. I really wish I could recall something of you, recall our love, recall something, to know that you were worth living. I really miss you."
The White Rose Social Care Association is planning to hold a mass rally in Taipei on April 9 to push for enforcement of capital punishment in the wake of the crime.
"This kind of random killing shows that Taiwan cannot afford to abolish the death penalty," association chairwoman Eva Liang (梁毓芳) said. "As Taiwan seldom enforces death sentences now, criminals are not afraid and similar crimes keep happening.
Additional reporting by AFP
Comments will be moderated. Keep comments relevant to the article. Remarks containing abusive and obscene language, personal attacks of any kind or promotion will be removed and the user banned. Final decision will be at the discretion of the Taipei Times.