Minister of justice heads to China on historic visit
Minister of Justice Lo Ying-shay (羅瑩雪) yesterday embarked on a historic five-day visit to China, where she is scheduled to speak at a college of law, among other activities.
Lo is the first Taiwanese minister of justice to visit China in an official capacity.
She was invited by China's Supreme People's Court chief prosecutor Cao Jiangmin (曹建明) when Cao visited Taiwan last year.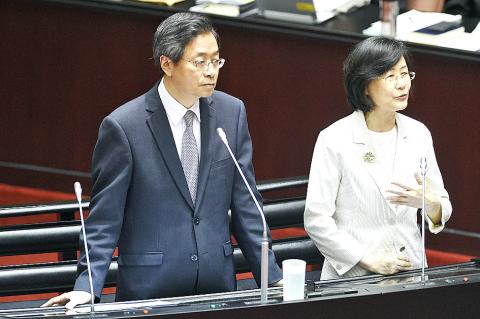 Premier Simon Chang, left, and Minister of Justice Luo Ying-shay answer questions at the legislature yesterday in Taipei.
Photo: Liao Chen-huei, Taipei Times
After receiving instructions from President Ma Ing-jeou (馬英九) and consulting with the legislature's major political parties, Lo told China that she would accept the invitation "under conditions of equality and respect," the Ministry of Justice said yesterday in a news release.
Lo is to attend a meeting in Beijing with Cao and other high-ranking Chinese officials in charge of liaising with Taiwan over legal issues, the ministry said.
Lo is to give a talk on Taiwan's judicial reforms at China's National Prosecutors' College in Beijing and attend an academic conference at East China University of Political Science and Law in Shanghai, where she is to have talks with China-based Taiwanese businesspeople on their legal needs, the ministry said.
Lo is scheduled to return to Taiwan on Friday.
Lo would be able to contribute to China's legal reforms by sharing Taiwan's experience and facilitating cross-strait exchanges over legal issues, the ministry said.
Taiwan's "advanced experience in the rule of law," with regard to "striking a balance between strictness and clemency in criminal policy," compensation packages for victims of crime, and the Administrative Enforcement Agency's "justice and care" doctrine would be of benefit to China, it added.
However, Democratic Progressive Party (DPP) Legislator Wang Ting-yu (王定宇) yesterday accused Lo of taking advantage of the trip to evade questions from lawmakers at a session of the Legislative Yuan, adding that the visit is poorly timed because controversy over the death penalty has been raised over the decapitation of a four-year-old girl in Taipei yesterday.
"The public expects Lo to make statements on this issue, but where is the minister of justice?" Wang said.
Wang added that Taiwan and China's legal systems are incompatible, which calls into question the productivity of attempting to make "exchanges between democracy and totalitarianism."
Even if Lo had achieved "Nobel Prize-worthy" breakthroughs, there would be no room for implementing any policy changes during the remainder of Ma's term, Wang said, deriding the visit as "a recreational graduation trip."
Wang vowed that DPP lawmakers would make Lo explain the purpose of her visit to China upon her return.
Additional reporting by CNA
Comments will be moderated. Keep comments relevant to the article. Remarks containing abusive and obscene language, personal attacks of any kind or promotion will be removed and the user banned. Final decision will be at the discretion of the Taipei Times.