Man decapitates girl in front of mother
DISTURBED: Police arrested a man at the scene of the attack who has convictions for drug offenses, and is reported to have sought psychiatric help in 2014
A four-year-old girl was yesterday decapitated in an apparently random attack in Taipei in full view of her mother, police said.
An unemployed man, identified as Wang Ching-yu (王景玉), has been detained in connection with the gruesome killing.
The attack occurred at about 11am when the girl, surnamed Liu (劉), and her mother were on their way to an MRT rail station in northern Taipei's Neihu District (內湖) to meet the girl's grandfather and two of her siblings for lunch.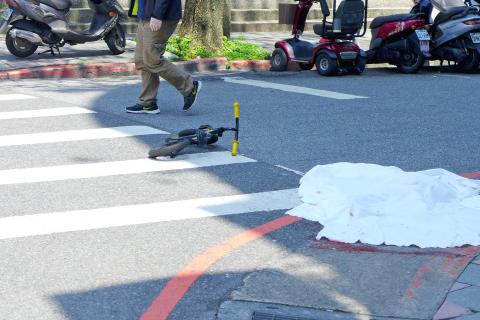 The body of a four-year-old girl killed in a knife attack in Taipei's Neihu district yesterday lies covered with a white cloth next to the bicycle she was riding before she was killed.
Photo: Chin Jen-hao, Taipei Times
Liu was riding a bicycle on Huanshan Road Sec 1, when she was attacked, Taipei City Police Department Neihu Precinct investigation unit head Yang Kun-ming (楊坤明) said, adding that the attacker grabbed the girl from behind and decapitated her with a cleaver.
Passersby and area residents subdued the attacker and called the police, who arrested the suspect upon arriving at the scene, Yang said, adding that police were still trying to determine the motive.
Liu's mother told reporters that her daughter, nicknamed Xiao Deng Pao (小燈泡, little lightbulb), was riding a bicycle about a meter ahead of her when the bicycle got stuck and could not climb onto a sidewalk.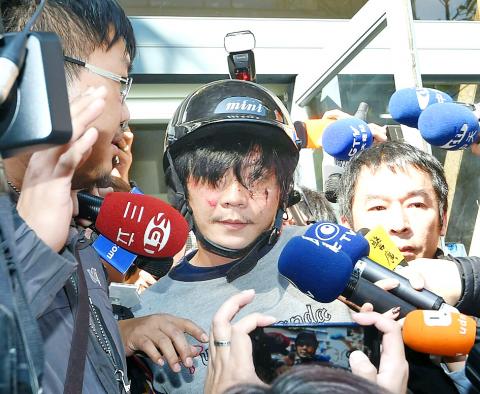 The man who was arrested following the murder of a four-year-old girl arrives at a Taipei police station for questioning yesterday.
Photo: Fang Pin-chao, Taipei Times
When the attacker approached the girl, her mother said she thought he was going to help her pick up her bicycle, but instead he began attacking her.
She said she was still closing the distance between her and her daughter when the man started attacking Liu, and she was unable to pull him away from her daughter due to his strength.
The girl's mother said that when area residents who heard her screams for help rushed to the scene, she saw that her daughter had been decapitated.
"I never thought this society was so dangerous," the mother said, expressing the hope that her daughter would be the last victim of a random attack.
"Xiao Deng Pao told me that she missed her brother and sister, so she wanted to pick them up," her tearful mother said. "I am very sad. I will never see her again, and she will never see her brother and sister again."
The girl's mother called on the government for measures to guarantee the nation's working mothers' peace of mind, saying: "The government said it is focusing on families and education, so how could this happen?"
The girl's parents and grandparents were later seen kneeling next to her body, weeping.
"Society is sick," her grandmother said.
An angry mob attempted to assault Wang yesterday afternoon when he was escorted by police out of the Neihu Precinct to board a vehicle to take him for further questioning, with some in the mob shouting: "Do you have no conscience?"
Curses and yells of "Kill him" from the mob descended into scuffles and police were eventually forced to return him to the station.
According to police, Wang had previously been treated at a psychiatric hospital in the city.
Wang was quoted by police as saying that he did not know the victim, and that he had purchased the knife earlier in the morning.
Records showed that Wang, 33, had sought treatment at Taipei City Hospital's Songde Branch, a public psychiatric hospital, but he does not have a government-issued disability card, police said.
The hospital confirmed that Wang had sought treatment there once in 2014, but said that does not prove he has a mental illness. At the time, he had admitted to using narcotics, but a drug test returned negative, the hospital said.
Further investigation would be required to discern whether Wang had sought psychiatric treatment elsewhere, the hospital said.
Wang has convictions for drug offenses and is unemployed, police said.
In related news, earlier media reports that Wang allegedly attempted to scale the walls of Taipei Municipal Xihu Elementary School near the scene of the attack appeared to be erroneous.
School officials rejected the allegations, but said that military instructors from the school's safety center and local police have tightened security and stepped up patrols around the campus.
The girl's murder was the third apparently random killing of a child in Taiwan in four years.
Last year, an intruder entered a bathroom at an elementary school in Taipei and slashed the throat of an eight-year-old girl.
In 2012, a man cut the throat of a 10-year-old boy in a bathroom at a video game arcade in Tainan.
However, National Police Agency Deputy Director-General Chen Chia-chang (陳嘉昌) said at a legislative session that yesterday's killing was an isolated case.
Police would set up additional patrols to prevent similar incidents, Chen said.
Comments will be moderated. Keep comments relevant to the article. Remarks containing abusive and obscene language, personal attacks of any kind or promotion will be removed and the user banned. Final decision will be at the discretion of the Taipei Times.