Hung elected KMT's first chairwoman
IRREGULARITIES: Hung Hsiu-chu's office reported a number of election violations, including people trying to vote without notifications and posters at polling stations
The Chinese Nationalist Party (KMT) yesterday elected former deputy legislative speaker Hung Hsiu-chu (洪秀柱) as the party's first chairwoman in its more than 100-year history.
Hung secured 56.16 percent of the vote in the by-election, receiving 78,829 out of 140,358 votes cast, sparing the need to go to a second round of voting, which would have been required if none of the four candidates garnered more than 50 percent of the vote.
Voter turnout was 41.61 percent from a total of 337,351 eligible voters.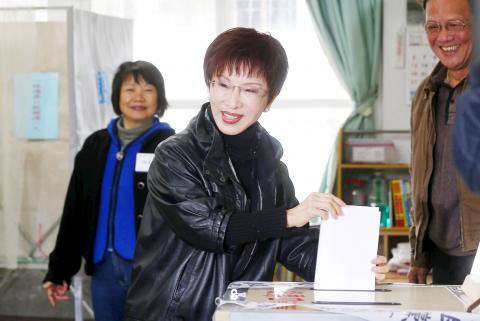 Hung Hsiu-chu, chairperson candidate of Taiwan`s ruling Nationalist Kuomintang Party, casts her ballot at a polling station during a by-election to elect a new chairman in Taipei, Taiwan March 26, 2016.
Photo: Reuters
KMT Acting Chairperson Huang Min-hui (黃敏惠) placed second, securing 46,341 votes, or 33.02 percent.
Taipei City Councilor Lee Hsin (李新) finished third, winning 7,604 votes, or 5.42 percent, while Legislator Apollo Chen (陳學聖) won 6,784 votes, or 4.83 percent.
After the final results were published, Hung thanked all party members, regardless of whether they voted for her, for staying with the party and showing their support when the party is at its nadir.
"As long as we are together, solidarity and hope will be in our hands. I will lead the party to restore our homeland, which has been in ruins," she said.
When asked what her plan for cross-strait affairs would be and whether she would plan a trip to China, she said that she has no such plans, adding that KMT-Chinese Communist Party dialogue would continue.
"We can have a firmer grasp of our future if we have a better understanding of [China] and if we can help convey [China's responses] to the government," she said.
According to statistics provided by the KMT, Hung received the greatest support in Kinmen County, among overseas KMT members and in Lienchiang County, securing 85.58 percent, 78.51 percent and 74.66 percent of votes respectively.
Hung also received broad support in the two largest electoral districts — New Taipei City (41,405 possible voters who cast 16,792 votes) and Kaohsiung (42,420 voters who cast 16,094 votes) — where she received 10,924 votes and 9,360 votes respectively, whereas Huang received 4,131 and 4,956 votes respectively.
The by-election was marred by numerous reports of election violations.
A day before the by-election, several Internet users posted messages on the Professional Technology Temple — Taiwan's largest online academic bulletin board — saying that older members of their families who are KMT members had received two voting notifications with different numbers, meaning that they would be able to vote twice.
Hung's office yesterday reported a number of voting irregularities encountered across the nation, such as people trying to vote without notifications or identification, voters trying to cast ballots for another person, voting booths that were not curtained off and posters campaigning for Huang placed on the doors of polling stations.
Comments will be moderated. Keep comments relevant to the article. Remarks containing abusive and obscene language, personal attacks of any kind or promotion will be removed and the user banned. Final decision will be at the discretion of the Taipei Times.