KMT demands explanation from Wong Chi-huey over OBI Pharma shares
The Chinese Nationalist Party (KMT) caucus yesterday said Academia Sinica President Wong Chi-huey (翁啟惠) should return to Taiwan immediately and explain his daughter's holdings in OBI Pharma Inc (台灣浩鼎), while calling on premier-designate Lin Chuan (林全) to conduct background checks on future Cabinet members.
Wong has been accused of share price manipulation and conflict of interest over his endorsement of OBI Pharma after its shares tanked when it released discouraging clinic trial results and allegations that his daughter bought 3 million shares of the company from Ruentex Group (潤泰集團) chairman Samuel Yin (尹衍樑) in 2012.
Ruentex Group is a major shareholder of OBI Pharma.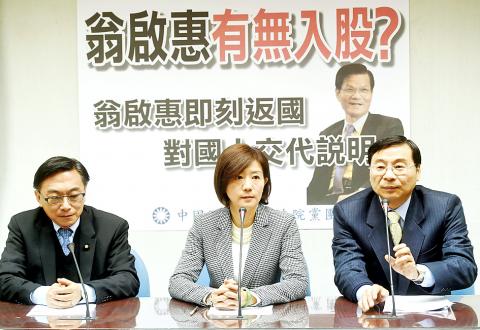 Chinese Nationalist Party (KMT) Legislator William Tseng, right, speaks at a news conference yesterday in Taipei urging Academia Sinica President Wong Chi-huey to explain whether his daughter owns OBI Pharma shares.
Photo: Fang Pin-chao, Taipei Times
KMT Legislator Alicia Wang (王育敏) said the caucus had asked Academia Sinica for Wong's itinerary, but the request was denied.
"Media reports said Wong went to Jerusalem to deliver a speech on March 14 and to San Diego [California] for another speech on March 17. Why is it that he is still abroad and cannot return until mid-April?" Wang asked.
"If it is Wong's personal vacation, that would be fine, but if it is a public trip, it should be transparent to all," Wang said, reiterating the caucus' demand that Wong's itinerary be made public.
Wang also raised questions about OBI Pharma's shareholding structure.
"President-elect Tsai Ing-wen's (蔡英文) brother and sister-in-law are also shareholders, and so is Wong's daughter, Wong Yu-shioh (翁郁秀). Are others involved?" she asked, calling on Lin Chuan to make sure that his future Cabinet members are not involved.
KMT Legislator-at-large William Tseng (曾銘宗), who is also a former Financial Supervisory Commission chairman, denied that the KMT was making the accusations for political gain, as Yin has alleged.
Yin told the Chinese-language United Daily News on Wednesday that he bought back OBI Pharma shares in 2012 from US-based Optimer Pharmaceuticals Inc, the parent company of OBI Pharma at the time and which was in poor management, and then sold them, "without earning a penny on [his] part," to other shareholders, including Wong Yu-shioh.
OBI Pharma did not make its Emerging Stock Market debut until 2014, Yin said, adding that it did not even have a reference price four years ago.
He said the company experienced its toughest time in 2012 and 2013, during which only he and the original shareholders cared about the company.
The company's price might have increased thereafter, but it could have collapsed as well, Yin said.
Wong Chi-huey told the Chinese-language Economic Daily News yesterday that the statement issued by OBI Pharma chairman Michael Chang (張念慈) on Wednesday was correct, and that he would make an official announcement and straighten things out in the Legislative Yuan after he returns to the country.
Chang had issued a statement saying that Wong Yu-shioh was one of the major shareholders of Optimer Pharmaceuticals and bought OBI Pharma shares before its stock market debut.
Democratic Progressive Party (DPP) Legislator Huang Wei-cher (黃偉哲) also urged Wong Chi-huey to provide a public explanation.
"Wong Chi-huey should come out and clarify the incident, because things may get worse if he continues to stay away," Huang said. "What his daughter does should not affect others in the business, because if the controversy surrounding OBI is not well taken cared of, it might affect the new government's attitude toward the biotech industry."
DPP legislators Chen Ting-fei (陳亭妃) and Tsai Shih-ying (蔡適應) added that it would be better for Wong Chi-huey to face the public, otherwise it might have a negative impact on Academic Sinica's image.
Additional reporting by Loa Iok-sin
Comments will be moderated. Keep comments relevant to the article. Remarks containing abusive and obscene language, personal attacks of any kind or promotion will be removed and the user banned. Final decision will be at the discretion of the Taipei Times.