EVA Airways head Chang Kuo-wei removed from post
EVA Airways Corp (長榮航空) chairman Chang Kuo-wei (張國煒) was removed from his post yesterday, in the latest fallout from an escalating struggle between heirs to Evergreen Group (長榮集團) founder Chang Yung-fa (張榮發) as they vie to control the NT$400 billion (US$12.14 billion) shipping and transportation conglomerate.
Former Evergreen Steel Corp (長榮鋼鐵) chairman Steve Lin (林寶水) has been tapped to take the helm at EVA Airways following an extraordinary board meeting, the nation's second-largest airline said in a regulatory filing.
Lin, a 40-year veteran at Evergreen Group, had served as chairman of EVA Airways between 2005 and 2011.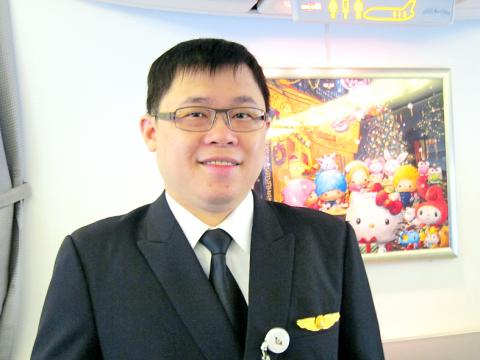 Former EVA Airways chairman Chang Kuo-wei smiles in an undated photograph.
Photo: Wang Yi-hung, Taipei Times
During Lin's chairmanship, the airline weathered the global financial crisis and then-surging oil prices, recording earnings per share of NT$3.69 for 2010.
"In light of ongoing disputes, the board has decided to return management control of EVA Air to an industry expert," Lin said at a news conference at the Taiwan Stock Exchange Corp.
In a statement issued through his lawyer, Chang Kuo-wei raised concerns about possible disruption to the airline's operation following a sudden change in leadership.
He also questioned whether the process conforms to procedural compliance, according to the statement.
Chang said in the statement he regretted that the executors of his father's will and other heirs had gone against the wishes of the late Chang Yung-fa, who passed away on Jan. 20.
The succession battle between heirs to the conglomerate began when Chang Kuo-wei last month revealed a will left by his father, before the family agreed on the succession issue.
Chang Kuo-wei said that his father's will had named him as successor to the Evergreen Group chairmanship and sole inheritor of Chang Yung-fa's estate, worth billions of New Taiwan dollars.
Subsequently, Chang Yung-fa's eldest son, Chang Kuo-hua (張國華), led his two brothers by his father's first wife in leveraging their 16.31 percent combined stake in EVA Airways to challenge Chang Kuo-wei's claim, backed by a smaller 14.37 percent stake.
Using their superior controlling stake, an extraordinary board meeting late last month was called to dissolve the group's top management team, effectively ending Chang Kuo-wei's one-day reign as Evergreen Group chairman.
The family feud continued, with the elder Chang brothers holding yet another extraordinary board meeting to remove Chang Kuo-wei's chairmanship at EVA Airways.
In an interview with the Chinese-language Apple Daily, Chang Kuo-wei said that he did his best to carry out his father's will, and that he will let others assess his track record at EVA Airways.
Looking ahead, Chang said that he has no regrets, and plans to take a break from the aviation industry, the newspaper quoted him as saying.
Comments will be moderated. Keep comments relevant to the article. Remarks containing abusive and obscene language, personal attacks of any kind or promotion will be removed and the user banned. Final decision will be at the discretion of the Taipei Times.