Mark Lee, Chiang Wei-liang win Berlin awards
Taiwanese cinematographer Mark Lee (李屏賓) on Saturday won a Silver Bear for outstanding artistic contribution at the Berlin International Film Festival, while Taiwanese director Chiang Wei-liang (曾威量) was awarded the Audi Short Film Award for his film Anchorage Prohibited (禁止下錨).
Lee won the award for his work on Crosscurrent (長江圖), directed by Chinese director Yang Chao (楊超).
Lee has worked with Taiwanese director Hou Hsiao-hsien (侯孝賢) and Hong Kong director Wong Kar-wai (王家衛), and has previously won the Grand Technical Prize at the Cannes Film Festival for Wong's In the Mood for Love in 2000 and the Best Cinematography prize at last year's Golden Horse Awards for Hou's The Assassin (刺客聶隱娘).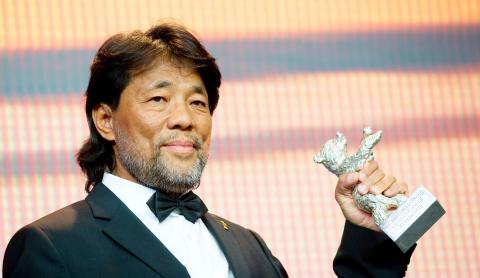 Taiwanese cinematographer Mark Lee holds his Silver Bear award in recognition of his work on the movie Crosscurrent at the Berlin International Film Festival on Saturday.
Photo: European Pressphoto Agency
Anchorage Prohibited highlights the plight of Vietnamese migrant workers in Taiwan as a way of exploring the issue of guest workers as a whole, Chiang said, adding that the prize money would be used to fund his next project.
In related news, China's media coverage of the film festival referred to Lee as a "Chinese Taipei cinematographer."
Taiwanese netizens panned the desription, with some saying the choice of words seemed to have been "inspired by the spirit of Ah Q," referring to Chinese writer Lu Xun's (魯迅) early 20th-century novel The True Story of Ah Q (阿Q 正傳), in which the eponymous protagonist habitually resorts to ineffectual gestures to avenge personal humiliations.
Additional Reporting by CNA
Comments will be moderated. Keep comments relevant to the article. Remarks containing abusive and obscene language, personal attacks of any kind or promotion will be removed and the user banned. Final decision will be at the discretion of the Taipei Times.