Earthquake Aftermath: Survivors rescued from Tainan rubble
DAY THREE: The death toll rose to 38 yesterday, while Tainan's mayor urged people not to visit the disaster sites and president-elect Tsai Ing-wen met with victims
Emergency workers yesterday pulled several survivors from the debris of the collapsed Weiguan Jinlong complex in Tainan's Yongkang District (永康) as they battled against the clock in the 72-hour "golden time" window after Saturday's earthquake.
The Weiguan Jinlong complex, which consisted of four buildings with nine residential sections, was toppled by the magnitude 6.4 quake that struck at 3:57am on Saturday.
As of press time last night, four survivors had been rescued from the complex yesterday.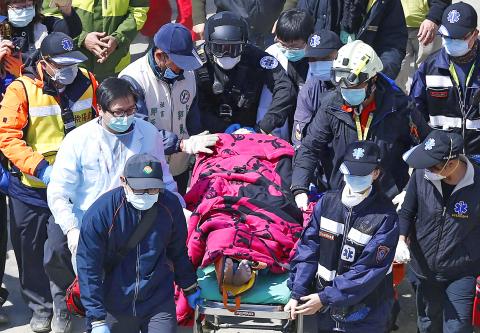 Rescuers yesterday carry Lee Tsung-tian, 40, on a stretcher after he was pulled out of the collapsed Weiguan Jinlong complex in Tainan. Lee later underwent surgery to remove his left leg, which had been badly damaged by rubble.
Photo: Ritchie B. Tongo, EPA
A total of 211 people have been rescued from the complex, but at least 120 are still unaccounted for, while the death toll from the quake has climbed to 38 with more than 530 people injured.
An eight-year-old girl, Lin Su-chin (林素琴), and a 28-year-old foreign woman, believed to be Vietnamese, were freed from the fifth floor of the complex's E section at about 5:30pm.
Hours earlier, rescuers were finally able to extricate a 40-year-old man, named Lee Tsung-tien (李宗典), who had been discovered about 1pm on Sunday.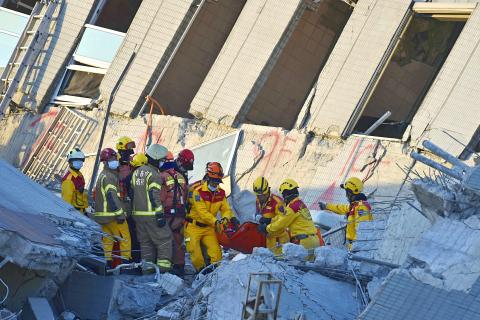 Rescuers yesterday bring out an eight-year old girl to waiting personnel after she was rescued from the rubble at the Weiguan Jinlong complex in Tainan.
Photo: Sam Yeh, AFP
Lee's right hand and both legs were trapped under concrete blocks, making it difficult for rescuers to pull him out.
At one point, paramedics considered amputating his left on the spot because of injuries to the leg. They abandoned the idea after determining that the procedure could subject him to excessive loss of blood or infection and would not guarantee his rescue. Instead, they connected him to an intravenous drip as rescuers continued their efforts to dig him out.
Lee, who remained conscious throughout the ordeal, was rushed to the National Cheng Kung University Hospital after he was extracted.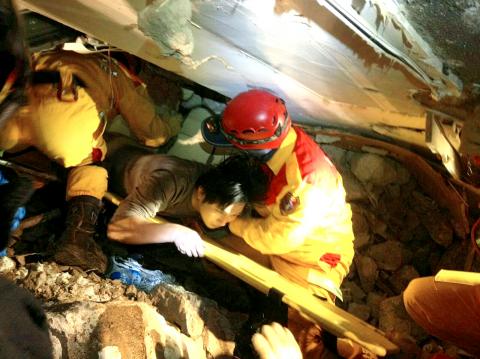 Rescue workers from Chiayi County rescue a man, a female and a dog at 11:30pm on Sunday from the Weiguan Jinlong building in Tainan's Yongkang District.
Photo: Courtesy of the Chiayi County Fire Department
"Lee is conscious and can even call his sister's name. However, his left leg appears necrotic and is being treated," Tainan Mayor William Lai (賴清德), a physician, told reporters.
Later in the afternoon, doctors at National Cheng Kung University Hospital amputated Lee's left leg.
Three members of Lee's family were still trapped under the debris as of press time. The body of his girlfriend, Huang Ya-ting (黃雅婷), was found after he was extricated.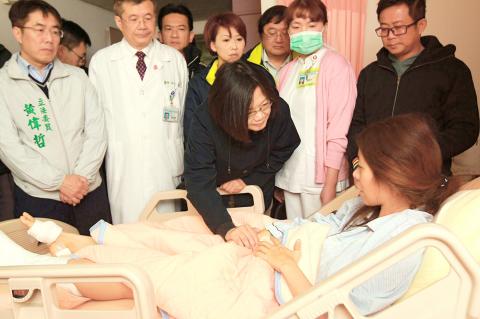 President-elect Tsai Ing-wen, center, yesterday reaches out to touch a quake victim at the Chi Mei Hospital in Tainan.
Photo: Courtesy of Chi Mei Hospital
Rescuers had been cheered early in the day when a 45-year-old woman, identified as Tsao Wei-ling (曹瑋瓴), was rescued about 8am.
"What a miracle," they cheered.
Emergency workers said they had been trying to rescue Tsao since she, her 45-year-old husband, Hsu Wen-ju (許文儒), and their two-year-old son were located on Sunday morning.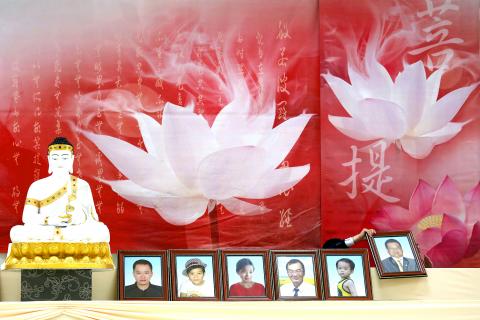 A worker yesterday places a photograph of an earthquake victim on the altar of a memorial chapel in Tainan.
Photo: Tyrone Siu, Reuters
"When the quake occurred, Hsu sought to protect his wife and son with his body, but a beam collapsed and fell on his body. We had to gradually and carefully remove the beam to free the family," rescuers said.
Hsu and their son died before rescuers reached them.
Tsao reportedly told rescuers after being pulled out that she knew her husband and son had passed away, but was determined to give them a proper burial and that was what had kept her alive.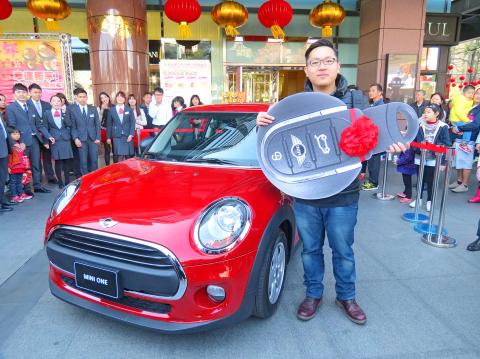 Chen Sheng-bin, who yesterday won a car worth NT$1 million given out as the first prize by Shin Kong Mitsukoshi Department Store in Taichung, says he would share his good fortune with victims of Saturday's earthquake by making a cash donation to earthquake relief efforts.
Photo: Su Meng-chuan, Taipei Times
Tsao, who was severely dehydrated, sustained only minor abrasions on her cheeks and hands and was taken to Chi Mei Hospital.
Five members of Tsao's family were still trapped under the debris, and Lai said that he had talked with family members about bringing in excavators with shears to help remove some of the bigger pieces of rubble.
"Since rescuers are unable to gain access to the five people still stuck inside the rubble, we explained to the family that our rescue mission cannot proceed unless we bring in crushers and they all understand," the mayor said.
Lai called on the public not to visit disaster sites in Tainan so that resources do not have to be wasted on dispersing onlookers.
Later in the day he went to the South District Funeral Parlor to pay tribute to the victims.
"Our rescue operation has entered phase three. Unfortunately, we have found more victims than survivors," Lai said.
Lai said he has instructed city agencies to establish a service center at the funeral parlor to provide assistance to families of the victims and people affected by the disaster, including helping family members with the identification and preservation of bodies and funeral arrangements, assigning social workers to comfort survivors and victims' families, and ensuring a proper funeral for those with no surviving family member.
He thanked all those who have offered assistance and support in the aftermath of the quake.
In related news, president-elect Tsai Ing-wen (蔡英文) visited Tainan and promised to stand with the city's residents.
"This is the moment when we must all stand together. We will not let Tainan stand alone, because right now every one of us is a resident of Tainan, and we will push forward together," she said, calling on everyone to pray for the city.
Tsai, who is also the Democratic Progressive Party's (DPP) chairperson, said that the Legislative Yuan, in which the DPP holds the majority of seats, and DPP-controlled cities and counties would do everything in their power to aid rescue and rebuilding efforts.
Vice president-elect Chen Chien-jen (陳建仁), a Catholic, attended Mass at Taipei's Holy Family Cathedral to pray for the victims and their families, rescue workers and others.
Additional reporting by Abraham Gerber and Hung Jui-chin
Comments will be moderated. Keep comments relevant to the article. Remarks containing abusive and obscene language, personal attacks of any kind or promotion will be removed and the user banned. Final decision will be at the discretion of the Taipei Times.