Tainan reels after 6.4 quake
RESCUE WORK CONTINUES: At least 15 people were reported dead after several buildings collapsed in Tainan. Rescuers are working through the night to look for people who might be trapped inside
A magnitude 6.4 earthquake rattled the nation at 3:57am yesterday, killing at least 15 people and injuring hundreds.
Emergency personnel rushed to Tainan, which had the highest number of casualties after several buildings collapsed.
At press time, emergency workers were still trying to search for people who might be trapped inside the 17-story Weiguan Jinlong residential building in the city's Yongkang District (永康), which was left lying on its side on Yongda Road, with twisted metal girders exposed and clouds of dust rising from the concrete debris.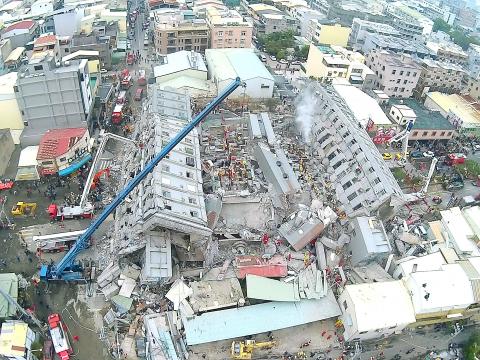 The 17-story Weiguan Jinlong residential building in Tainan's Yongkang District lies in ruins after it collapsed in an earthquake yesterday.
Photo: Huang Chih-yuan, Taipei Times
Officials said there were 256 people registered as living in the complex comprising 96 apartments. However, it was not clear how many people were inside the building at the time of the quake. As of 9:30 pm, rescuers had pulled 167 people from the building, while 155 remained unaccounted for, according to family members.
At least 30 people were rescued earlier from another seven-story residential building.
Officials said that eight other buildings collapsed or were semi-collapsed, several of which were left leaning at alarming angles.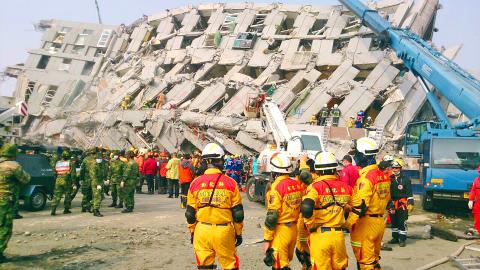 Rescue workers from Changhua County, front, take part in rescue operations at the scene of a collapsed building in Tainan yesterday. Changhua County Commissioner Wei Ming-ku donated one month of his salary for disaster relief.
Photo courtesy of the Changhua County Fire Bureau
More than 400 people were injured, with over 60 hospitalized, across the city.
As of 8:30pm, the Central Emergency Operations Center said that among the 15 killed, 13 were found at the ruins of the Weiguan Jinlong apartment building, including a 10-day-old infant.
A water tower fell on a 56-year-old woman in Gueiren District (歸仁), and a man died after a cabinet fell on him.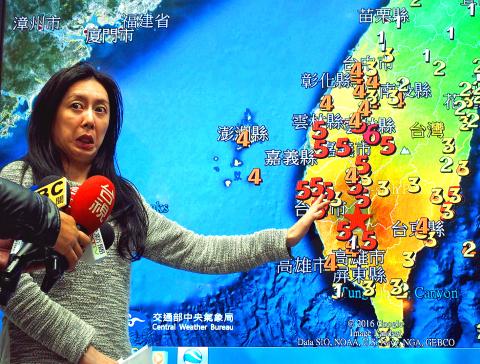 Tsai Min-chien, a member of the Seismological Observation Center, explains a map to reporters after three earthquakes of magnitude 6.4, 4.3 and 4.5, as well as severall aftershocks, hit southern Taiwan early yesterday.
Photo: David Chang, EPA
There were also reports of people injured by falling debris. One man in Yunlin County broke his leg trying to escape by jumping out of a second-floor window.
Most people were asleep when the earthquake struck.
"[The building] first started shaking horizontally, then up and down, then a big shake right to left," said Tainan resident Lin Bao-gui, a secondhand car salesman whose cars were smashed when the residential complex across the street from him collapsed. "I stayed in my bed, but jumped up when I heard the big bang that was the sound of the building falling."
Rescue personnel help a victim at the site where a 17-story apartment building collapsed in Tainan yesterday.
Photo: Patrick Lin, Reuters
The quake was centered in Kaohsiung's Meinong District (美濃), at a depth of 17km, the Central Weather Bureau said. The strongest tremors, which had an intensity of 6 on the 0-7 seismic scale, were felt in Yunlin County, the bureau said. Kaohsiung, Pingtung, Tainan and Chiayi reported intensity 5, while Taitung, Penghu, Changhua, Nantou and Taichung felt level 4.
Strong aftershocks, which were centered in Tainan, were felt hours after the initial quake.
According to the National Fire Agency, the quake left about 400,000 households without water nationwide. Power outages affected about 121,000 residences in Tainan and hundreds in Kaohsiung.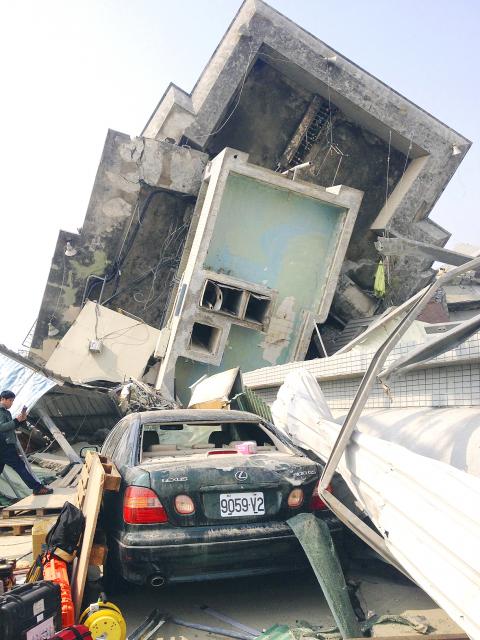 A damaged building stands after an earthquake in Tainan yesterday.
Photo: Gladys Tsai, AP
The government set up the Central Emergency Operations Center to coordinate relief efforts, sending helicopters as well as medical and rescue teams to the stricken areas.
President Ma Ying-jeou (馬英九) promised an all-out effort to rescue those trapped in collapsed buildings and to help survivors.
Ministry of National Defense officials said military units in southern Taiwan had mobilized 810 personnel, 11 medical teams, 24 teams equipped with breathing detection devices and 38 vehicles to join the search-and-rescue efforts.
Helicopters from the Army Aviation and Special Forces Command, based in Gueiren District, carried out aerial surveys, assisting ground crews in identifying priority disaster-relief zones and assessing damage, the ministry said.
The main defense troop detachment for southern Taiwan, the 8th Army Command, has also set up a joint military operations command center in Tainan to coordinate medical and rescue operations by various military units, it said.
Lieutenant General Chi Lien-cheng (季連成), who heads the 8th Army Command based in Kaohsiung's Cishan District (旗山), said the army's 54th Engineering Corps had deployed crane lifts and other heavy machinery to set up flood lights, enabling rescuers to work through the night as they search for people trapped in buildings.
Six medical teams from the 8th Army Command, along with five medical teams from the Kaohsiung Armed Forces General Hospital, arrived in Tainan, where they set up mobile field hospitals.
Officials from the air force's 433rd Tactical Fighter Wing, which is headquartered at the Tainan Air Base, said it has turned the base into a temporary shelter that can accommodate up to 1,400 people whose houses were damaged by the quake.
The Ministry of Health and Welfare said it had launched six regional emergency operations centers at 4am yesterday and asked all hospitals to report the latest disaster relief situation.
Although the quake was felt throughout the nation, the most severe disaster was centered in Tainan. The first 72 hours after the quake are critical for rescuing people trapped under collapsed buildings, the ministry said, adding that 26 of its hospitals are participating in the emergency relief and support efforts.
Emergency relief is mainly provided by Tainan Hospital and its Sinhua Branch, while psychological trauma treatment is provided by Jianan Mental Hospital. Other hospitals will provide standby support, it added.
A 24-hour care and consultation hotline (0926-560-713) has been set up at the Jianan Mental Hospital, the ministry said.
The ministry has also set up a toll-free 24-hour care hotline (0800-788-995) for disaster victims who need psychological support.
The Financial Supervisory Commission said it had tasked the Taiwan Residential Earthquake Insurance Fund with coordinating with emergency response efforts. The commission also advised affected residents to notify their insurers to have their properties assessed for damage to expedite processing of their compensation claims.
Additional reporting by Ted Chen
Comments will be moderated. Keep comments relevant to the article. Remarks containing abusive and obscene language, personal attacks of any kind or promotion will be removed and the user banned. Final decision will be at the discretion of the Taipei Times.