First non-KMT legislative speaker is Su
OPENNESS: Su Jia-chyuan won the morning vote, while Tsai Chi-chang was later elected vice speaker. Su then picked the TSU's Lin Chih-chia to be secretary-general
Democratic Progressive Party (DPP) Legislator Su Jia-chyuan (蘇嘉全) yesterday won the ninth legislative speakership election in a widely predicted landslide victory, becoming the nation's first non-Chinese Nationalist Party (KMT) speaker.
The voting, which began at 10:30am, was presided over by DPP caucus whip Ker Chien-ming (柯建銘), after outgoing legislative speaker Wang Jin-pyng (王金平) offered him the role.
Out of respect for Wang — the nation's longest-serving speaker with 17 years in the post — lawmakers allowed him to cast the first ballot.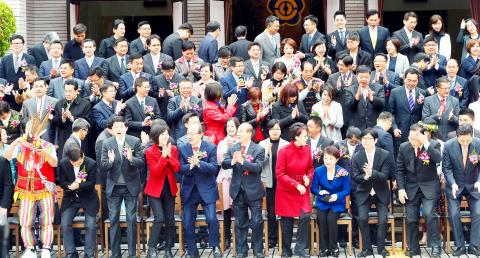 Members of the ninth Legislative Yuan yesterday assemble outside the legislature in Taipei for a group photograph after being sworn in.
Photo: Chang Chia-ming, Taipei Times
New Power Party (NPP) Legislator Hsu Yung-ming (徐永明) said that his party would support Su and DPP Legislator Tsai Chi-chang (蔡其昌) for deputy speaker, but his motion to require legislators to sign their ballots was overruled by Ker as contrary to Legislative Yuan rules.
The rules state that writing characters other than a candidate's name on speakership ballots invalidates a ballot.
Su won with 74 votes: 68 from DPP lawmakers, five from NPP legislators and one from independent Legislator Chao Cheng-yu (趙正宇), who joined the DPP caucus as the new legislature took office.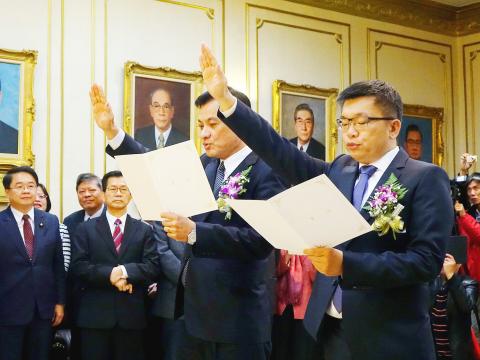 Legislative Speaker Su Jia-chyuan, center, and Deputy Legislative Speaker Tsai Chi-chang, right, both of the Democratic Progressive Party, yesterday take their oaths of office at the Legislative Yuan in Taipei.
Photo: Chang Chia-ming, Taipei Times
Outgoing KMT caucus whip Lai Shyh-bao (賴士葆) received all 35 KMT votes.
People First Party (PFP) Legislator Lee Hung-chun (李鴻鈞) won four votes — three from PFP lawmakers and one from Non-Partisan Solidarity Union Legislator May Chin (高金素梅), who has joined the PFP caucus.
Tsai was elected deputy speaker in an afternoon vote, winning 74 votes to KMT Legislator-at-large William Tseng (曾銘宗), the former Financial Supervisory Commission chairman, who received 35 votes, while Chin won four. Tsai is the first non-KMT deputy speaker.
"Today is the day the Republic of China's ninth legislature is sworn in. It also marks the first political party alternation in the legislature. I would like to thank everyone for their support for us. We will not forget the public's expectations of us and we will work diligently," Su said in his inauguration address.
Su said that he and Tsai would endeavor over the next four years to prove to voters and fellow legislators that they made the right choice.
The ninth legislature is to be a legislature of the people, one marked by openness, professionalism and the absence of "backroom deals," Su said.
"In an effort to ensure the neutrality of the speakership and put an end to the longstanding political wrangling in the legislature, Deputy Speaker Tsai and I will immediately tender our resignations from all party posts to DPP Chairperson [and president-elect] Tsai Ing-wen (蔡英文)," Su said.
Only an open and transparent legislature can regain public trust, Su said, pledging to allow the public to decide major governmental issues through the use of online petitions and to open the legislature to citizen journalists.
Su also promised to unite lawmakers from different parties and join hands in pushing for bills conducive to public welfare and doing what is right for Taiwanese.
He ended his speech by announcing the appointment of Taiwan Solidarity Union (TSU) Secretary-General Lin Chih-chia (林志嘉), a five-term lawmaker, as the legislature's secretary-general.
The DPP caucus met yesterday morning before the speaker election and agreed that all caucus members had to display their ballots before placing them in the ballot boxes, in an effort to prevent anyone voting across party lines.
DPP spokesperson Yang Chia-liang (楊家俍) said the policy was a manifestation of responsible politics and that the DPP caucus also planned to push for an amendment mandating that such elections be conducted in a similar manner.
Additional reporting by Abraham Gerber and CNA
Comments will be moderated. Keep comments relevant to the article. Remarks containing abusive and obscene language, personal attacks of any kind or promotion will be removed and the user banned. Final decision will be at the discretion of the Taipei Times.