Eric Chu appoints Huang Min-hui as interim KMT chair
Outgoing Chinese Nationalist Party (KMT) chairman Eric Chu (朱立倫) yesterday appointed KMT vice chairperson Huang Min-hui (黃敏惠) as the party's interim chairperson, with Chu saying that he would never forget that the party lost the elections under his leadership.
Chu made the remarks before the KMT's Central Standing Committee (CSC) was set to approve his resignation as party chairman at an extraordinary meeting in Taipei yesterday afternoon.
"I pledged to step down [as KMT chairman] should I be defeated in the elections... The KMT has an established tradition in which its leader takes full responsibility for the party's loss or victory," Chu said.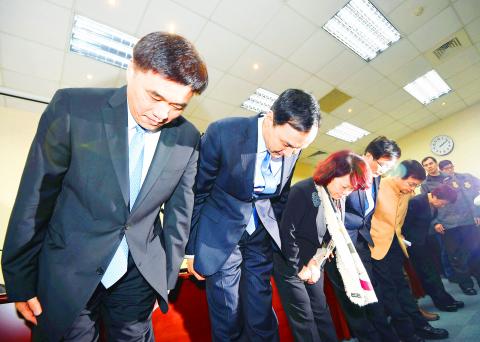 Outgoing Chinese Nationalist Party (KMT) vice chairman Han Lung-bin, left and chairman Eric Chu, second left, bows at an extraordinary meeting of the party's Central Standing Committee in Taipei yesterday afternoon.
Photo: Fang Pin-chao, Taipei Times
Chu said he would take the largest share of responsibility for the party's landslide defeat and planned to engage in some serious self-reflection, while apologizing to supporters and all his comrades in the party for letting them down.
"I will never forget that the KMT lost power under my governance," Chu said.
The KMT would only be able to regain the public's trust if it learns from its mistakes, Chu said.
The priority for the party's next chairman would be to formulate reform proposals that could be accepted by the public and the party, Chu said.
"Despite my resignation, I will forever be the KMT's most loyal member and will stand alongside every party comrade during reforms," Chu said, adding that he believed Huang would take good care of the party before a chairmanship election was held.
According to the KMT charter, an election for party chairman must be held within three months of the resignation of an incumbent.
Several KMT members have reportedly expressed interest in the post, including Deputy Legislative Speaker Hung Hsiu-chu (洪秀柱), former KMT vice chairman Hau Lung-bin (郝龍斌), Vice President Wu Den-yih (吳敦義), President Ma Ying-jeou (馬英九), former Taichung mayor Jason Hu (胡志強) and Legislative Speaker Wang Jin-pyng (王金平).
Following yesterday's committee meeting, a dozen KMT members visited Wu at the Presidential Office to try and persuade him to run for the party chairmanship.
"During the KMT's most difficult time, the party needs someone who can unite its members... Wu once served as the party's secretary-general and has experience in elections," CSC member Yao Chiang-lin (姚江臨) said.
Hau — who stepped down as KMT vice chairman on Saturday after failing to secure a legislative seat in Keelung — downplayed the issue yesterday when asked to comment on some party members' calls for him to take up the post, saying he has not given the matter any thought.
In related news, Taiwan Solidarity Union (TSU) Chairman Huang Kun-huei (黃昆輝) also offered to resign yesterday, following the party's poor performance in the legislative elections.
The New Power Party's success at the ballots came as the TSU's support crumbled, with the union losing all three of its legislator-at-large seats.
Green Party-Social Democratic Party Alliance conveners also resigned yesterday following the alliance's disappointing showing in Saturday's legislative elections.
She had to take responsibility for the failure of her party to win any legislative seats, Social Democratic Party convener Fan Yun (范雲) said in her resignation speech.
Green Party Taiwan co-conveners Lee Ken-cheng (李根政) and Chang Yu-ching (張育憬) also resigned.
The two parties founded an electoral alliance in hopes of pooling their votes to cross the 5 percent threshold required to be awarded at-large seats but won only 2.53 percent.
Additional reporting by Abraham Gerber and staff writer
Comments will be moderated. Keep comments relevant to the article. Remarks containing abusive and obscene language, personal attacks of any kind or promotion will be removed and the user banned. Final decision will be at the discretion of the Taipei Times.