ELECTIONS: DPP secures absolute majority in Legislative Yuan
AT-LARGE: The New Power Party was a surprise winner in the party vote, joining the DPP, KMT and PFP as the only parties to surpass the 5-percentage-point threshold
The Democratic Progressive Party (DPP) yesterday won an absolute majority in the 113-seat legislature for the first time, with 60 percent of its regional legislative candidates winning in their respective electoral districts and securing more than 44 percent of the vote.
The Chinese Nationalist Party (KMT) has lost the 64-seat majority it won in 2012, retaining 35 seats in the legislature.
The newly formed New Power Party (NPP) had spectacular success, winning all three districts where it fielded regional legislative candidates and crossing the 5-percentage-point threshold to be awarded legislator-at-large seats.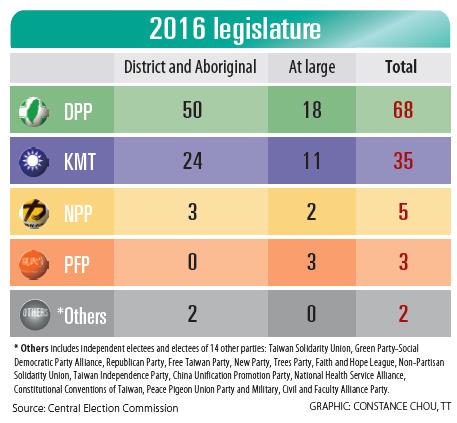 Graphic: Constance Chou and June Hsu, Taipei Times
The most attention-grabbing legislators-elect are the NPP's Huang Kuo-chang (黃國昌), Hung Tzu-yung (洪慈庸) and Freddy Lim (林昶佐), as well as the DPP's Hsiao Bi-khim (蕭美琴) in Hualien County, who had all been predicted to have tough battles in traditional KMT strongholds.
The DPP achieved a home run in the cities and counties south of the Jhuoshuei River (濁水溪) — Yunlin and Chiayi counties, Tainan, Kaohsiung and Pingtung City — winning a total of 21 seats.
Former Taipei mayor Hau Lung-bin (郝龍斌) was defeated in Keelung by the DPP's Tsai Shih-ying (蔡適應).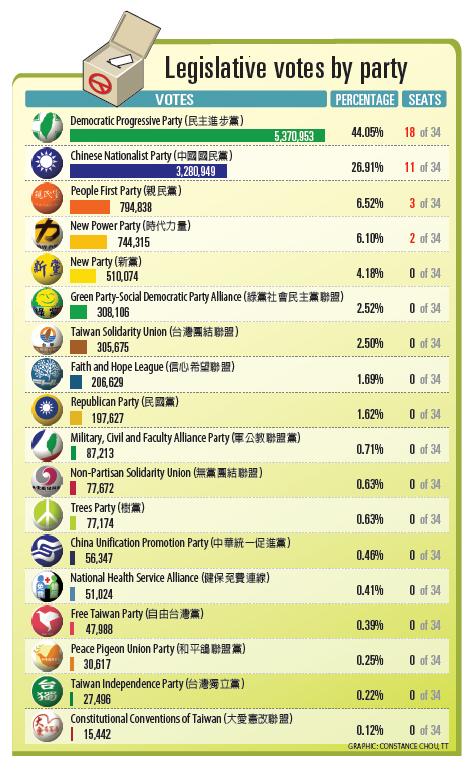 Graphic: Constance Chou, Taipei Times
In New Taipei City, which has 12 electoral districts and where KMT presidential candidate Eric Chu (朱立倫) serves as mayor, the KMT lost eight seats that it formerly held, with only two lawmakers — Luo Ming-tsai (羅明才) and Lin Te-fu (林德福) — retaining their seats.
The DPP won seven more seats than it had four years ago, securing nine seats, while the NPP secured one.
Huang, one of the leading Sunflower movement activists, defeated incumbent KMT Legislator Lee Ching-hua (李慶華), who had been elected seven times in a row, in New Taipei City's Sijhih District (汐止).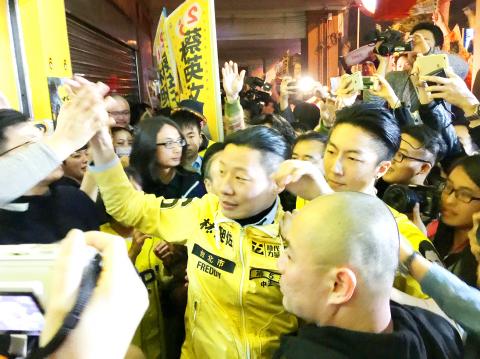 New Power Party legislator-elect Freddy Lim, center, high-fives a supporter last night after being elected to represent Taipei's Wanhua and Zhongzheng districts.
Photo: CNA
KMT Legislator Chang Ching-chung (張慶忠), whose "30-second ramming through" of the cross-strait service trade agreement in 2014 helped spark the Sunflower movement and who was seeking his fourth term, lost his seat to the DPP's Chiang Yung-chang (江永昌).
In Taoyuan, where the KMT had won all six electoral districts in 2012, the DPP gained three seats, while the KMT retained two and an independent won one.
DPP caucus whip Ker Chien-ming (柯建銘) snatched a seat in Hsinchu City, which had belonged to the KMT.
In Hsinchu County, former commissioner Cheng Yung-chin (鄭永金), a non-affiliated candidate supported by the DPP, was defeated by KMT legislative candidate Lin Wei-chou (林為洲).
The KMT managed to retain two seats each in Miaoli and Nantou counties.
In Taichung, the KMT won three out of eight districts — dropping from five in 2012 — while the DPP won four, with Hung winning the final seat.
In Changhua County's four electoral districts, the DPP gained three seats, while the KMT won one, a reversal of what the two parties won in the county four years ago.
In eastern Taiwan, both electoral districts in Hualien and Taitung counties saw their respective DPP candidates elected.
The outlying islands — Penghu, Kinmen and Matsu — elected DPP, KMT and KMT lawmakers respectively.
The DPP, KMT, People First Party (PFP) and NPP were the only four parties to cross the 5-percentage-point threshold for legislator-at-large seats.
A total of 18 candidates on the DPP's legislator-at-large candidate list secured seats with the party's 44 percent of party representation vote.
The KMT received 11 seats through 26.9 percent of party votes.
The PFP, with 6.5 percent of party votes, won 3 seats, while the NPP garnered 6.1 percent for 2 seats.
Comments will be moderated. Keep comments relevant to the article. Remarks containing abusive and obscene language, personal attacks of any kind or promotion will be removed and the user banned. Final decision will be at the discretion of the Taipei Times.