Only clean air in the nation is in Hualien, Taitung
PAPER TIGER? Criticized for not doing more to curb pollution, the EPA said it had established more than 200 sets of regulations on traffic, industrial emissions
The air pollution levels in all the nation's cities and counties — except for Hualien and Taitung — failed to meet national standards for three consecutive years, thereby qualifying for the highest level in the Environmental Protection Administration's (EPA) three-tier classification system for air-pollution-control zones.
The EPA yesterday released its monitoring data on PM2.5 — fine particulate matter measuring 25 micrometers in diameter or smaller — for the past three years, and only Hualien and Taitung had average PM2.5 levels lower than the EPA's annual limit of 15 micrograms per cubic meter.
The national average PM2.5 concentration for the period was 23.1 micrograms per cubic meter, and Yunlin and Kinmen counties and Chiayi were the most polluted areas, with average PM2.5 concentrations of 33.3 micrograms per cubic meters, 31.5 micrograms and 32.7 micrograms respectively — more than double the EPA's limit.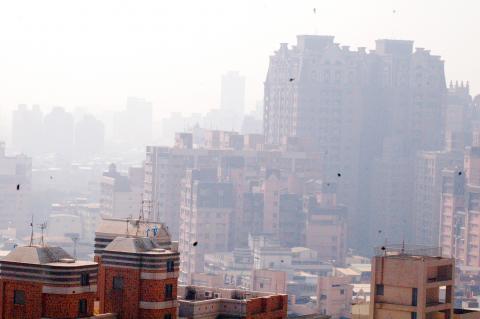 Buildings in Kaohsiung on Friday last week are shrouded in haze as the city's air quality status was rated "purple," the worst in the Environmental Protection Administration's five-level air quality index.
Photo: Huang Liang-chieh, Taipei Times
Under the EPA's system, national parks and nature reserves are class-one air-pollution control zones; class-two zones are places where air quality meets national standards, while those areas where the air quality falls below standards for three years in a row are class-three zones.
The standards include indices of PM2.5, PM10, ozone, carbon dioxide, sulphur dioxide and nitrogen dioxide. Monitoring of PM2.5 levels began in 1997, but they were only included as an air quality index in 2012.
At present, only Kaohsiung and Pingtung are designated as a class-three zones due to their excessive PM10 and ozone levels.
This means that industries in the two locations are required to reduce emissions by 5 percent.
Taiwan Healthy Air Action Alliance founder Yeh Guang-peng (葉光芃) said that while the PM2.5 levels of many cities and counties were so high that it was clear by 2014 that these areas would quality as class-three zones by the end of last year, the EPA did not take steps to curb pollution.
The agency instead opted to allow pollution to continue at its current pace, Yeh said.
"Although three years of monitoring is the legal basis for designating control zones, the EPA should not be content to simply follow legal stipulations," Yeh said.
"It should have taken proactive measures, designating these areas as class-three zones and implementing emergency measures to curb pollution," Yeh said.
However, the EPA said the average PM2.5 and PM10 levels last year were 20 percent lower than those of 2008, and concentrations of traditional pollutants such as sulphur dioxide and nitrogen dioxide also dropped by more than 20 percent.
It has established more than 200 sets of regulations to control industrial and traffic emissions, the agency said.
It said it was also working to facilitate the replacement of outdated and energy-intensive facilities to lower the national PM2.5 level to 15 micrograms per cubic meter by 2020.
Comments will be moderated. Keep comments relevant to the article. Remarks containing abusive and obscene language, personal attacks of any kind or promotion will be removed and the user banned. Final decision will be at the discretion of the Taipei Times.