TV debate held for vice presidential candidates
PLATFORM: Jennifer Wang said that as a lawyer she has been dedicated to safeguarding the rights of women and attempted to distance herself from the 22K policy
The three vice presidential candidates yesterday faced off in a TV debate, during which they detailed their policies and debated issues ranging from disease prevention, education, and low wages to women's rights.
The two-and-a-half-hour debate opened with the candidates each giving an introduction of their respective campaign platforms before taking questions submitted by members of the public through an online platform. In the third part of the debate, the candidates posed one question each to the others before ending the debate with concluding remarks.
In her opening remarks, Republican Party Chairperson Hsu Hsin-ying (徐欣瑩) — People First Party (PFP) presidential candidate James Soong's (宋楚瑜) running mate — listed the difficulties the nation is facing and said a new government under Soong would seek to address issues such as stagnant salaries and high housing costs by reinvigorating the economy.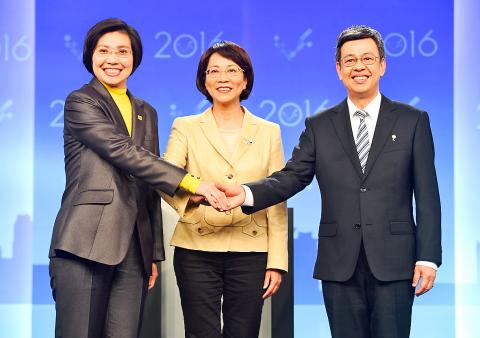 Republican Party vice presidential candidate Hsu Hsin-ying, left, Chinese Nationalist Party (KMT) vice presidential candidate Jennifer Wang, center, and Democratic Progressive Party vice presidential candidate Chen Chien-jen, yesterday shake hands in Taipei before the televised vice presidential debate.
Photo: Liao Chen-huei, Taipei Times
Democratic Progressive Party (DPP) vice presidential candidate Chen Chien-jen (陳建仁) pledged to solve the problems facing young people, adding that he also wants to mitigate housing problems and provide long-term care for elderly people.
Chinese Nationalist Party (KMT) vice presidential candidate Jennifer Wang (王如玄) said that as a lawyer, she has been dedicated to safeguarding the rights of women and people who have been abused. She also apologized for her controversial purchases of housing units for military dependents.
During the third session, Hsu posed questions to Chen about the high mortality rate and number of cases of SARS that broke out in 2003 — asking him whether it was the central or the local governments that should have been held accountable for ineffective disease containment — and about the dengue fever outbreak in southern Taiwan this year.
Regarding the SARS outbreak, Chen said that the Taipei City Government and the central government did not have good coordination at the time.
"Three weeks after I took over as director of the Department of Health, we successfully contained the disease by setting up fever checkpoints in walkways and wards in more than 700 hospitals. The amount of time Taiwan was on the list of places for which the WHO issued a travel warning and labeled an infection area was the shortest in the world," Chen said. "Our efforts to contain the disease earned recognition from the WHO."
Regarding the dengue fever outbreak, Chen said: "The most important dengue fever prevention method that the public should keep in mind is the destruction of mosquito vector habitats such as discarded containers, which Tainan has gotten good at. There is no use spraying tonnes of pesticide."
Wang asked Chen for his thoughts about former Academia Sinica president Lee Yuan-tseh's (李遠哲) proposals on educational reforms, "which have affected Taiwan's education and national development greatly."
Wang called it "a mistaken policy" that would squander taxpayers' money on trimming the excessive number of higher-education institutions.
Regarding the reforms of the higher-education system, Chen said that educational reforms have been presented and pushed when the KMT is in power.
"The DPP's stance is that colleges should become localized and specialized so that every young person can be educated and trained professionally near where they live, but we would also support technological innovation and academic research of the nation's top universities," he said.
Saying the 22k policy which was implemented when Wang was labor minister, "has widely been considered as one of the main causes of low starting wages among young people, how do you think the problem could be solved?" Hsu asked Wang.
The 22K policy refers to a government scheme implemented in 2009 that provided subsidies to companies that hired new graduates to make up a monthly wage of NT$22,000.
Wang said that a starting wage of NT$22,000 is too low for college graduates.
"Although some people deliberately connected me with the 22K policy, the policy was not drafted by me; it was the Ministry of Education's policy," she said.
"What the policy was meant for was to help graduates to at least secure a job, offered by corporations that had been subsidized to make up a wage of NT$22,000 during the financial crisis. The amount was not meant to be a new worker's entire salary; the policy was indeed misused by some employers," Wang said.
Chen asked Wang whether she views the KMT's replacing of Deputy Legislative Speaker Hung Hsiu-chu (洪秀柱) as presidential candidate as a violation of the party's own regulations.
Wang did not reply to Chen's question, saying only that while gender is important, it does not in itself guarantee that a female candidate has gender consciousness or knows how to protect women and children. She then recounted what she said were her policy successes concerning working mothers and her participation in setting up laws protecting women and children as an activist.
"I want to ask DPP Chairperson Tsai Ing-wen (蔡英文): Have you ever assisted any victims of domestic violence or sexual assault when you were not in office?" Wang asked.
Chen asked Hsu whether she thought KMT presidential candidate Eric Chu (朱立倫) could persuade people to vote for the KMT ticket, considering that "Chu and Wang both polled badly as New Taipei City mayor and a former labor minister, respectively."
Hsu said she would ask people to vote for Soong, as "among the three presidential candidates, Soong is the most experienced politician and can be trusted to handle both internal affairs and diplomacy."
When Wang posed to Hsu the question on education she had asked Chen, Hsu slammed both Lee's and the KMT's education policies, which "have left students and their parents baffled and deeply concerned."
"We propose that there should be no entrance exams for students to enter high schools, and that good universities be available not only to those with wealthy parents, but to all students who aspire to receive a higher level of education," Hsu said.
Additional reporting by Staff Writer, with CNA
Comments will be moderated. Keep comments relevant to the article. Remarks containing abusive and obscene language, personal attacks of any kind or promotion will be removed and the user banned. Final decision will be at the discretion of the Taipei Times.